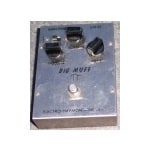 In the beautiful city of New York, the Big Muff, which acts as a guitar pedal that can distort fuzz sounds, became very well-known. The Muff was created, introduced and manufactured by Electro-Harmonic Company (EHX) together with its sister company, the Russian Sovtek. Primarily the Big Muff was used for electric guitars but later bass guitars also were able to make use of such a powerful yet tiny machine. The Big Muff guitar pedal was invented by Mike Matthews and introduced in the early 1970s. Carlos Santana and David Glamour were the two artists who first used this guitar pedal. Read more
Tags: big muff hendrix srv, big muff pedal history, electro harmonic deluxe muff, electro harmonix 12axt price, electro harmonix history, jimi hendrix gear, star uses big muff, sweet water music automatic bass machine that follows guitar cords stomp box, thunderdrive deluxe clone,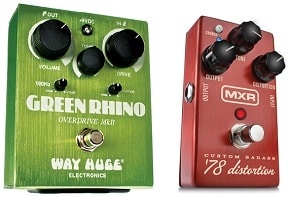 Guitar players love distortion. No big secret, really. From the time we start playing we are pretty much issued a distortion pedal of some kind right out of the gate and we proceed from there. By the time I was 13, I had my brown Ross distortion plugged into my solid state Gretsch amp and pretty much blistered my Mom's paint for a few hours every day. These days, distortion and overdrive pedals have become much more of Read more
Tags: way huge green rhino review,
NAMM 2011 — The new Mod Zero is the latest guitar effects creation by Portland Oregon boutique designer Jack Deville Electronics. Mod Zero is the all-in-one box that creates all types of modulation and some special "holy grail" tones that players have chased for years. Mod Zero is a 100% analog modulation box that features vintage and modern takes on famous and unheard sounds. Read more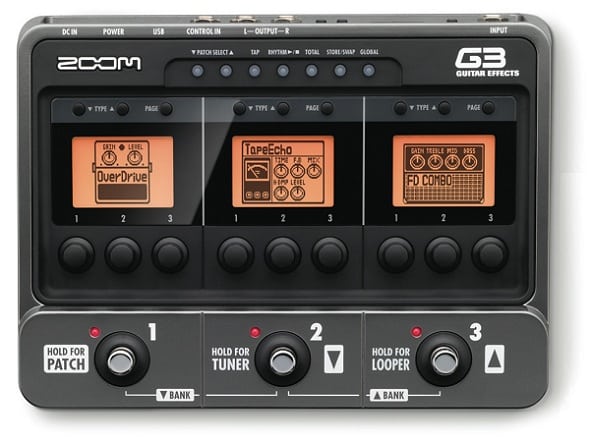 NAMM 2011 — Zoom's G3 Guitar Effects and Amp Simulator Pedal unites the ease of a stompbox pedalboard with the power of a multi-effects pedal and adds a USB audio interface to the mix. With complete control over both individual effects and amp modeling, you can modify your tones on the fly while performing. An onboard drum machine and looper make the G3 an incredible new option for guitarists of every level. Read more
Tags: pedal effect guitar, zoom stompbox,
NAMM 2011 — Zoom is pleased to announce the addition of guitarist and lead vocalist Dave Mustaine of the iconic band Megadeth to our family of artists.
Mustaine has been a mainstay in the metal community for over 25 years, having formed Megadeth in 1983. Internationally acclaimed as one of the greatest metal guitarists in the world, Mustaine is also an accomplished producer.
Mustaine and Zoom will introduce the all-new ZOOM G2.1DM Dave Mustaine Signature Edition Guitar Effects Pedal at a press conference on Saturday, January 15, 2010 from 1:00pm-1:30pm at the Zoom booth (#5940).
[ ZOOM MULTI-EFFECT PEDAL PRICES ]
"This pedal is built for action," declares Mustaine. "With my personal sound effects and a large expression pedal modeled after the accelerator of one of my favorite sports cars onboard, the ZOOM G2.1DM leaves all contenders at the starting line."
2010 was a huge year for Mustaine and Megadeth. It marked the 20th Anniversary of Rust In Peace, considered one of the most influential heavy metal albums of all time. Megadeth also performed as part of the "The Big Four" tour in Europe alongside Metallica, Slayer and Anthrax, as well as the "American Carnage" tour. And 2011 is expected to be even bigger.
"It's been a honor working closely with Dave on this new pedal," says Mark Menghi, Artist Relations Director. "Zoom has been fully-committed to capturing his thrash metal guitar sound in the ZOOM G2.1DM. We are excited to be unleashing it on guitar players everywhere."
Visit www.megadeth.com for more information on Dave Mustaine or to see the band live on tour and hear those Zoom thrash metal guitar effects. Read more
Tags: zoom g2 1dm,
Following in the footsteps of Fuzz Face masters Eric Johnson, David Gilmour, and Jimi Hendrix – Joe Bonamassa relies on his Fuzz Face to deliver his trademark searing leads. Tested and developed over several world tours, the JBF3 Joe Bonamassa Signature Fuzz Face is voiced specifically for Joe's humbucker-driven tone, adding sustain and thickness for a rich, creamy fuzz.
Dunlop Fuzz Face JBF3 pedal boasts a hand-wired circuitry built around matched NOS Russian military germanium transistors for their characteristic warmth and growl. The JBF3 also features classic grey Cliff jacks and Omeg pots all housed in a polished copper finish that will patina over time. "I wanted this Fuzz Face to be a pedal that would instantly transform your tone," Joe says. "It drives you to a different place as a player. Kick on the inspiration box!" Production of the Joe Bonamassa Signature Fuzz Face is limited to a single batch each year. Read more
NAMM 2011 — Eternal Descent is a comic book and music series unlike any other – and so is the new Eternal Descent Lyra, a limited edition multi-effects pedal that brings the sound of the globally popular series to guitarists everywhere.
Eternal Descent is a cross-genre story that blends elements of fantasy, action, music, superhero, gothic, science fiction, supernatural and other elements into an ongoing saga featuring Lyra, the series' heroine. Lyra is a rock singer who is quick-witted, beautiful, talented, has attitude to spare – and is immersed in a battle with demons both internal and external awaiting her at every turn.
Music is integral to Eternal Descent. Created by writer Llexi Leon, the comics revolve around the exploits of Lyra and her band, Constellation Nine, and rock and metal bands like Static X, Atreyu, Firewind, Shadows Fall and others have made guest appearances. A series of albums have been released that bring the comic to life with music created specifically for the series. Read more
NAMM 2011 — HardWire is a leading manufacturer of guitar pedals, introduces the new HT-6 Polyphonic Tuner. The HT-6 is a tuner for guitarists and bassists that can be used to tune all 6 strings of an instrument simultaneously.
Based on technology from 3dB Research, the Hardwire HT-6 makes tuning instruments faster and easier by simply strumming all strings and viewing the 'string' display readout as to which string is in or out of tune.
The HT-6 Polyphonic Tuner pedal interface is similar to chromatic tuning pedals, but features standard effects pedal, 6rows of LED lights (one for each string) and an LED display matrix that represents the six strings of a guitar or bass. Two buttons on the HT-6 Tuner's top display panel are used for selecting display modes (Mode) and tuning references (Tuning). Read more
Tags: gearbox guitar tuner,
NAMM 2011 — HardWire is a leading manufacturer of guitar pedals, today introduced the SP-7 Stereo Phaser Effects Pedal. The SP-7 is an advanced Phaser effects pedal offering seven Phaser types based on popular new and vintage effects pedals including 2-stage, 4-stage, modern, boutique, 10-stage, envelope and dynamic.
Leveraging DSP originally developed for the DigiTech RP Series of products, the new pedal also features controls for speed, depth, modify and phaser type, as well as an indicator LED and tap tempo switch for setting the phaser's effects modulation speed time during a live performance. Read more
Tags: hardwire sp-7 settings,
NAMM 2011 — The legendary Way Huge Green Rhino has returned! The Mk II has all the gorgeous classic overdrive that you crave but it has evolved to include cool new features that make it even more rhinoceriffic.
In addition to the Volume, Tone, and Drive controls, you get a 100Hz EQ knob to cut or boost your low end by 12dB. Your low notes can either shake the ground like a stampede across the savannah or cut through the mix like a charging rhino's horn. This pachyderm of a pedal also sports a Curve control to fine-tune the corner frequencies of your tone. Read more