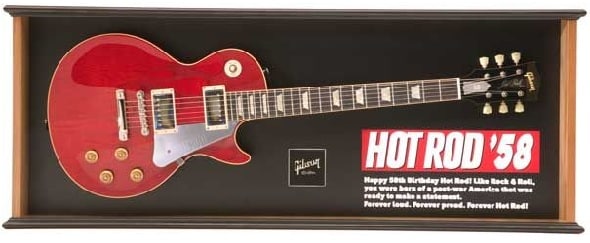 Hey GearVault readers, awhile back I randomly signed up to a guitar giveaway that I found on the net. I figured it was a waste of time because I NEVER win anything (hence, why I don't play the lottery =). A month or so later I received an email saying I had won their contest and they shipped me a Gibson Les Paul Studio equipped with P90s and a Fender Deluxe combo amplifier. I was delighted! Though I already have my own gear, I just gave this stuff to my nephew so he could learn to play guitar. After feeling lucky, I downloaded an auto-fill extension to my browser (in my case Firefox) and signed up to a bunch other gear giveaways, it literally took 5 seconds and the effort involved one click of the mouse. About a month later I received a Maxon OD808 pedal in the mail.
So this gave me an idea! I decided to report every guitar/gear giveaway to you, GV readers, so you can get in on action! Of course since I have my handy-dandy auto-fill extension connected to both my FireFox and Chrome browsers, one click the mouse BAM! I am entered in these giveaways too… However if I win, I don't need the guitars and gear as I have my own setup, I would rather give GearVault readers any merchandise I win! So when I win gear I will pass the equipment on to a dedicated GV reader. If you are not on GV's mailing list, then obviously your email won't be there to get selected for a chance to win, so you are going to want to sign up to the Feedburner mailing list below and activate it to prove your email is valid. If you fail to validate your email then it won't show in our system and you will miss out on the chance to win. Another really cool thing is when you are on our Feedburner mailing list, you will get notifications of cool giveaways and hot news, but don't worry, like you, I hate spam mail… so you don't have to worry about that!
Enter to Win Guitar Giveaways 4 Life!
As well as receive other Guitar & Gear News!
Disclaimer:
By entering above you agree to receive mail from GearVault. You will not only be registered in our system to win free shit, but you will also get updates about guitars, guitar songs, interviews, news and other cool state of the music gear.
Only valid users are eligible to win.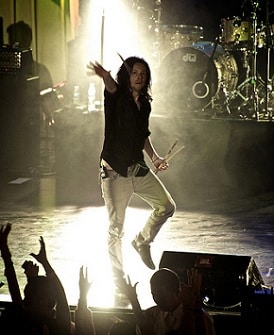 We have all seen it before; drummers whipping their drum sticks out into the crowd at the end of a bad ass concert. Generally I think that we all just assume that someone in the crowd catches the sticks and ends up with a really awesome concert souvenir. This is usually true, but what about an audience member getting lambasted upside the head by a flying drum stick? Read more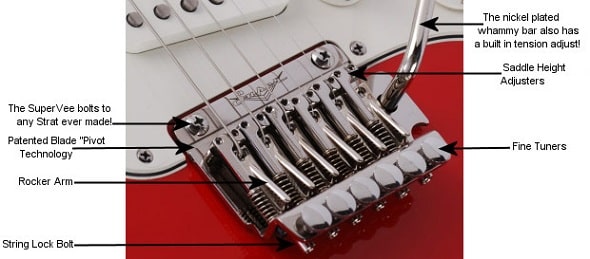 When Leo Fender created the Stratocaster's six-screw tremolo bridge, he was simply hoping to find away to provide subtle vibrato and pedal steel effects. Though effective, Leo's bridge didn't provide the most stable tuning and certainly wasn't designed to stand up to wild whammy whacking. The Floyd Rose locking hem solved this problem, but it requires modification to install and robs some of the Strat's beautiful airy tone.
Enter the Super-Vee. This ingenious double-locking bridge is a drop-in replacement for any six-screw or two-point Strat bridge. It bolts down In minutes and requires no permanent modification to the instrument Instead of pivot points, the Super-Vee rides on a patented frictionless blade that won't wear out You can even set the position of the bar to suit your style. Read more
Westside distribution announces four new Morley guitar products for 2010.
Mini Morleys
Two new optical pedals for 2010, the Mini Morley Wah and Mini Morley Volume. Both pedals are as fully featured as you would expect from Morley but measuring only 4.5 (W) x 6.75 (L) x 2.75 (H) inches, are perfect for pedals boards when space is at a premium. Read more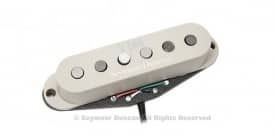 No other guitarist unleashes the fury like Yngwie J. Malmsteen. His influence is undeniable, his technique unparalleled. So, when a legendary axe-slinging metal virtuoso like Yngwie says he wants to take his tone to the next level, we listen. After hundreds of hours of intense tone pursuit, we proudly unleash the STK-S10 YJM Fury.
The YJM series includes a dedicated bridge pickup as well as a separate neck/middle pickup, representing two highly individual customized voices that sound sweet and fluid with more articulation and responsiveness to dynamics. They're recommended for any fast playing style including neo-classical, shred, hard rock, power metal, and heavy metal and can directly retrofit most single-coil equipped guitars. But players beware, installing the YJM Fury into your guitar, might unleash the Fury in you.

When America first got wired, around the turn of the century, no one could have imagined that electricity would be used for anything more sensitive or complex than running motors and keeping light bulbs burning. Because of this, the three-wired power distribution scheme that was devised (and hasn't been radically—if at all—altered since) was designed to be safe and convenient, not noise-free. And so now, as the new century begins, we are cursed with hum-inducing power scheme of our well-meaning but short-sighted ancestors. Of course, with enough money and know-how, it's possible to pay big bucks to hire some circuit jockey to tear up the walls and create relatively noise- and trouble-free environments.
But for those of us who don't have multimillion-dollar royalty checks overflowing from our mailboxes, rewiring our homes, garages and basements to provide optimal, noise-free powers to our recording equipment and amplifiers is usually not an option.
Luckily, the Furman IT-1210 balanced power isolation transformer can do much the same job as a highly paid electrician. Providing precisely balanced power to your sensitive gear, the IT-1210 will typically lower the noise floor of your studio environment by a full 16dB. At the heart of the unit is a specially wound and shielded toroidal isolation transformer with a center-tapped secondary. The two-rackspace unit provides 12 outlets on its rear panel and another two on the front. All of the outlets are spaced far enough apart to accommodate the pesky "wall-wart" adapters that provide the power for many signal processing devices.

Advertisement————————————
[% oiopub-banner-3-left %]————————————————————
The front panel of the IT-1210 features a self-checking mircroprocessor-controlled voltmeter that proves the user with an "at a glance" readout of the power situation at any given moment. At times when things get a little bit too juicy and voltage creep into the 130 o 140 range, or when the power dries up and levels drop to 80 or 90, the unit flashes an eye-catching special pattern. If an all-out power surge occurs, the Furman, like a well trained bodyguard, is all too happy to take the bullet, making quick use of its Extreme Voltage Shutdown circuit to protect your expensive gear from harm. The IT-1210 also has the well-being of your precious studio monitors (and ears) in mind: when you fire up your studio the master power switch on the front of the unit, an exclusive Soft Start circuit prevents turn-on transients and high inrush currents from wreaking havoc.
We installed the Furman IT-1210 in our 24-Track ADAT project studio to see it work its stuff. As far as we can tell, the building's wiring was last upgraded, well, never. With a half-century's worth of rodent nibbling and other abuse adding to an already marginal electrical situation, and with a large, baby boom-era fridge running off the same circuit as our board and tape machines (what's a recording session without cold beers?), our little musical Mecca is noisier than a ham radio convention. (We've often had to scrap vocal takes when the ailing fridge decides to kick into overdrive and starts the whole room buzzing).
With the Furman in place, we saw a noticeable lower noise level on the input level meters of the ADATs and heard greatly reduced monitor hiss during ear-splitting "crank the monitor so I get the right vibe!" takes—not to mention significant attrition of the pesky 60-cycle hum normally associated with the use of single-coil pickups. Plus, it's much easier to shut down a studio after a long night of drinking—make that tracking—when all the gear is hooked up to a single master switch.
Website: furmansound.com
Recording engineers know that it's never been easy to get good guitar tone by "going direct" into a mixer. Yet, for many guitarists with home studios, miking an amplifier to achieve a more natural-sounding live tone isn't always an option. Maybe you don't have the best sounding amp and cab setup; perhaps you do, but your home studio environment prevents you from cranking it up. Maybe you're recording live in a small space and you don't want your guitar sound to leak into the drums or vocal mikes. Obviously, there are any number of reasons to record directly—and there are number of devices to help you do it. Read more
If one of your guitar-playing buddies walks up to you and says, "I've got the blues," it could mean one of three things: he just found out his girlfriend's nick-name is "Back Door Bertha," he's a drug pusher or he just had some Jensen P10R speakers installed in his amp. Known as the "blue cap," "blue bell" or "blue frame," the original Jensen P10R is considered the ultimate guitar speaker by many tone connoisseurs, and with good reason.