The Mustang Floor shares its name with Fender's range of Mustang digital modelling amps, and is similarly packed full of digital effects and amp models. The unit also connects to a computer via USB for direct recording and preset editing. Read the press release below for full details. Read more
Tags: fender mustang floor manual, fender mustang floor review, fender pro junior radio frequency interference, Fender Sidekick Reverb 25 Review, first generation fender g dec had problems, user reviews and demos using fender bullet reverb, user reviews and demos using fender sidekick 25 rx,
NAMM 2011 — The '65 Deluxe Reverb is one of our most popular reissue amps, delivering classic Fender tube tone for the discerning guitarist. Its 22-watt 1×12-inch configuration is perfect for stage and studio alike. Read more
Tags: 2011 fender deluxe reverb limited edition,
Fender completes the first generation of its Mustang amplifier line with the introduction of the high-powered Mustang III, IV and V models. Like the smaller Mustang I and II models released in late summer NAMM 2010, Mustang III, IV and V raise the standard for modern guitar versatility and muscle, with incredibly authentic amp models, a huge bank of built-in effects, easy USB connectivity and Fender FUSE software, all packed into a striking visual design with sleek and modern Fender black "carbon tweed" covering and silver grille cloth.
Mustang III is a 100-watt open-back combo with a 12-inch Celestion speaker great for rehearsing and smaller gigs; Mustang IV is a 150-watt open-back combo with dual 12-inch Celestion speakers great for rehearsing and larger gigs. The Mustang V Head is for the big gigs—a 150-watt amp head that pairs with the rugged Mustang V 412 Cabinet, which is loaded with four 12-inch Celestion speakers and sturdy center baffle bracing. Read more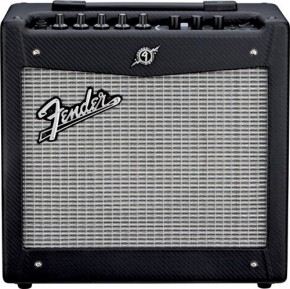 Fender continues its successful push into the arena of affordable modeling amps spearheaded by the G-DEC series. Now, with the Mustang I and II, Fender brings modeling technology to its more budget-conscious level yet. Mustang I and II feature a straightforward approach: modeled amp sounds coupled with great effects and virtually unlimited editing and storage potential through computer hookup. Read more
Tags: Fender Mustang 1 Amp Review, fender mustang 1 review, fender mustang amps reviews, fender mustang ii amplifier, mustang amp, fender mustang amp review, fender mustang ll review, is fender mustang 2 amp good for blues music, mustang fender amps review, fender mustain 11 amplafier,
Mustang series guitar amps offer up-to-date features and loads of fun at unbelievable prices.
Aimed at guitarists from beginner to weekend warrior, these high-performance machines contain highly accurate amp modeling, a stellar collection of effects courtesy of an all-new DSP platform, and many "hidden" capabilities, yet they are easy to use right out of the box!
The visually striking design treatment looks all new, yet evocative of classic Fender styling. And with loud, lightweight power amp designs and muscular speakers and cabinetry, they sound as good as they look. The Fender Mustang is a closed-back combo with a special design speaker.
The amps come factory loaded with 24 presets built from 8 amp models and 24 effects, with tones from vintage Fender to modern Metal. The number of amp models can be increased with the use of a computer, and this amp can be completely reconfigured by the user.
All Fender Mustang amps include USB connectivity for high-quality, low latency audio output, and to engage the Fender Fuse software application for PC and Mac. Read more
Tags: fender guitars, amplifier fender mustang 1, Amp Guitar Fender Mustang™ I, fender mustang ii, fender mustang, Fender Mustang II used guitar amplifiers,
Fender G-DEC-3, worlds best guitar amplifier? I don't know about all that, but I can honestly say it's one of the cooler amps we've seen at NAMM. Check out the video below and decide for yourself. Read more
Tags: new g dec 3 amp,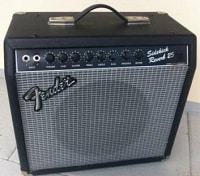 Why do I hear people talking, like on an AM radio, when I turn up my Fender Sidekick 25 (SKX25R) really loud? The distortion is too loud for me to understand them. Also, I bought it used. How much was it new?
Without actually hearing the voices I would suggest you make the following checks: Make sure you're using a good quality shielded cable intended for guitar. Screw off the cable ends and look for either the foil or braided "shield" which signifies a cable intended for this use. Check if the shield is soldered well to the plug. Do you have single-coil pickups? If so, that could be the problem right there. Single coils, especially if they're of poor quality, pick up all sorts of radio crud. It's possible that the amp itself is susceptible to RFI (radio frequency interference) because of poor shielding or just massive amounts of gain. RFI can sometimes be extreme in certain locales. Do you live near a radio station or Ham operator? Bring the amp to a friend's house and see if it's any better. Finally try and listen closely to the radio voices; are they speaking directly to you? Unt how long have you had this problems? The amp was $249.99 new.
Fender Sidekick 25 Video Demo
Tags: fender sidekick reverb 25 manual, fender sidekick reverb 25, fender sidekick reverb 25 footswitch, repairing fender sidekick 15 reverb amp, sidekick 25,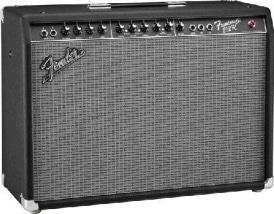 When you think of guitar amplifiers, there are a few names that jump out automatically. For decades, Fender has been one of those names. When a player wants to get a stellar clean tone, there are a few amps that will deliver without question. Today, we will be looking at the Fender Frontman 212R solid state guitar amplifier, one of Fender's best selling amplifiers to date. Read more
Tags: Fender Frontman 212R, fender 212r amp, fender frontman 212 demo,
It's coming near that time of year again; summer NAMM 2009. Summer NAMM begins July 17th thru the 19th. Firebelly Amplification will proudly introduce three special edition models–that will be produced exclusively for distribution through music stores–these are upgraded editions from the current models being produced and sold exclusively on the internet. Read more
Tags: firebelly amps, firebelly amps review,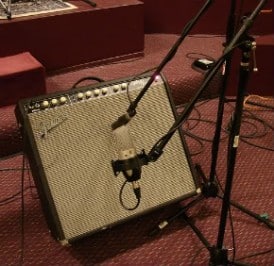 Created by Fender's Custom Shop, the Vibro-King backs up it's a blues-approved vintage Bandmaster configuration with some perfectly appropriate vintage effects. The point-to-point-wired Vibro-King provides a single channel with a "stand-alone"-style reverb circuit, tremolo and a "fat" switch. The flexible reverb system has controls for mix, tone and a dwell knob to control effect's sustain. Read more
Tags: fender vibroking, vibro king tremolo, Fender Custom shop Vibroking, fender vibro king, fender vibro-king, fender vibro-king review, vibro king,