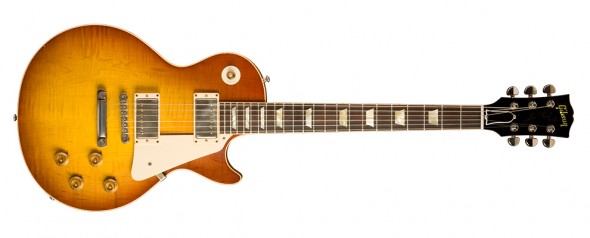 Eric Clapton's original 1960 Les Paul Standard is legendary for not one, but several significant reasons. Clapton's playing on John Mayall and the Bluesbreakers' Blues Breakers with Eric Clapton album of 1966 (forever after known as "The Beano Album" because Clapton himself was reading a Beano comic book in the LP's cover photo) is seminal blues-rock — searing, dynamic and ferocious. While anonymous street artists famously scrawled "Clapton is God" on the walls and train stations of London, the virtuosic ex-Yardbird brought the mighty sunburst Les Paul roaring back to popular music. One listen to the creamy, yet biting snarl of Clapton's playing on tracks like "Hideaway," "Double Crossin' Time," or "Key to Love," and countless guitarists the world over were instantly turned on to the power of this rare, and previously under-appreciated, Gibson solidbody electric guitar. Read more
Premier Manufacturer Announces The Game Changer, In Addition to New String Offerings, John Petrucci Guitar and Ultra-Portable Gig Bag Amplifier
NAMM 2011 — Ernie Ball Music Man, one of the world's leading manufacturers of strings, instruments and guitar accessories, including the iconic Slinkys guitar string line, today announced that it will unveil The Game Changer, a ground-breaking, all analog pickup switching system that unlocks an extensive library of natural guitar tones previously unavailable in traditional pickup technology. Available in select Reflex guitar and bass models in 2011, this progressive innovation leads a host of new and exciting products Ernie Ball is set to launch at the 2011 Winter NAMM Show.
New Ernie Ball Music Man products are Read more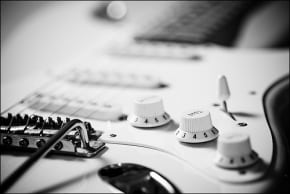 I have a '90 or '91 second-hand Japanese Fender Strat. I love the guitar, but its sound is starting to wear on me. I've tried different amplifiers, pedals and everything, but it's impossible to escape those thin, glassy, Clapton / Hendrix / Cobain wannabe tones. I want to sound like me. Read more
I've been interested in vintage American amplifiers for a long time. But recently, while surfing on the internet, my curiosity for classic British amplifiers was piqued. While practically everyone knows about Marshalls and Voxes, I've found some amp lines—like Selmer and Watkins and a few others from the Sixties—that are relatively obscure here in America. I'd like to know what some of these amps sound like and what well-known players have used them. Can you suggest any reference or resource materials that can give me information about these mysterious amps?

-Mikey
xxx@gmail.com
Dude, you are in luck! A friend recently sent me a totally cool CD from the U.K. called Ampaholics, The Vintage Collection—Volume One. Compiled by a British amp enthusiast over a two-year period, Ampaholics is a virtual "tone dictionary" of what 17 pre-1970 British amps sound like. Each amp is recorded "flat"—with no eq—to give you the purest and most accurate representation of what these amps made famous by Clapton, the Beatles, Jimi Hendrix, the Who and others sound like. Read more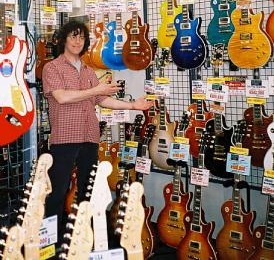 Just as every adult knows that it is inappropriate for one to clean one's ears at a fancy dinner; every self-respecting guitarist knows there are certain disgusting activities which have for many years been strictly verboten in music stores:
Don't try to play something you don't know.
Don't show the salesman how good your Pete Townshend imitation is.
Never, under any circumstances, play "Stairway to Heaven," "Smoke on the Water," "Layla" or "Eruption."
Merely strumming a few chords of those songs—and a handful of other classics from the Sixties and Seventies—will elicit the ill will and disdain of every employee and customer of your favorite guitar emporium.
But what are the "Stairways" of today? What are the more recent additions to the forbidden list, the new tunes that make salespeople cringe, floor managers retch and cashiers run amok?
We took a quick survey of stores in some of our favorite guitar cities around the country and came up with an easy consensus: Metallica's "Enter Sandman," Nirvana's "Smells Like Teen Spirit" and "Come As You Are," and Green Day's "Longview." Read more
With its members drawn from Traffic and Cream, two of the most popular groups of the era, Blind Faith was hailed as rock's first supergroup. Read more
When just two-years of its inception, Cream—thanks to such signature songs as "Sunshine of Your Love" and the landmark double album "Wheels of Fire"—was able to boast a dedicated international following. Read more