When the phrase "guitar solo" comes to mind, you picture a guy just shredding apart a fretboard on stage to a crowd going absolutely crazy. This may hold true for some instances, but there are just as many great, even better guitar solos that only consist of a few notes…and are absolutely breathtaking. Read more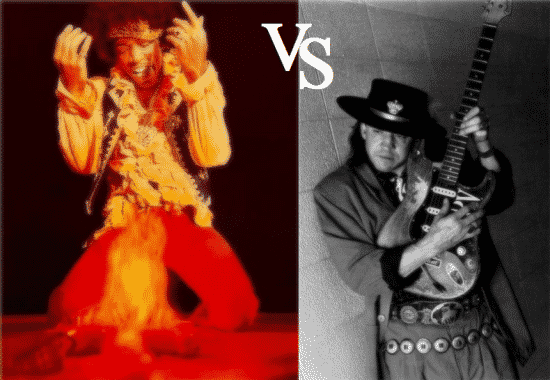 Two of the most revered guitar players in the blues/rock universe are Jimi Hendrix and Stevie Ray Vaughan. Both men helped define the sounds of their respective eras and are icons of the instrument and are most likely responsible for launching more guitar-playing careers (both real and air) than any post-Beatle guitarist outside of Eddie Van Halen. Today, however, your humble man of letters here at Gear-Vault has been given the difficult task of pitting Jimi and SRV in a head-to-head battle for musical supremacy, which is truly no easy task. In the flyover, both man share many similar qualities, from their explosions into public consciousness to their preference for Fender Stratocasters to their untimely deaths. When examined more closely, however, there are some major differences between the two that just might give one the edge over the other. Want to watch the fur fly? Keep reading. Read more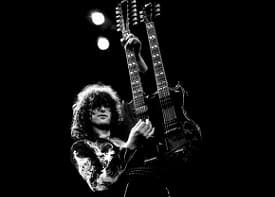 It's no secret that each major religion has a group of artifacts that its followers hold a high respect for. We guitar players have the same artifacts that we respect. The main difference is that ours can be used to raise fists and get laid. Well, Gear-Vault has put together a list of said guitars, so let's take a look at what many guitar players say are the holy of holies; the top ten most famous guitars, in no particular order. Read more
This year's NAMM show in Anaheim brought many new and innovative guitars and amps to a music scene that has been evolving at a dizzying pace over the past decade. Not open to the public, this inside-baseball convention caters to those who make their living selling instruments and equipment to the unwashed masses, so those who attended the show were probably quite ebullient about the new EVH Stealth and the EVH 5150 III mini-amp head. Read more
Gary Kramer Gained celebrity in the Eighties as the primary guitar supplier for Eddie Van Halen. He was also one of the first manufacturers to feature the era-defining original Floyd Rose tremolo. He stepped away from guitar building for more than a decade, but now he's back with another inspiring line of guitars and a fresh set of ideas on guitar design.
Kramer's Delta Wing Simulator R looks like an alien weapon, but the wild mahogany body shape actually serves to align the neck perfectly when standing or silting. The sweeping upper horn braces the extremely lightweight guitar against the player's chest in such a way that it's nearly impossible to slump into an uncomfortable posture. Similarly, the body contours ease tension on the right wrist liberating feature that's evident when performing difficult techniques. Other high-tech attributes include recessed controls, a licensed Floyd Rose tremolo, a push/pull coil tap, a slick matte finish on the 24-fret neck and molten alnico pickups that are aimed right at players who want extreme rock and metal tones. Read more
NAMM 2011 — EVH 5150III Mini Amp heads deliver the sound–the incredible tones Eddie Van Halen has chased his whole life. The EVH 5150III Mini Amp is a triple-threat, 50-watt monster: a truly clean channel, a molten crunch-time channel and an off-the-scale overdrive channel you're simply not gonna believe. In black and ivory, with an unmistakable look and sound that's pure EVH amplification; a big head in a small box. Read more
The Eddie Van Halen EVH Stealth and Wolfgang guitars, along with the 5150 III 50W amp, were unveiled this week at the 2011 NAMM (National Association Of Music Merchants) show, a massive music-products convention that runs through Sunday. Read more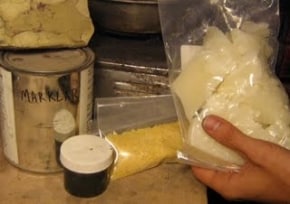 I read that Eddie Van Halen waxes his pickups and boils his strings. Can you tell me why he does this and how I can do it myself? Read more
Here is a compilation of the world's best lead guitarists of all-time by YouTube member: Mike Redshaw. Personally, I won't dispute his list — I think he picked some of the best guitarists known to mankind. However, one could argue for days who "their" version of 'best guitarists' are. There's a lot of talent out there and everyone get's moved by music / guitars differently. For me, if I were to pick just one "best" guitarist, it'd be Randy Rhoads (not on his list). All of his work has moved me and he was one of my biggest influences when I started playing guitar. Okay Gear-Vault readers, who would you pick for the 'world's best lead guitarist' of all time? Read more
Floyd Rose is the revolutionary tremolo systems off time.
In 1964 a guitarist named Floyd Rose moved from Durango, Colorado to Reno, Nevada. There he started playing in bands. Floyd had many guitar artist influences. His biggest influence was Ritchie Blackmore of Deep Purple and Jimi Hendrix from one of his Woodstock performances.
Inspired by all these amazing guitar players he started wailing and playing hard on his whammy bar on his Fender Strat. However, he noticed the problems of his Stratocaster not holding up to his aggressive style and go out of tune. That was a problem, the tremolo systems back then would make the strings go out of tune to easily.
Floyd Rose was jammin' on his Fender Strat and that's when he noticed the E string was sliding around the winding on the tuner. That's when he realized the friction around the nut was allowing the strings go out of tune. He then started thinking about some type of locking device. Read more