ESP is known for producing guitars tailored to look and sound. Many musicians including Metallica and Bullet for My Valentine's guitarist, Michael Paget love using ESP guitars for the great heavy edged riffs.
The B-1004 4 string and the D-5 5 string both resemble each other as sleek professional guitars until you get down to the fine details and price. To help bass players decide which guitar may be more suitable for them, here is a brief overview describing the sound both guitars are capable of creating in the studio or on the road. Read more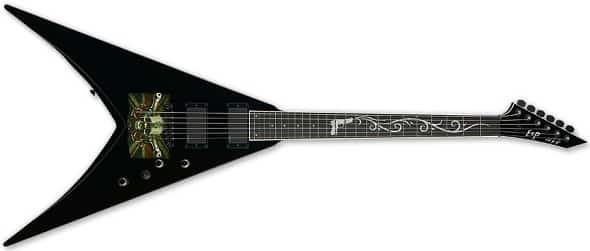 For fans of guitarist Michael Paget, also known as "Padge" of the band, Bullet for My Valentine, there are two new items on the market for the guitarists who endeavor Padge's aggressive style, the LTD MP-600 and the ESP Michael Paget Signature Series models. The ESP model is an exact replica of Paget's custom ESP guitar that he is seen so often playing on tour.
Paget's band (Bullet for My Valentine) hails from Brigend, Wales located in the United Kingdom. Although they originally formed in 1998, you probably have only heard of them as of this year when they released their current album, Scream Aim Fires, which debuted at number four on the Billboard 200 charts. That's impressive, but Paget and his band have put in their hard work constantly touring since their 2005, (The Poison) which broke them reasonably well into the United States music scene, which landed 375,000 copies sold in the US alone.–Scream Aim Fire topped sales of 53,000 in the first week alone. Read more