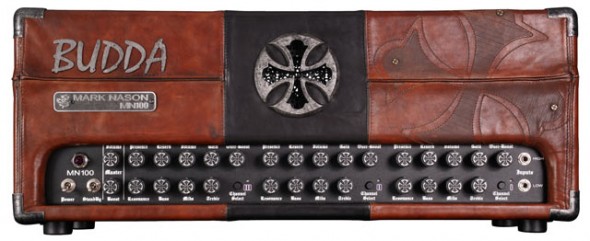 Budda Amplification proudly introduces the Budda MN-100 head and MN-412 cabinet, a fully featured three-channel tube guitar amplifier head and 4×12 enclosure, featuring a custom Italian leather exterior by renowned footwear designer Mark Nason.
The Budda MN-100 is a highly versatile, high-gain amplifier featuring three independent channels, a 120-watt power section driven by four EL34 tubes, and a preamp consisting of seven dual triode 12AX7 tubes.
Budda MN-100 Video Demonstration
The Budda MN-100 also features dual 5U4 rectifier tubes and a solid-state rectifier, with Budda's patent-pending PowerPan variable rectification control that allows players to open uncharted tone territory by selecting tube rectification, diode rectification or anywhere between the two.
All three of the Budda MN-100's independent channels – Clean, Rhythm and Lead – include separate three-band EQ, Reverb, Resonance, Presence, and true bypass effects loop with send and return levels. Each channel also features OVER-BOOST, a stompbox-style lead boost that engages an additional tube-driven gain circuit to give players a supercharged boost. The effects loop on channel 2 can also be used as a global loop for incredible versatility Read more
The hidden artillery of professional touring musicians, the Budwah Budda Wah has long been regarded as one of the finest wah-wah pedals available. Now Budda has updated and improved the Budwah with major enhancements, taking the same tried and true sound to an even higher level of quality and durability at the same great price. Read more