When considering which overdrive pedals belong on the Mount Rushmore of guitar gear, we here at Gear-Vault took one major consideration into account, which is tone. Let's face it – overdrive is overdrive, and has been since studio musician Grady Martin continued playing despite a faulty pre-amp circuit in the console of a Nashville recording studio in 1961. The nuances of distortion, and opinions about its place in music, have been fine-tuned ever since. This list leans toward pedals that the average musician can afford – the exotic special effects pedals that so few serious artists ever really use anyway are excluded. This list is intended to let you know which pedals might be best for your sound, with the number of pedals sold not having too much influence on their ranking. One caveat for all: None of the following pedals come with earplugs, the use of which is strongly encouraged for the proper use of these smoking guns. In reverse order: Read more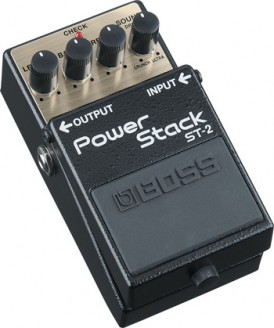 BOSS U.S. is proud to announce the addition of the ST-2 Power Stack to its industry-leading compact pedal lineup. Boss ST2 emulates the sound and feel of a cranked stack tube amp. The Boss ST-2 is a unique type of BOSS distortion pedal, one that gives guitarists both the sound and feel of playing through a large, cranked-up, stack-style tube amplifier. This is accomplished through BOSS' years of meticulous research in amp modeling, and represents a bold step forward in stompbox design. Read more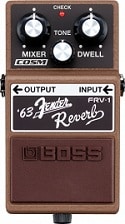 Harmony-Central–1963 Fender Spring Reverb Returns as a Modern Stompbox BOSS and Fender USA have collaborated to create the FRV-1, a stunning recreation of the 1963 Fender Reverb. A staple sound of rockabilly, country, blues, surf rock and even grunge rock, this tube-driven reverb sound is now available in an affordable, rugged compact pedal.
The FRV-1 recreates the classic spring-reverb sound of the 1963 Fender Reverb via patented COSM technology. Three classic controls for Dwell, Tone, and Mix allow players to refine their tone, adding buttery warmth or sparkling twang. The FRV-1 is expected to be available in late July. Visit bossus.com for more information.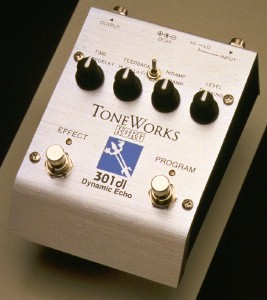 Whether it's Eddie Cochran's rockabilly slapback or the Edge's autonomous counter-rhythms, listeners have always marveled at the shimmering textures and depth produced by delay units. And, just as guitarists have found new uses for delay effects over the years, manufacturers have improved on the quality and versatility of these boxes. We checked out units by Korg, DOD, and Boss to see what's cool in the world of delay.
DOD FX 96 Echo FX Analog Delay
Featuring analog circuitry, the FX 96 is intended to reproduce the gloopy tones of early tape-echo machines and the bubbling repeats of pre-digital pedals. The pedal features the standard controls one would expect to find on an analog delay: Mix, Delay and Regen / Repeat. Also included is a Tape Quality control, an ingenious addition that lets you grunge up the sound quality of the virtual "tape" to heighten the sonic illusion.
DOD have really nailed those old tones, warts and all, with this pedal. Although Echoplex connoisseurs may not be totally convinced, the FX 96 does as mean a take as many expensive rack units dedicated to the same task. There is definitely a bit of Gilmour, Page and Brian May to be found amongst the DOD's tumbling layers of repeats, warm slapbacks and psychedelic stoner mayhem.
Boss DD-5 Digital Delay
Using the DSP chip, Boss managed to cram a ridiculous amount of effects into the DD-5. Of the 11 available modes, 1 through 4 offer a range of clean, studio-quality delays from 1 ms to 2000 ms. Using the Panning Out socket, these silky delays can be delivered in stereo with the repeats arriving at their destination in alternating sequence.
Mode 5 is the Hold function, which is basically a mini-sampler allowing you to record up to two seconds of playing then use it as a backing. Gizz Butt of Prodigy uses this to lay down a bed of techno-babble to riff over in live performances. More digital trickery is afoot with Mode 6, which offers Hendrix-like backward swells. Although not a true reverse-taped effect, there are still some groovy suck-sounds in this mode. Finally, Mode 8 through 11 allows you to tap in a delay tempo via a footswitch.
Korg ToneWorks 301dl Dynamic Echo
This roadworthy device allows you to store two different sounds and has an extra footswitch to toggle between them. Each of the four controls on the 301dl has been assigned two functions, selected by a small toggle switch. In addition to setting the level, feedback and delay time, you can also manipulate the pre-delay, harmonic structure and relative aggression of the repeats. The unit even offers Ducking, which allows the effect to respond to the dynamics of your playing, lifting phrases out of the potential muddle of repeats.
Once you've invested some time in finding a sound, it can be easily stored in the Red or Green patch, ready for action. The flexibility of the 301 means you are a toe-tap away from chewing analog slap or glistening digital soundscapes. Add a Y-connector and you're driving in stereo.

Advertisement————————————
[% oiopub-banner-3-left %]————————————————————
The End Line
These three pedals are all very different but equally inspiring to use. The DOD delivers delay like they used to make it, without the bulk or hassle. Boss layers pro-quality sound in a simple format with funky features for good, clean fun. The Korg gives you precise control of its effects—and programmability to boot. In a world of missed schedules, these are some delays we can all enjoy.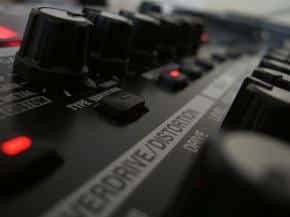 The war for control of your sole is heating up. Boss and DigiTech continue to massage their entries in the multi-effects floorboard skirmish, each fine-tuning their respective designs with new models and a host of new-and-improved features guaranteed to make true believers every mutli-effects loving axe wielder.
BOSS GT-3
Based on Boss' GT-5 floor processor, the GT-3 ups the GT-5's ante with more presets, a greater total number of effects (32 versus 28), compatibility with piezo pickups and some very cool effects, like Slicer and Auto Riff. It also offers massive editing options and advanced rhythm-based effects. All this at a lower price point than the GT-5. Read more