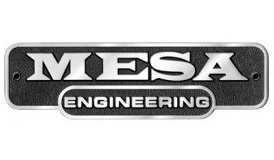 MESA Engineering, also known as MESA Boogie, is a manufacturer of guitar and bass amplifiers in Petaluma, California. MESA Boogie started operating in 1971. Already a wide variety of products MESA has created Read more

Its status in the six-string universe is legendary, but Gibson guitar corporation has never made a real impact in the bass-guitar market. Since the Sixties, Gibson has developed and marketed basses that, for one reason or another, just didn't catch on. Although they were an alternative attempt to Fender's popular basses, Gibson's four-string were plagued by limited tonal range, top heavy, and baseball bat-like necks. Read more
Electro Harmonix–the Electro Harmonix Bass Blogger Distortion Pedal is "the perfect dialog with your drummer". Like other Electro Harmonix pedals, the Blogger is encased in a durable metal box for rugged use. Read more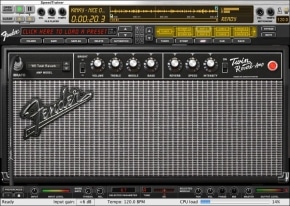 I'm going to let you in on a little high-level industry info: Fender is hyper-picky (but in a good way). In fact, Fender is so militantly nitpicky and protective about the sound of their guitars and amps that no software modeler has ever been allowed to use the Fender name outright–until Fender and IK Multimedia teamed up to give you the full-on Fender tone experience. Read more

Leo Fender invented the fretted electric bass when he released the Precision Bass in 1951 and the Fender bass has been the dominant force in the market ever since. There have, however, been a number of bass designs from the Golden Era that have maintained an identity and a place in bassists' hearts. Read more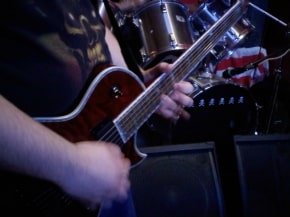 Sooner or later, it happens: band practice. For many people, rehearsal, or "re-hassle", is a necessary evil, one that must be endured in order to get that glorious stage time that they (and their girlfriends) live for. Very often, however, rehearsal time seems like an exercise in futility, indecision, or intoxication and many bands practice over and over and never get any better. Why is that? I think it mostly happens because many players aren't totally clear on what a rehearsal should be and what should be happening when the band gets together. I, your humble scribe, will try to give you, my faithful readers, an idea of what a productive band practice includes and what you should have together to maximize the time that the band is in the same room so that the time you have is put to its best use. I have short list of band commandments that, if followed, will be a big step towards getting your bands' sound closer to where you want it to be. Read more
Softube is shipping the Bass Amp Room plug-in for native VST, AU, RTAS. Bass Amp Room is available today at the Softube web shop ($199, excl. VAT).
Softube also presents Amp Room Bundle, containing native versions of Bass Amp Room, Metal Amp Room, and Vintage Amp Room at a reduced price of $549 (web price, excl. VAT). That's a massive saving of $178 (24%) compared to buying each title individually. Bundle upgrades from previously purchased Amp Rooms are also available.
Bass Amp Room was designed to handle all your bass amp needs, from dirty rock to modern clean, keeping two equally important goals in mind. The first was to give the user the best possible sound quality. The latter was to create an intuitive plug-in which allows for a really fast work flow. Time is money, but cutting down on time shouldn't mean you have to accept poor results.
Bass Amp Room consists of a model of a classic bass amplifier, three distinctive speaker cabinets with click-and-drag mics, and a blendable DI section with tone controls and a limiter. That's it. And it's all you need to create a unique signature sound – the strength lies in the ease of use of the individual blocks and the huge range of sounds these can produce when combined.
In short, Bass Amp Room is all about getting a sound you know you can trust, and getting it quickly, from a plug-in you don't need a degree in computer science to handle.

Advertisement—————————————
[% oiopub-banner-3-left %]—————————————————————
Softube Bass Amp Room Web Site:
http://www.softube.com/bass_amp_room A fully functional 10 day demo can be downloaded from http://www.softube.com.
Visit their web site at softube.com for more information.
————Screen Shots————————————————————————————————————-
[nggallery id=17]
What is the difference between a compressor and a noise gate? They both have threshold, attack and release controls. What gives?

Ken
XXX@rocketmail.com
While guitar players tend to stick to a handful of tried-and-true designs, bass players are far less cookie-cutter in their mentality. From body shapes to finishes, from active electronics to creative hardware, bass players and manufacturers take a refreshingly imaginative approach to their instruments. Lest our bottom-dwelling brethren feel ignored, we decided to take a look at what's rumbling in the caverns of bassdom.
Washburn XB900
The folks at Washburn have been trying hard to establish their company as more than just a good import brand. The XB900 bass shows just where their effort has been focused the past decade. Part of their Bantam series of basses, the XB900 has a body design loosely based on the Rickenbacker shape, which has become a new standard among bassists. An extended bass horn coupled with a slanted, oval lower bout gives the instrument a well-balanced feel while retaining access to the lower and higher positions. At a total weight of 7 pounds, 16 ounces, the XB900 was the lightest bass we reviewed, and this, along with the instrument's body design, made it extremely comfortable to strap on.
The XB900's playability is excellent, too. The action is low but buzz-free, and the 24 highly polished, wide oval frets sit neatly in their Indian rosewood fingerboard. The two-piece maple neck has a matte finish and an oval contour at the first fret, transiting evenly to a wide, flat shape by the ninth fret. The neck-body joint is a four-bolt affair with individual washers rather than a single neck plate, and access to the upper frets is very good.
The only drawback to the XB900's musicality is in the bridge design. It's a sturdy enough piece of hardware, with nary a rattle of its own, but the E and A string buzz behind the saddle, due to its shape and angle. While a set of Rotosound strings, or similar strings with a piano-like unwound end, would probably alleviate this, a simple redesign of the saddle shape would be more appropriate.
Advertisement————————————
[% oiopub-banner-3-left %]————————————————————
The
XB900 speaks through a Seymour Duncan BassLines pickup
, making it very similar in design to the Music Man also reviewed here. This is a beautifully voiced pickup, with a very "open" tone and a little less aggressiveness in the mid frequencies than the Music Man model. The active electronics consist of bass, midrange and treble boost/cut controls with a center detent, and a master volume control with a push-pull switch for series of parallel coil selection. The tone controls are rather aggressive, causing some unwanted distortion at the extreme boost positions, and this tends to override the subtlety of the series-parallel option.
The XB900 is just one of Washburn's many instruments utilizing the Buzz Feiten tuning system. For those who haven't yet caught the buzz on Buzz's system, it's a combination of scale-length tweaking and tuning which brings the instrument more closely in tune with itself and with other well-tuned instruments. The subtlety of this may be lost on most bassists, but if they're doing extensive chordal playing or spending a lot of time in the "first fret" keys of F, Bb, Eb and Ab, they'll fully appreciate Buzz's tuning.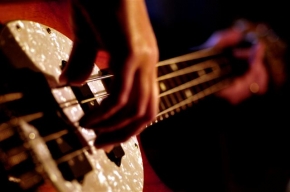 Music Man Sting Ray
The Music Man Company was Leo Fender's first project after he sold Fender to CBS. Not surprising, of our four reviewees, the Sting Ray bass bore the greatest resemblance to Fender Precision Bass. That said, it should be noted that Music Man has put plenty of spin on the old workhorse design, giving it a distinctive retro-elegance all of its own.
Our review model came in Pearl Blue, a metallic silver-blue beneath a clear high-gloss polyester finish. The trademark oval pickguard was of handsome black pearloid, and the overall look of the Sting Ray was of understated richness. Incidentally, Music Man offers a whopping 20 different colors as standard finishes.
Weighing in at 9 pounds, 12 ounces, the Sting Ray was definitely the heavy-weight of our group, but every ounce is muscle. The Sting Ray bass is known for its brickhouse construction. The hardwood body is shaped like a rounded P-bass, and the one-piece maple neck has the semi-circular contour of a vintage Fender. The tuners are of the old-school open design and totally free of unwanted play. Combined with the six-bolt neck joint and metal control place, they give one the feeling of playing a P-bass on steroids.
Steroidal is also the word that comes to mind when trying to describe the sound of the Sting Ray. The single Music Man pickup responds with glee to snap'n'pop playing. The basic tone is tight, almost metallic, with a grainy midrange that growls pleasantly when leaned on. The active electronics have become an industry standard, providing a wide range of control without straying into the "fart, burp and fizz" zone of lesser circuits.
The secret weapon of the Sting Ray incarnation is the Fishman piezo bridge pickup system (optional). Using the same treble, midrange and bass controls as the magnetic pickup, the Fishman system brings a dimension to the Sting Ray's voice that can only be described as majestic, adding more air to the highs and more punch to the lows. I often found myself rolling off the magnetic pickup altogether just to enjoy the Fishman's voice. And should you find the piezo output at all unbalanced, you can access individual trim pots for each string via a plate behind the bridge.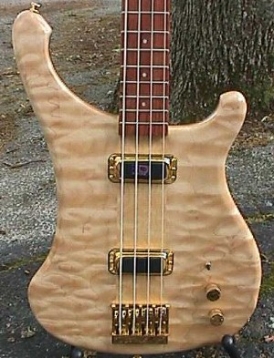 Rickenbacker 4004C Cheyenne
Since the introduction of the 4000 series basses in the late Fifties, Rickenbacker has stood along side Fender as a definitive and consummate builder of bass guitars. The Cheyenne series adds some notable refinements to their classic design.
Using only American Farm grown sustainable woods, the Cheyenne is built with a maple neck running the length of the instrument. This neck-through construction, virtually a Rickenbacker trademark, is somewhat concealed by the beautifully figured maple top but can easily be seen from the back where the body is of contrasting walnut, and on the headstock, where the "wings" are also walnut. The entire instrument, including the rosewood fretboard, has a silky hand-rubbed oil finish that looks and feels quite seductive and is reminiscent of boutique basses such as Fodera and Ken Smith. Add the gold hardware, and the Cheyenne comes across as an exceptionally handsome axe.
The Cheyenne does not stray far from the Rickenbacker paradigm. The nut width measures 1-11/16 inches, making it the widest nut of the instruments we reviewed. With its rounded, oval contour, the neck has a substantial feel (and a slight imbalance) that will be familiar to anyone who's ever picked up a Rick. The wide, oval frets are crowned flat and sit on a rosewood fretboard of light orange hue. As noted, the hand-rubbed oil finish extends to the fretboard, giving it a feel that's smooth but not at all slick, unlike the lacquered 'boards of most Ricks. At 1-1/8 inches, the body is thin compared to most basses but, other than its contoured edges, is of standard Rickenbacker dimensions.
You'll also find Rickenbacker's standard small humbucker pickups in the Cheyenne. This was the only bass of this batch with passive electronics, but there's no lack of range in the Cheyenne's voice. Played with a pick, the bass rings with that familiar Rickenbacker chime, and finger technique elicits a throaty midrange growl, particularly in the neck position. While the instrument has plenty of definition at standard pitch, dropped tunings rapidly turn mushy. Consequently, the Cheyenne seems ideal for rock, country and classic metal playing.
Ibanez BTB500

Having already made a name for themselves as a maker of excellent basses, particularly with their Soundgear line, Ibanez up the ante with their BTB series. A number of great features are found in these models, including a 35-inch scale, a unique bridge system and electronics.
One of the most eye-catching things about the BTB500 is the brushed chrome hardware. The tuners, bridge and strap pins are all finished in this look, a very high-tech yet subdued silver-gray similar to brushed aluminum. The is particularly unique, appearing somewhat like a Wilkinson / Gotoh design but employing four separate isolated units which also hold each string in place. A minimum of wood is removed to accomplish this, and the resulting sound is far warmer this way.
The BTB500's tall frets are very neatly finished, and the action was probably the lowest of all the reviewed instruments; yet there was not a buzz to be heard. The three-piece maple neck is mounted with five bolts in a contoured joint and has a matte oil finish that is one step away from raw. This feels as soft as a baby's bottom, but one hopes it will stand lots of playing without discoloring. Mention must be made of the 35-inch scale length, which gives the BTB500 a remarkably firm feel and piano-like response. It's a no-brainer to figure that this will only enhance dropped tunings.
The BTB500 is outfitted with a set of passive soapbar-style pickups which feed an active circuit. Controls consist of a master volume, pickup mix, bass boost/cut, treble and a stacked knob for midrange for frequency sweep and boost/cut. Running off of two 9-volt batteries for extra signal headroom, the sound of this circuit is both studio-quiet and remarkably flexible—like having a good rackmount preamp at your fingertips. Just marginally more subdued in peak volume than our other reviewed models, it still gave a sense of punch, precision and flexibility that would rival any $2,000-plus instrument.
The End Line
In spite of the flaws in the XB900's bridge and electronics, Washburn's overall attention to construction and playability bode well for this model. Once the company gets the kinks ironed out, this should be a killer model in its price range. The Music Man Sting Ray retains its place as a standard by which others will be judged, and the addition of the Fishman's piezo bridge option raises the bar still higher. Rickenbacker's Cheyenne dresses a classic up in pretty clothes. But the axe to grab for maximum bang-per-buck is definitely the Ibanez.
You can feel the rumble, tremor and quake… but when you see the size of the new Orange Terror Bass you will find it hard to believe the sound that comes from this diminutive amp. Punching well above its weight, the new amp joins the famed 'Orange Terror' family, which has won the hearts of guitarists the world over.
Even smaller than the famed Orange Tiny Terror and weighing in around 5 kilograms, the New Orange Terror Bass is a 500-watt hybrid amplifier with a Class D solid state power section and a twin valve 12AX7 preamp to deliver a high-powered performance that can crank out 500 watts of pure legendary Orange tone. Read more