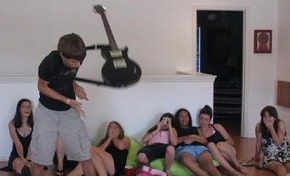 You've got a strap. You've got a sweet guitar. You've got a gig. Frankly, it's only natural that while in the middle of a jam you might feel the urge to swing your guitar around your body, a tradition that goes all the way back to vaudeville*, an expected part of any high octane performance. If you're not swinging that guitar, you might as well be a roadie or, worse, a drummer. Read more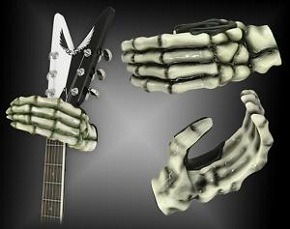 There are certain things that we are just plain used to in the guitar world, that we expect will never change. And if they do change, it will be marginal at best. Things like picks, straps, strings, etc…. Read more
Ever wish you had the freedom to play your electric guitar wherever you wanted, even while walking, without being tethered to an amp? The Mighty Moe Strap Amp lets you realize this dream and do it for less than it costs to fill the gas tank on your motorcycle. Read more
NAMM 2011 — For more than 25 years, PRS Guitars' culture of ingenuity and continual improvement has pushed their guitar manufacturing bar to new levels. The 2011 PRS Guitar product line exemplifies this culture with the execution of a thorough plan to enhance each instrument.
Innumerable changes have been put into action to improve the appearance, playability and tone of PRS instruments.Whether it's the new 53/10 pickups, two-piece bridge, steel bridge components, new neck shapes, V12 finish or new PRS Phase III locking tuners, the amount of time and energy PRS has invested reviewing, enhancing and implementing high impact changes in their quest for tone is unprecedented, even by PRS standards — PRS Guitars. Read more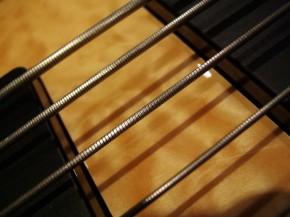 Some people change them before every gig, some never change them. Some keep a huge supply of favorites; some use only one kind and go get them when they need them. Read more
Guitar players have so many variables to pay attention to -pickups, amp settings, effects and so on- that string ends seem like a none issue. String gauges, okay. But string ends? Ball ends, bullet ends, what's the difference? Read more
Musikmesse 2009 – Electro-Harmonix announces the release of the classic FET (Field Effect Transistor) White Finger compressor in a small, rugged XO die-cast chassis. The XO White Finger allows for easy fit for your pedal board or rig set-up.
How it works
The XO White Finger treats an incoming signal with an optically controlled attenuator (volume control) comprised of a fixed resistor and a "shunt opto-coupled photocell". Because the attenuator is passive, opposed to the more common active AGC (Automatic Gain Control) compressor circuits, the White Finger doesn't add an electronic signature to the signal' this preserving the character and tone of the original sound.
The original Black Finger vacuum tube compressor was released in 2003, and quickly became the standard for quality optical compression for players. The XO White Finger uses the same optical technology but utilizes a Field Effect Transistor in place of vacuum tubes. It produces warm and articulate compression that is perfectly suitable for guitar, bass and recording.

Advertisement—————————————
[% oiopub-banner-3-left %]—————————————————————
XO White Finger Specs:
LED opto-coupler for a faster attack compression
Lamp opto-coupler for softer blooming compressor
Quiet long sustains with transparent tones
Pre-gain control lets you control how hard your instrument hits the compressor
Sensitivity knob for control of how the compression will be hit
Compression amount allows you to dial in the perfect ratio for your music
Same compression theory as our professional NY-2A but uses FETs instead of tubes
40DC-100 power supply included
Release date: April, 2009
Visit EHX.com for additional information.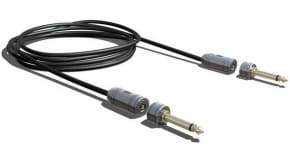 In today's guitar world, with so many instrument cables on the market, it is hard to justify another offering unless it's something extraordinary. The SnapJack, a cable that detaches in the event of excessive stress, certainly falls into the "extraordinary" category.
The sample that I received from Dot On Shaftto review was a dual straight end cord, with a separate package of two angled ends. The jacks attach magnetically to the cord, leading to my first – and obvious – question, "How hard will I need to pull to break the connection?" Couple of my compadraes` tried to pull the plug ends off in a straight-line direction, to no avail. But once we tried breaking the connection at an angle, the mystery was out. The magic trick was accomplished through the use of super-tough neodymium magnets and a slight magnetic polarity voodoo, keeping the jack-ends firmly in place unless pulled at an angle.
It's highly unlikely that players will find this cable to be tonally inferior to other cables – it stood up to testing against a George L and a Monster Cable with excellent results. The high frequencies were sparkly and clear and the lows were flawlessly tight. As another feature, when the SnapJack's connection is broken, it does not generate the loud, speaker destroying hum or pop like the standard cord. This opened up an array of possibilities; by placing the additional ends in several of my guitars, I was able to change guitars rapidly and quietly without shutting off the amp. This is also a great way to protect your guitars and amps from those roadies who have clumsy feet. Read more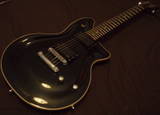 For all the advancements made in guitar design, one thing has remained essentially the same: try as you might, you can never get the damned things in perfect tune. If an open E chord sounds great, chances are a barred A will sound decidedly less so. Blame it on Pythagoras. Back around 500 B.C., the Greek philosopher and mathematician developed a formula, albeit an imperfect one, for tuning stringed instruments. His formula was popular—so popular, in fact, that it's still in use today. Which is why your guitar relies on a design that's about 2,500 years old. Read more