This year's NAMM show in Anaheim brought many new and innovative guitars and amps to a music scene that has been evolving at a dizzying pace over the past decade. Not open to the public, this inside-baseball convention caters to those who make their living selling instruments and equipment to the unwashed masses, so those who attended the show were probably quite ebullient about the new EVH Stealth and the EVH 5150 III mini-amp head. Read more


Anyone who's a fan of Eddie Van Halen and plays guitar more than likely knows about the Peavey 5150. Most metal guitar players also know about the 5150. That's because from EVH raunch to drop C circle picking, the 5150 is an absolute tone machine.
The Peavey 5150 II is a simple amp made up of a clean and lead channel. The clean channel can be switched into a rhythm channel, so you could say it flirts with three simple channels. The clean channel, despite what anyone tells you, boasts a beautiful clean tone that's full of headroom. Setting the gain knob around 6 or 7 will give you that awesome breakup that accents a clean guitar sound to really give it some shimmer.
The lead channel is somewhat similar to the clean channel, in that it's absolutely nothing like the clean channel but BRUTAL! The lead channel is controlled by a gain, low, mid, and high adjustment. The lead sound that comes from the 5150 is grimy, raunchy, loud, and… did I say, loud? Setting the gain around 5 will give you a perfect rhythm sound that will deliver a Marshall JCM 800-esque tone while still delivering enough gain for pinch harmonics. Setting the gain any further than this and you're trying to emulate some ENGLs or Soldanos. Pretty much begging for high gain madness! Read more
NAMM 2011 — EVH 5150III Mini Amp heads deliver the sound–the incredible tones Eddie Van Halen has chased his whole life. The EVH 5150III Mini Amp is a triple-threat, 50-watt monster: a truly clean channel, a molten crunch-time channel and an off-the-scale overdrive channel you're simply not gonna believe. In black and ivory, with an unmistakable look and sound that's pure EVH amplification; a big head in a small box. Read more
NAMM 2011 — Peavey proudly announces the new Peavey Triple XXX II three-channel, 120-watt guitar amplifier.
The Peavey Triple XXX II delivers tones ranging from the Peavey Classic 50 to vintage British to the modern Triple XXX and all tones in between. The versatile and comprehensive control section supplies a master volume pot and independent volume knobs for each of the three channels Read more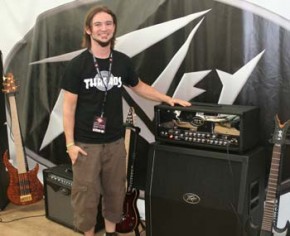 Peavey may not have the most recognizable or distinct guitar models, but they're still among one of the most popular amplifier and electronics manufacturers to date. Read more
Page 1 | Page 2 | Page 3 | Page 4 | Page 5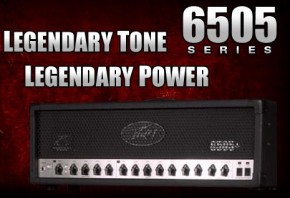 Metal guitar players ask a lot form their amplifiers. They also buy a lot of them, judging by how many amps seem to be marketed to players of heavier styles. In that spirit, your ever-rocking staff here at Gear-Vault has decided to bring you our choices for the 5 best amps for rock and metal available today. You may have your own personal list, as all us amp junkies do, but this one is ours, so, if you don't see your amp on here, play what makes you happy. Read more
It's no secret that we're fans of Peavey amps here at Gear-Vault. One of my personal favorite amps by Peavey is the XXX. It's a mean sounding amp. Next in line, for me, is the 6505+ because it's basically a 3-channel 5150 with much better sounding chimey cleans. I'm excited to see Peavey are active participants at the winter NAMM 2010 show. Peavey are happy to announce the all-new 6534+ Guitar Amplifier Head – the next evolution of the high-gain 6505 Series, which has defined the sounds of aggressive guitar music since 1991. Read more
The Peavey 3120 high-gain guitar amplifier head is a versatile three-channel amp with 120 watts of power and a trio of distinct voices capable of producing guitar tones from crisp and clean to total high-gain-balls-out saturation. Read more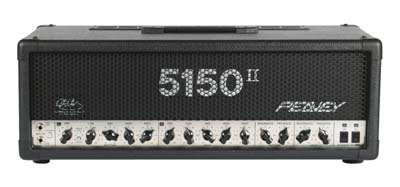 I have a Peavey 5150 half stack…My Lead Gain is usually set on 6 and I use the High Gain input. When I play a muted E, B or A, a crackling sound occurs that fades with the signal. Also, when turned up to stage volume and striking a muted A, the back of the cabinet vibrates against the inside supporting beam. How do I solve these problems?
I'm retubing my 5150 head entirely. What tubes do you suggest, and what other suggestions can you make for choosing good tubes and getting good sounds

James
XXXX@yahoo.com