Gear-Vault had recently received official word on the soon to be released Gibson USA Gary Moore Signature guitar. Is it a coincidence that Gibson USA's Gary Moore Signature Les Paul is a BFG—Gibson says no! This axe could, perhaps, be the mightiest and most extreme Les Paul to ever leave the Gibson factory.
The Gary Moore Signature Les Paul BFG takes the raw, crude and rude unrefined power of Gibson's classic BFG and matches it with the look of Moore's personal and legendary Les Paul Standards from the late 50's, constructing a radical, yet beautiful, Les Paul. Not only does this axe play like silk, it symbolizes Moore's badge of rock, metal and blues as one of the world's finest guitar players of today.
Gibson tells us that the Gary Moore Signature Les Paul BFG is a stripped down version of the well-known Les Paul BFG guitar. The Gary Moore BFG features Gibson's high-powered and uncovered Zebra Burstbucker 3 humbucker in the bridge position, and a classic, screaming single-coil P90 in the neck position, all managed by two volumes and a tone control knob. The traditional toggle switch has been rewired to act as a kill switch, and a smaller toggle at the volume knobs controls pickup selection.
Finishing off this rock and roll machine is its unique unfinished and unsanded plain top, chambered mahogany body with maple top. The guitar comes with unique nitrocellulose Lemon Burst finish similar to the faded appearance of Moore's original Les Paul.
The neck is a perfectly matched one-piece mahogany set-neck with a '50's rounded contour—rosewood fingerboard; 24.75" scale length—also just like Moore's favorite original Les Paul, there's no binding, no fretboard inlays, and the hardware is a unique distressed Tune-O-Matic bridge with stopbar tailpiece, which magnifies the BFG's distinct, bare-bone natural look. The Gary Moore Signature Les Paul BFG is, without a doubt, an innovative powerhouse, a true testament and another icon to one of rock and roll's greatest living legends, Gary Moore.

Advertisement————————————
————————————————————
Let's have a closer look at some of the features of the Gary Moore Signature Les Paul BFG:
Surface Texture and Satin Nitrocellulose Lemon Burst Finish
In almost every respect, the Gary Moore Signature Les Paul BFG is not an ordinary Les Paul — including the surface and texture of the body and neck. The most powerful, radical Les Paul needed a raw look, so Gibson's designers decided to leave the surface carving marks on the solid maple top and mahogany body—exactly as they appear when they emerge from the rough mill. The body of the Gary Moore Signature Les Paul BFG is then given a Lemon Burst finish that closely resembles the finish on Moore's historic, original Les Pauls. The neck is also given its initial finish, then hand-sanded to yield its own unique worn appearance. A smooth coat of satin nitrocellulose is then applied over the entire guitar, insuring less interference with the natural vibration of the instrument — producing a purer tone — and allowing the wood to breathe and age naturally and properly over the course of its life.
Gibson's Burstbucker 3 and P-90
The Gary Moore Signature Les Paul BFG demanded a pickup configuration as radical as the man himself, and the pairing of Gibson's Burstbucker 3 with the classic P-90 is as intense as it gets. The Burstbucker 3 arrived on the scene in 1990, and—like the Burstbucker 1 and 2—represents Gibson's drive to capture and recreate the characteristics of the vintage "Patent Applied For" humbuckers of the late 1950s. On the shop floor of the original Gibson plant in Kalamazoo, Michigan, the earliest Gibson PAF humbuckers were wound using imprecise machines, resulting in pickups with varying degrees of output and tone. The Burstbucker line represents those variations, but with some modern appointments. The Burstbucker 3 provides historically accurate PAF tone with two slightly overwound coils, creating a raw, airy tone packed with enough punch to cut through any mix. The legendary P-90 black soapbar, introduced in the early 1950s, Gibson's truly legendary singlecoil pickup, and offers the soulful, classic tone that only a P-90 can. It delivers more warmth than a standard singlecoil pickup, for high output and sweet treble response. Together, they are one of the most powerful pickup combinations on any Les Paul.
The Gibson Les Paul Gary Moore BFG Signature Guitar is soon to be released and its MSRP is $2,150. Find more information at www.gibson.com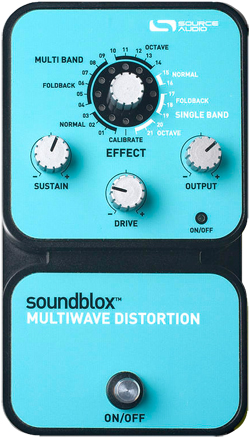 Source Audio Soundblox Multiwave Distortion
Rock guitarists like distortion. How is that for an understatement? More specifically, rock guitar players eat, breathe, and sleep distortion. Many of them even have more than one on their pedalboards. There are also some that run more than one pedal simultaneously. Yeah, it seems that distortion is an integral part of the tonal diet of the rock musician.
But what do you do when you have tons of distortion pedals, but no more room on that ever-expanding pedal board? Easy – you downsize your setup.
Downsize may indeed sound like a dirty word to many guitarists, but there are benefits to getting rid of those three extra overdrives. For starters, your setup is easier to carry to gigs. But more importantly, you can fit new distortion boxes into the chain! Of course, with fewer pedals, you lose the possibility of quite a few different tones. What is a rocker to do?
Enter the Soundblox Multiwave Distortion pedal from the electronic gods over at Source Audio.
What makes the Soundblox Multiwave Distortion worthy to sit on your board? Easy. This sucker packs a wide variety of distortion tones, dished out by a SA601 56-bit Digital Signal Processor that has 24-bit A/D D/A conversion. What does that mean? It means an unbelievably large palette of sounds from slightly crunchy to ridiculous at best.
Advertisement————————————
————————————————————
This pedal has a whopping 21 types of distortion, sure to please any fuzz-hungry gear hog. Not to mention, the Soundblox Multiwave Distortion uses distortion algorithms that are totally different from your normal digital distortions. The pedal gives you the ability to control the single- and multi-band distortions, giving you more freedom with your tone.
One of the other features that make this pedal different than other 'normal' distortions is the Foldback and Octave sections, which give you yet more control of your distortion tone, allowing you to dial in some wicked sounds. Let's put it this way: if you want a unique distortion pedal that can do some seriously whacked-out sounds, the Soundblox Multiwave Distortion is definitely for you. You can even tweak the pedal to give you some funky wah and synth distortion sounds.
If you are in need of a versatile (and way out) distortion sound check out the Soundblox Multiwave Distortion pedal from Source Audio. You will most likely be glad to replace at least one of your other distortions with this thing.
Here is a video demonstration. Enjoy!
The Loar releases an outstanding classic design archtop guitar that is elegantly hand-carved by their selected team of master luthiers; birthing handcrafted guitars at The Loar Hand Carved Workshop.
The Loar's new outstanding hand carved, nitrocellulose-finished archtop guitar—LH-700—is a product of precision historic research and craftsmanship. The all solid, hand carved bodies are finished with nitrocellulose lacquer to reproduce the classic jazz sounds of Golden Age instruments. With the use of expert traditional building techniques, like the classic parallel bracing, The Loar Hand Carved Archtops are another magnificent achievement. The Loar pays admiration to instruments from the 1920's and 30's, an age of outstanding craftsmanship and innovative design. The Loar Company revives this tradition to bring you the best-sounding, most beautifully crafted instruments available.
The Loar Hand Carved Archtop Guitar LH-700 is crafted with an AAA solid hand carved spruce top and AAA flamed maple back, sides and neck. The bone nut and adjustable ebony bridge let the sound of the premium select tonewoods resonate clearly, and the bound ebony fretboard is both beautifully detailed and durable.
The archtop is finished with a meticulously inlaid "Flowerpot" headstock design and a hand-buffed nitrocellulose lacquer tobacco sunburst finish to stay true to classic design, style and timeless beauty.
However, the LH-700 will only be built in very limited quantities. The guitar comes with the Golden Age-styled Deluxe Vintage Hardshell archtop case. For a complete list of products available from The Loar, visit theloar.com.
The Loar LH-700 Acoustic Guitar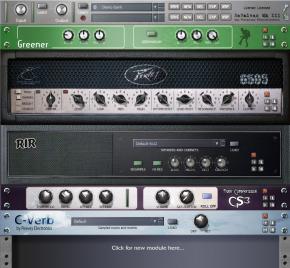 For years, Peavey has been renown in the music industry primarily for its amplifiers and guitars. Of course, today's musician relies on far more than just a good amp and axe to make music. Many artists have shifted to replacing their large, wife-wrath-drawing rigs (with their tangled pile of cables) with a more wife-friendly alternative: software. Not only is the use of digital workstations and plug-ins becoming more prevalent in smaller home-based studios, but pro studios are also jumping on the bandwagon and relying on their computers to do the dirty work (and the heavy lifting). Read more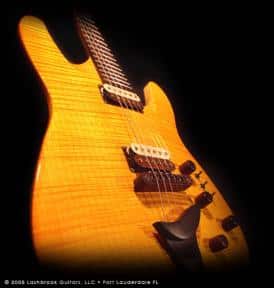 Larry Lashbrook is a Florida legend for both his 45 years of master Luthier, set ups, repairs and making high-end, hand made, custom built guitars. Lashbrook is a passionate inventor and musical equipment icon. He has worked with hundreds of musicians. Not only has Lashbrook been a guitar tech for Yngwie Malmsteen for the last two decades but is the go-to guy with his 45 years of skillful guitar experience. At the constant request of close family members and friends Lashbrook has finally begun his journey of producing his own line of guitars. His LTH-1 features are beautiful: a solid carved curly maple body, custom wound passive hum bucker pickups with exotic wood detailed covers, a five-piece curly maple set neck with a compound radius Brazilian rosewood fret board and massive Dunlop 6000 frets. There is no taper to the thin neck shape, and Lashbrook's signature setup allows low action with amazing dynamic abilities and no trace of the fret buzz.
Among the best of LHT-1's numerous unique feature is the patent pending Lashbrook Tune O Matic style piezo bridge and ebony trapeze tailpiece. Lashbrook's method of genius design allows the piezo system to create the most realistic acoustic tones by considerable level (the system is available separately). "We consider our Tune-O-Matic style Piezo Bridge to be our crowning achievement," says master luthier Larry Lashbrook. "You won't believe the quality and authenticity of natural acoustic tones that we are able to achieve in a solid body instrument." Passive electronics are also an option to connect the hum bucker and piezo pickup signals to single or dual output jacks.
Lashbrook's commitment to old world craftsmanship and genius innovation places the LTH-1 in the elite of the ultra high end instruments. All of Lashbrook's experience and love for perfection of equipment truly reflections in his line of guitars. For more information check lashbrookguitars.com.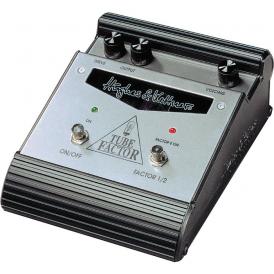 In this day and age, products are so specialized that purchasing anything can make your mind spin. Guitar gear is no exception. There are so many options on the market that buying something as simple as a distortion pedal can be confusing. Do you want a new pedal or a vintage model (or a new reissue of vintage model)? Do you want a unit that dishes out grungy rhythm sounds or smooth, vintage-sounding leads? If you know exactly what sound you're looking for before you even plug in, there's a stomp box out there that offers it. But what if you don't?
Fortunately, the folks at Hughes & Kettner haven't forgotten that versatility is still important factor in anyone's purchasing decision. Their ingenious Tube Factor is a simple (two footswitches, three knobs) pedal that uses a 12AX7A tube to produce a variety of tones. Read more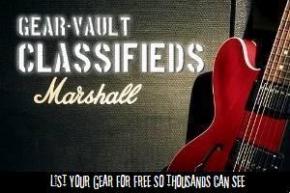 If you are just getting started with online auctions; you probably have heard that eBay is the way to go. This was true probably up to the beginning of this year, but eBay has changed and many people are looking for other places to sell their wares. Why? Well, the fact that eBay raised their monthly subscription and listing fees $6.20 and took away the feedback option for sellers might have something to do with it. eBay is a massive online auction site, but they are not the end all and be all of online auction selling. Read more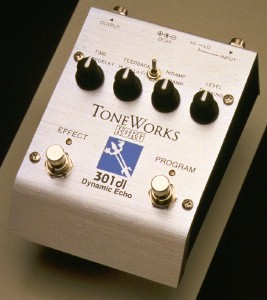 Whether it's Eddie Cochran's rockabilly slapback or the Edge's autonomous counter-rhythms, listeners have always marveled at the shimmering textures and depth produced by delay units. And, just as guitarists have found new uses for delay effects over the years, manufacturers have improved on the quality and versatility of these boxes. We checked out units by Korg, DOD, and Boss to see what's cool in the world of delay.
DOD FX 96 Echo FX Analog Delay
Featuring analog circuitry, the FX 96 is intended to reproduce the gloopy tones of early tape-echo machines and the bubbling repeats of pre-digital pedals. The pedal features the standard controls one would expect to find on an analog delay: Mix, Delay and Regen / Repeat. Also included is a Tape Quality control, an ingenious addition that lets you grunge up the sound quality of the virtual "tape" to heighten the sonic illusion.
DOD have really nailed those old tones, warts and all, with this pedal. Although Echoplex connoisseurs may not be totally convinced, the FX 96 does as mean a take as many expensive rack units dedicated to the same task. There is definitely a bit of Gilmour, Page and Brian May to be found amongst the DOD's tumbling layers of repeats, warm slapbacks and psychedelic stoner mayhem.
Boss DD-5 Digital Delay
Using the DSP chip, Boss managed to cram a ridiculous amount of effects into the DD-5. Of the 11 available modes, 1 through 4 offer a range of clean, studio-quality delays from 1 ms to 2000 ms. Using the Panning Out socket, these silky delays can be delivered in stereo with the repeats arriving at their destination in alternating sequence.
Mode 5 is the Hold function, which is basically a mini-sampler allowing you to record up to two seconds of playing then use it as a backing. Gizz Butt of Prodigy uses this to lay down a bed of techno-babble to riff over in live performances. More digital trickery is afoot with Mode 6, which offers Hendrix-like backward swells. Although not a true reverse-taped effect, there are still some groovy suck-sounds in this mode. Finally, Mode 8 through 11 allows you to tap in a delay tempo via a footswitch.
Korg ToneWorks 301dl Dynamic Echo
This roadworthy device allows you to store two different sounds and has an extra footswitch to toggle between them. Each of the four controls on the 301dl has been assigned two functions, selected by a small toggle switch. In addition to setting the level, feedback and delay time, you can also manipulate the pre-delay, harmonic structure and relative aggression of the repeats. The unit even offers Ducking, which allows the effect to respond to the dynamics of your playing, lifting phrases out of the potential muddle of repeats.
Once you've invested some time in finding a sound, it can be easily stored in the Red or Green patch, ready for action. The flexibility of the 301 means you are a toe-tap away from chewing analog slap or glistening digital soundscapes. Add a Y-connector and you're driving in stereo.

Advertisement————————————
————————————————————
The End Line
These three pedals are all very different but equally inspiring to use. The DOD delivers delay like they used to make it, without the bulk or hassle. Boss layers pro-quality sound in a simple format with funky features for good, clean fun. The Korg gives you precise control of its effects—and programmability to boot. In a world of missed schedules, these are some delays we can all enjoy.
In this industry the mad holiday season is in full bloom with Christmas and the New Year's right around the corner, but closely following the rush is a breathe of fresh air for some of us. Which includes a trip to the Anaheim Convention Center from January 15th to the 18th, to be precise. That's right the National Association of Music Merchants (NAMM) is next month.
Throughout the year, hundreds of news releases regarding new music equipment we've received are displayed live for people to see. Some of the products are from your favorite brands and companies. However, a story that is buzzing concerns the soon-to-be-officially-announced brace of new Iron Maiden signature models: the Fender Dave Murray Strat, Steve Harris Precision bass, and Jackson Adrian Smith Signature guitars.
We've managed to disclose some shots (which are below), although we're yet to receive official word as to the specifications of the instruments. What's for sure is that they'll appear at our site, Gear-Vault.com with a much closer investigation.

Advertisement————————————
————————————————————
So, here's the Dave Murray Strat. We believe it will be a lot like the HST-57DM model which has been available in Japan for a time, we'll have to wait and see!
The Jackson Adrian Smith reflects the MIDI'd-up version he used for most of the "Somewhere In Time" / "Seventh Son" album in tour rotations, and you'll recognize the guitar on the right (in the photo) from the thievery that took place during Iron Maiden's tour back in August 2008: the guitar has since been recovered and returned, we hear.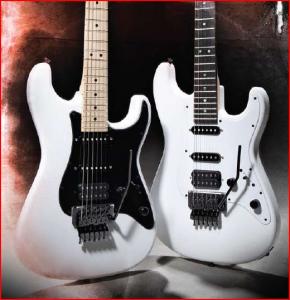 And here (in the bottom photo), for completion's sake, is a shot of the old Steve Harris IM bass guitar. All we know of the newbie is that it too will be finished in metallic blue and it's likely to offer a Badass bridge and a brace of Seymour Duncan Quarterpounders.
What about the Janick Gers model, we hear you ask. Um, we'll get back to you on that one…
More info, once it appears, from Fender Guitars. Stay tuned.
Buy – Sell – Trade at USED MUSIC GEAR at GEAR-VAULT CLASSIFIEDS
With the ongoing history that is being built between Iron Maiden's Axeman Adrian Smith and Jackson Guitars, it's no surprise that the two are teaming up to populate Adrian Smith's Signature Custom Superstrat. As listed on Jackson Guitar's site, it states that the following – Read more