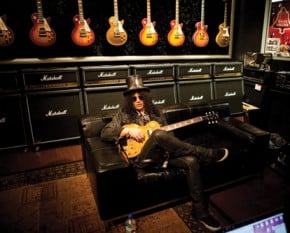 Slash is more than just a musician, he's a legend. Best known for his work with Guns N' Roses and Velvet Revolver, Slash has also served as a first-call studio gun-for-hire who has played on records by Alice Cooper, Daughtry, Bob Dylan, Michael Jackson, and Iggy Pop. But for the first time since he shot onto the scene more than two decades ago, Slash is going the "lone gunman" route and releasing his first bona fide solo album.
Unlike Slash's Snakepit, which released two albums, and Slash's Blues Ball, the group he toured with in the late Nineties, this new project, called Slash and Friends, is not a band but rather a true solo effort that features a variety of different singers, musicians and songwriting collaborators. As a result it exposes more of Slash's breadth as a musician than his band efforts.
"I went into different areas where I could play music that I couldn't necessarily do in my own bands," says Slash. "I went in a lot of different directions, which was fun to do."
One look at the list of singers who recorded with Slash on the album reveals the guitar slinger's very diverse tastes. In addition to legends like Alice Cooper, Motörhead frontman Lemmy Kilmister, Meat Loaf, Ozzy Osbourne and Iggy Pop, the album features vocals by rockers like Chris Cornell, Myles Kennedy of Alter Bridge, Kid Rock, M. Shadows of Avenged Sevenfold and Andrew Stockdale of Wolfmother, pop stars like Fergie of the Black Eyed Peas and Adam Levine of Maroon 5, and even hip-hop icons Cypress Hill. All members of the original lineup of Guns N' Roses sans Axl Rose – Steven Adler, Duff McKagan and Izzy Stradlin accompany Slash on several songs, and heavy-hitters like Flea, Dave Grohl, Travis Barker and Ronnie Wood added their instrumental prowess as well.
"The thought process for this album started when I was on tour with Velvet Revolver during the summer of '07," says Slash. "I was on the bus writing my autobiography and I mentioned that I wanted to do an album where I could have a bunch of people guest on my record because I'm so used to doing sessions on other people's records. That seemed like a good idea and it stuck in my head, so when the Velvet tour ended I started writing material. I had some bad experiences on the last Velvet tour so I wanted to do something to get away, to get peace of mind and do something outside of a band situation for once in my life."
While many albums featuring an all-star cast often fall short of their goals due to a lack of focus, the Slash and Friends record avoids such downfalls thanks to generous helpings of Slash's tasteful, high-octane guitar playing, which holds everything together by providing a common rock and roll thread.
"I'm pretty much a rock guy," says Slash. "I don't think that's ever going to change. I don't think anybody expects me to change either, but I do sometimes go off the beaten path and do something like what I did with Michael Jackson. That wasn't like the Guns N' Roses vibe, but as a musician I love being around people who are great at and really love what they do and have made great music. I've grown a lot as a musician, and I've done a lot of things that I wouldn't be able to do if I was stuck in a one-dimensional rut. When I play with all these different people I learn new things. It's fun and, attitude-wise, it's still as rock and roll as anything else I've done."
Slash may have abandoned working within a typical band format for this album, but he still relies on his same tried-and-trusted tools when laying down tracks in the studio and performing on stage. Since day one he has remained a devoted Gibson Les Paul fanatic, and Gibson and Epiphone have returned the favor by issuing a variety of Slash signature Les Pauls over the years. Guitar Center sold out of his 2008 Gibson Custom Signature and USA Signature models a long time ago, and only a handful of his limited-edition Gibson USA Goldtop and Epiphone Goldtop models are still available. Fortunately, Gibson announced a new Slash signature Les Paul model guitar at the NAMM show back in January, giving Slash fans a new guitar to look forward to.
"The new Slash model Les Paul is identical to the 1986 Les Paul that I got in 1987," he says. "That was the main guitar that I used to record Appetite for Destruction, a lot of what was on the Use Your Illusion records and most of what I played on the Velvet Revolver albums. I used that guitar pretty much on my entire solo record as well. It's an amazing guitar. When I bought that guitar it had Seymour Duncan Alnico Pro-II humbuckers in it. Because those pickups sounded so perfect I've never changed them. I've put those pickups in all of the new Gibsons that I've gotten since, and those are the guitars that I take on the road with me. "
Gibson's Slash signature model guitars are identical to the guitars that Slash uses in every way because they are the guitars that Slash uses. If you can afford one, Slash says that it's the perfect way to soup up your setup because he simply hasn't found anything better since he started playing them more than two decades ago. For those with tighter budgets, the Epiphone Slash signature model guitars provide similar sound and performance, and they even include the same Seymour Duncan Alnico Pro-II pickups.
"The Epiphones are really great guitars," he says. "If you have a thousand bucks to spare you should get an Epiphone Les Paul and be done with it. They're an amazing bargain."
Slash recommends that aspiring players start out by getting the best guitar that they can afford: "Get a good guitar. There are so many different products out there, so you really have to focus on what sound you want to get. Find out what players who have a sound that you like are using. The same thing goes for amps. For me, guitar tone is almost as important as how I play. I started off with a Gibson Les Paul copy, a Fender Princeton amp and an MXR Distortion + pedal, and that influenced the direction that I've followed with my tone. It was exciting to me, and I developed my sound starting from that point. You have to have an idea of what kind of sound you want and then go for it. It's very personal and it's really up to your own ear."
Slash has also relied almost exclusively on Marshall amplifiers since the early days of Guns N' Roses. In 1996 Marshall released the limited-edition Slash Signature JCM 2555SL two-channel 100-watt head, which was based on another limited-edition Marshall – the 1987 Marshall 2555 Silver Jubilee – which was Slash's favorite amp. He still relies on those amps, along with a classic JCM 800 head that he used for recording most of his new solo album, and new Marshall Vintage Modern series heads.
"The Vintage Modern is a great head," he says. "I use that a lot live and in the studio. There's a studio that I record in all the time that has a Vintage Modern 2466 100-watt head that I love. I do a lot of one-off guitar solo sessions with it. The Vintage Modern combined with my signature 2555SL is one of the best amp sounds I've ever been able to produce. It's a very simple setup, and it sounds great."
Slash hints that he's working with Marshall on a new signature model amp that's based on the JCM 800 that he used to record Appetite For Destruction. Combined with his new Gibson signature model guitar, which is based on the Les Paul that he used for those sessions, that rig should prove to be sonic nirvana for players who want to replicate Slash's tones on classic GNR songs like "Welcome to the Jungle," "Paradise City," "Nightrain" and "Sweet Child O' Mine."
Even if you're not in the market for a new guitar or amp, Slash says you can soup up your setup just by trying a new set of strings. He has remained a dedicated user of Ernie Ball strings since he "worked in a guitar store as a kid" and tried every brand of strings available at the time.
"Ernie Ball strings consistently sound great," he raves. "They don't oxidize too fast, and they don't break. They're tremendously reliable. Once I find something that works, I stick with it. I'd rather concentrate on learning how to play something than think about my gear all the time because I'm experimenting with things. Ernie Ball strings have always worked for me, and I've tried literally everything else.
"I have a custom .011 to .046 set," he continues. "My playing style tends to be heavy handed, so I like something that hits back. I like everything to be very sturdy and strong. I can't handle thin picks and thin strings. I need to have really heavy strings – especially on the high end – that don't yield too much so I can really put some effort into my playing. I guess I just feel comfortable making everything difficult."
Although Slash likes to make his playing difficult, he prefers to keep his setup as simple as possible. In addition to his guitar and amp, his only other equipment is a handful of effects – namely a wah, a delay for "a 'Welcome to the Jungle' effect," a compressor and an overdrive pedal. "The wah is like an instrument unto itself," he says. His wah of choice is a Jim Dunlop SW-95 Slash signature Crybaby wah, which features a built-in high gain distortion circuit and a Fasel inductor that is tuned to Slash's specs.
With his solo album in the can, Slash is looking forward to participating in new projects. In fact, one of those projects could be yours thanks to a contest that Guitar Center and Ernie Ball are sponsoring. The winner will be recording a three-song EP with legendary Guns N' Roses producer Mike Clink, and Slash will perform on the EP's single.
"This is an interesting opportunity for me to find a really great band that hasn't been able to get its foot in the door otherwise," says Slash. "I'm looking for something that is good, that has heart, that has soul, that has some original musical ideas, something with energy and something that's got life. I'm looking for someone who's really got something to say."
Slash adds that all styles of music are welcome: "I'm like a music slut, you know. I'm out playing with everybody. You can find the essence of rock and roll in all different kinds of music. It's a unique statement or energy or emotional content that you can find in all different kinds of music. I like to think that my own style is evolving. I still feel very inspired when I pick up a guitar. This last record that I just worked on was a lot of fun to do because I really didn't have any rules. What inspires me at this point is just the guitar itself."
Written by Guitar Center