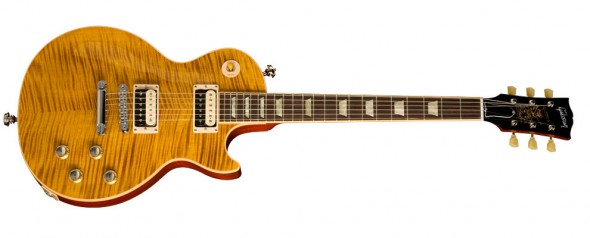 Gibson Guitars and Slash have collaborated to recreate the Les Paul Slash used on the legendary Guns-N-Roses Appetite For Destruction album. Below is a video of Slash talking about his all-new Slash Appetite For Destruction Gibson Les Paul Guitar, and compares the components to his original guitar. Of course we here have Gear-Vault were first on the case to announce the new Slash Gibson Les Paul guitar. Go here to read the official Gear-Vault introduction of the guitar: Gibson Slash Appetite for Destruction Les Paul Guitar.
How much is this guitar? It's not cheap! Check the price.
Here are some quotes from Slash in the video:
"It's funny, it was just a Phone call last year to Gibson to see if they really actually wanted to pursue it. I wasn't sure if they would go for it, but was really glad that they did."
[…] "Highlights on this guitar, first off is the Seymour Duncan Slash model Alnico Pros which are made exacly like the original pickups that I used in the '80s"
[…] "Old style speed knobs – Tune-O-Matic bridge/saddle"
[…] "old fashioned capacitors were actually a little bit hard and find and jumbo frets. It's basically setup just like my original was."
Watch the video of Slash talking about the new Gibson Appetite For Destruction Les Paul Guitar
Discuss the new Slash Appetite For Destruction guitar at Gear-Monkey.com message forum.