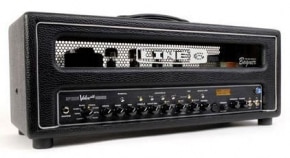 Line 6 has finally released the eagerly awaited mk2 of their revolutionary Spider Valve amps, designed by living-legend amp designer Reinhold Bogner. Read on!
Here comes mk2 of the revolutionary Spider Valve series – the best of both worlds! The result of a ground-breaking collaborative effort between living-legend amp designer Reinhold Bogner and renowned amp-modeling upstarts Line 6, the new Spider valve amps – Spider Valve MkII 112 40-watt 1×12 Guitar Combo Amp, Spider Valve MkII 212 40-watt 2×12 Guitar Combo Amp and Spider Valve MkII HD100 100-watt guitar amp head – offer the best of both worlds: brawny, boutique-style tube tone and the latest, most advanced Line 6 amp modeling with complete flexibility and deep editing.
Spider Valve MkII range offers more amp models, effects and sophisticated features than its celebrated predecessor, the original Spider Valve series (including the HD100, the #1-selling tube head in America), but its all-tube design and boutique-style integrity keep it firmly rooted in the Spider Valve family.
If you think the traditional valve amps lack versatility, but also think that modeling amps lack that great tube tone, then the Line 6 Spider Valve MkII series will be the perfect choice for you…truly offering the best of both worlds!
Acclaimed Amp Tones
Spider Valve MkII HD100 has the tools and tones you need to build your sound from the ground up. It features 16 of the most advanced Line 6 amp models, which were inspired by the most revered American, British and European heads and combos. Each one was custom-tuned for Spider Valve MkII amps.
Get in front of sparkling clean tones inspired by a Hiwatt Custom 100, syrupy smooth drive tones inspired by a mix of a '65 Marshall JTM-45, a '58 Fender Bassman and a '63 Fender Vibroverb, British pop/rock tones inspired by a Vox AC-30 Top Boost, high-gain onslaughts inspired by a Mesa/Boogie Dual Rectifier and a Diezel Herbert, Class A crunch inspired by a Divided by 13 9/15, classic Class A breakup inspired by an Orange AD-30, and more! Store every gig's tones with 128 user-programmable presets.
Need to shape your tone?
Tweak the Bass, Mid and Treble knobs just like you would on the original vintage amps. When you choose an amp model, the EQ section behaves just like the EQ section of the modeled amplifier. Spider Valve MkII HD100 gives you a complete, organic and fully authentic representation of its 16 vintage and modern amplifiers.
Line 6 Spider Valve MkII