Van Halen reportedly making new album?
Melodic Rock reports possible new record may be coming by Van Halen.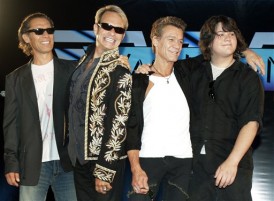 Van Halen — "It's been a while since I reached out to one of my best sources of Van Halen info over the years, but it had to be done. And I got the information I was hoping for – independent confirmation from a long time source I trust that Van Halen are indeed working towards finishing recording of a long awaited new studio album with David Lee Roth, set for release sometime in the first half of 2011.
"A single is slated for release before the end of this year, but exact timing still remains very much up in the air. I'm told the relationship between Eddie and Dave remains as complex as ever, but there is a definite desire to get a new record completed."
So, if a new album does indeed materializes, it'd be Van Halen's first studio album with David Lee Roth as frontman since 1984's album titled "1984". It'd also presumably be the recording debut album with Eddie Van Halen's son, Wolfgang Van Halen, on bass guitar who entered the band a few years after Michael Anthony was fired.
Wolfgang performing on stage with father Eddie Van Halen
Thanks for the report PlanetRock.com.