Ultimate Guitar Riff Challenge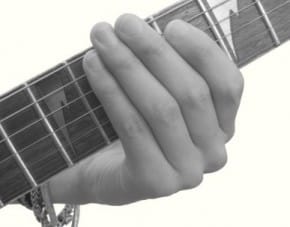 I was reading some random guitar magazine the other day and noticed an article titled; "extreme but essential guitar tip", which I thought was pretty cool. So for fun I recommend you give this a try at home.
The Random Element!
Take your guitar and pick three notes above the 12th fret of the guitar. These three notes are your new friends! Now comes the fun part…
You're going to write a riff or progression using the chords G, C and D.
You may think that's easy enough, but the tricky part is that you have to incorporate the three notes you selected earlier into this riff. 'Impossible' you cry. 'Those three notes are miles away from those chords!' But it's not as difficult as you might think. Okay, so you're not going to get a Bob Dylan three-chord classic, but you will get something you'd never have thought of before… and probably something very original!
Let me know what you come up with. I welcome you to post your YouTube video of the guitar riff that you came up with! Now go ROCK YOUR AX OFF! Join us at www.gear-monkey.com guitar forum. See you there!
Another fun thing to do is watch the bikini guitar introduction =)