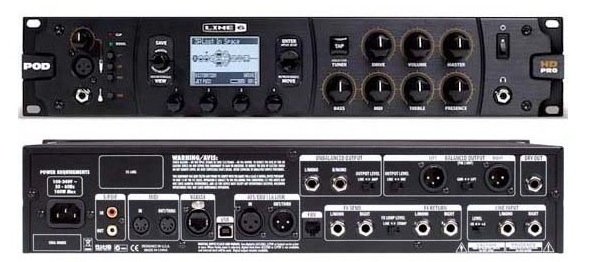 The art of competing in a modern industrial world is constantly changing, and constantly getting more difficult. Each year, companies give it their all and toss their eggs in a basket, hoping it will pan out for them and be the next big thing. Line6 sits at the table with the big guys when it comes to innovation and the forefront of effect technology, but just how well does their flagship unit, the POD HD PRO, stack up?
Construction and Controls
This thing is sturdy, to say the least. It's all metal construction gives a nice comfort to any of us who put our equipment through the paces, and expecting it to keep chugging along. The face of the unit has a nice tactile control system, reducing the menu-surfing to a much better level, and giving more direct control over things like drive, volume, and EQ. Other controls are a mic preamp, an XLR input for vocal effects, and a brightly lit LCD screen, displaying signal chain, effect options, and user presets.
I/O
There isn't much the HD PRO can't handle as far as inputs and outputs in a guitar setting. The unit offers a standard guitar in and headphone jack out front, but turn the unit around, and now we're really talking. In back, you are given the option of sending the dry signal out for later processing, connecting other mic preamps through the line input section, adding your own effects in the FX stereo loop, or using the HD PRO directly with your computer via a usb port.
Amp Modeling
The HD PRO's undeniable strength is its amp modeling. The vast array of amps and tones available is eye-popping, and the sounds that can be achieved are even better. From thick, crunchy tube drive, to airy, light acoustic tones, clearly there is quite a lot left to the imagination here, to play and create with as you please.
Effects
This is where things get a bit cheeky. Once again, Line6 gets close to a climactic group of effects, but misses the mark on a few things. For starters, the idea of a visual effect chain right in front of you is revolutionary, and a great concept that can be utilized to the greatest extent, if one puts in the time to program and set everything up in advance. Even with a great display however, it seems that there are just way too many effect packed into one box, and to control and manipulate them all is no easy task, despite the more hands-on approach taken on the control system. As with the previous POD HD 300, 400, and 500 units, all of the effect sculpting is done through menus, and is accessed by 1 or 2 knobs. Furthermore, the more digital and processed effects are not very responsive to the player, and the guitar signal itself. With the more digital effects, the guitar acts as more of a midi guitar, with the effects not using the guitar's signal at all, but rather listening to what notes you are playing, and producing a sound of its own based on the pitch. With these flaws though, there is still room to work with creating new tones, starting from scratch and making something all your own.
Flexibility
I was a little put off by the rackmount idea; in as much as that it does not come with an included footswitch, although there are rear ports to accommodate one. Without a footswitch, the idea of playing out live with the HD PRO seems all but impossible. The HD PRO would probably fit in better in a studio setting, tone creating and shaping, and as the middle man in a recording project.
All in all, I would have to say the POD HD PRO is an effective piece of gear, but is better left to a studio setting, or small gigs, unless you have a footswitch to operate it with. The tones are phenomenal, and the effects are interesting, but the price seems a bit high at $699.99. Overall, a good, reliable piece of gear that can open countless doors to the unknown of guitar tone.
Line 6 POD HD PRO Review
7/10
By George VanderLaan
Line 6 POD HD PRO Video Review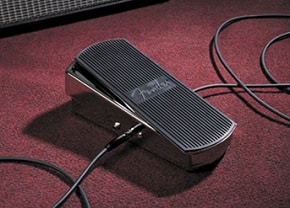 During the late Sixties and early Seventies, it seems like everything related to music was literally huge: amp stacks, stack heel platform shoes, rock star mustaches and hairstyles, crotch padding and, especially, effect pedals. Stomp boxes were the size of shoe boxes, and the average pedal board was so big that it took two roadies to haul one from the back of a Chevy van to the stage of the Cow Palace or Winter land. Of course, that all changed later in the decade as microchips replaced the transistors and cherry bomb-sized components in primitive effect circuits Read more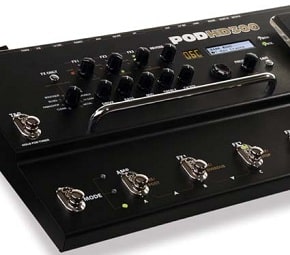 Late last year, Line 6 ramped up their strategy to claim a larger stake in the Multi-Effects arena. The flagship series they constructed to spearhead the entry, was the POD HD series. Before this series, the market was largely dominated by a handful of large companies, namely Digitech, Boss, and a few others. To this day, these large companies still hold the large share, but that all may change in the future. Read more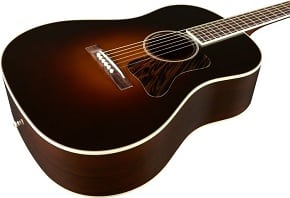 On January 12, 2011, the Jackson Browne Signature Gibson acoustic guitar was unveiled at the National Association of Music Merchants (NAMM) winter show in Anaheim, California. Hearkening back to Gibson's revered Roy Smeck models of the 1930′s, Browne's baby took the better part of a decade to complete, as he went back and forth throughout the process with the Gibson Montana Acoustic Master Shop up in Bozeman, Montana. Read more


Anyone who's a fan of Eddie Van Halen and plays guitar more than likely knows about the Peavey 5150. Most metal guitar players also know about the 5150. That's because from EVH raunch to drop C circle picking, the 5150 is an absolute tone machine.
The Peavey 5150 II is a simple amp made up of a clean and lead channel. The clean channel can be switched into a rhythm channel, so you could say it flirts with three simple channels. The clean channel, despite what anyone tells you, boasts a beautiful clean tone that's full of headroom. Setting the gain knob around 6 or 7 will give you that awesome breakup that accents a clean guitar sound to really give it some shimmer.
The lead channel is somewhat similar to the clean channel, in that it's absolutely nothing like the clean channel but BRUTAL! The lead channel is controlled by a gain, low, mid, and high adjustment. The lead sound that comes from the 5150 is grimy, raunchy, loud, and… did I say, loud? Setting the gain around 5 will give you a perfect rhythm sound that will deliver a Marshall JCM 800-esque tone while still delivering enough gain for pinch harmonics. Setting the gain any further than this and you're trying to emulate some ENGLs or Soldanos. Pretty much begging for high gain madness! Read more


The hard-working folks at Epiphone Guitars have stomped on the gas pedal as they bring the new 2011 Nighthawk to the marketplace. Public opinion about the Gibson Nighthawk has always run fairly high, as the older models are slowly climbing the rungs of the sought-after ladder, but this new Epiphone version – for all of the interesting factory tweaks it's been given – has one thing going for it that can be best described as compelling Read more
Schecter Guitars has announced the release of the Gary Holt Signature V-1 at Winter NAMM.
Gary Holt is arguably one of the most influential metal guitarists and is credited as the founder of the "Bay area trash metal" sound. His band Exodus was formed in 1980 with Metallica's Kirk Hammett. Read more
Eventide is widely known for its professional-level studio gear, most of which comes in the large format of heavy-duty rackmountable units designed to sit in studio control rooms or big stage rigs. A veritable Who's Who of rock guitarists have incorporated Eventide's high-end gear into their signature sound, including Jimmy Page, Frank Zappa, Robert Fripp, Brian May, Adrian Belew, Eddie Van Halen, Steve Vai, and John Petrucci. Read more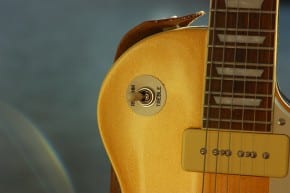 Gold tops are the coolest. There, I said it. I know, I know, '59 Burst, yadda, yadda, yadda, flame top, whatever. Give me the gold, Baby. Of course, the coolest of the gold tops are the 50's gold tops with P90's, which are the original Les Paul design, as humbuckers came along a few years later. The only problem is that real 50's Les Pauls pretty much require a mortgage to obtain, at least for most of us. Thankfully, Epiphone has come to the rescue with the Limited Edition 1956 Les Paul Gold Top. Read more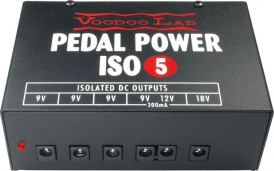 Compared to some sexy new guitar or an amp powerful enough to frighten small children, many would consider a pedal power supply a yawner. But those of us who have spent years in the trenches designing power supplies know differently: They're the source, the fountain head, for all of you do–and all power supplies are not created equal.
It's a no-brainer that batteries are not the best choice for multiple pedals, and several companies have stepped into the AC adapter void. Voodoo lab has been at this a long time; their ISO-5 reflect that experience by adding some features that help create more of an industrial-strength vibe. Read more