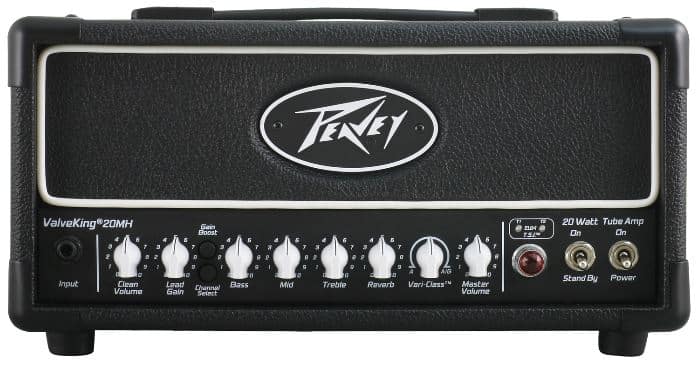 When it comes to rocking it out on stage or in the studio, you need a reliable amplifier that can provide that big tube tone. In this regard, Peavey's ValveKing II Micro-head seems to be on everyone's lips.
Boasting top-of-the-line features such: as a switchable 20W/5W/1W power output, three 12AX7 tubes, pair of EL84 power tubes, and a USB recording output. The Peavey Valve King II micro may be what you've been looking for.
In this Peavey ValveKing II review, we examine whether this unit is worth your money. Read more

Mom & Pop guitar shops are a treasured rarity in the fast-paced world we find ourselves living in today.Screw Guitar Center! Check out Gear-Vault's Must-Stop Music City Mom & Pop Guitar Shops in the Nashville area that ooze that Southern hospitality we all crave!
Gruhn Guitars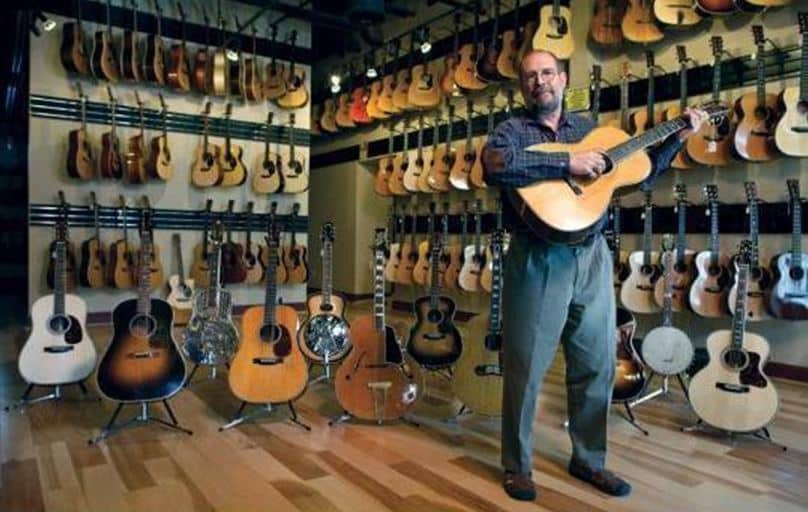 Read more
Hey Gear-Vault readers! An interesting debate was brought before our attention earlier this week and we thought we'd pass it along to you guys. Let's put your mad guitar knowledge to the test! Comment your answer at the end of this kick ass discussion!
Can you tell which is Gibson and which is the Epiphone?
Now let's take a closer look at these two guitars:
At first glance, these two guitars appear quite similar. In fact, many players might even have trouble distinguishing between the two. However, did you know that the left guitar often costs as much as NINE TIMES than the one on the right? That's right. The axe on the left is perhaps one of the most recognizable guitars in the world: a Gibson Les Paul Standard. You can typically purchase one of these for around $2500-3500. Pictured just to the right of the Gibson is the Epiphone Les Paul Standard, which usually clocks in at just under Read more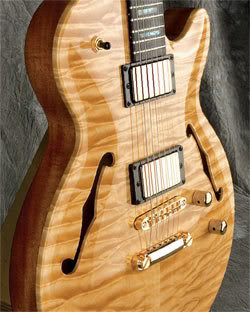 Carvin SH550 Electric Guitar Review — Carvin had a long tradition of producing semi-hollow-body guitars dating back in the 1950's. The companies newest edition was introduced in 2008, named the SH550 (SH stands for semi hollow), this model has a carved top and it is a true precision semi-hollow custom shop masterpiece.
Semi-hollow body guitars are suitable for legendary artists such as B. B. King, Ted Nugent, Steve Howe (Yes) and Alex Lifeson (Rush). These legends have relied on hollow guitars as mainstays of their respective guitar arsenals.
The Carvin SH550 AAAA flamed maple is the standard top, yes, we said "AAAA" maple top, and unlike most "archtop" style guitars, the SH550 features an actual carved top. In addition, you can also choose an optional AAAA quilted maple top or a flamed koa top.
The top starts out as a 2″ thick slab of solid curly flamed maple wood. After the top is bookmatched, it is top sculpted, and the underside of the top is also carved to follow the contour of the top, while increasing the overall size of the sound chamber to improve the tonal characteristics of the instrument. Read more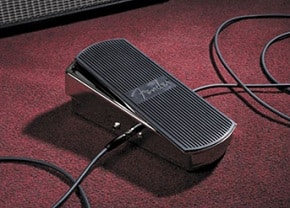 During the late Sixties and early Seventies, it seems like everything related to music was literally huge: amp stacks, stack heel platform shoes, rock star mustaches and hairstyles, crotch padding and, especially, effect pedals. Stomp boxes were the size of shoe boxes, and the average pedal board was so big that it took two roadies to haul one from the back of a Chevy van to the stage of the Cow Palace or Winter land. Of course, that all changed later in the decade as microchips replaced the transistors and cherry bomb-sized components in primitive effect circuits, and soon after, the size of the average pedal shrunk significantly.
Fender's latest Classic Series pedal reissues bring back in their full glory four of the company's big-honkin' stomp boxes from the Golden Era of effects: the sensibly named Volume, Volume-Tone, Fuzz-Wah and Read more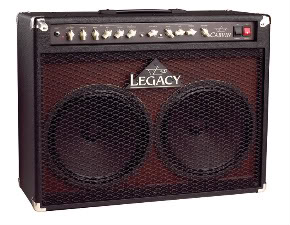 We were more than a bit surprised when this underrated, business-like amp slipped from its cardboard carton. No fluorescent floral Tolex? No trans-dimensional quantum drive? Not even a monkey grip? Steve Vai designed this, didn't he? Read more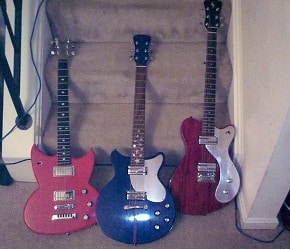 If you've seen advertisements for Vaccaro's guitars on the internet or magazines, you may have noted their slightly confrontational slogan: "They're not for everybody." This statement, it seems, is absolutely true. The reactions I've seen when whipping one of these unorthodox instruments out of my gig bag have ranged from shock ("Where di you get that?") to covetous ("Awesome! Where can I get one?").
Brought to you buy the people who created Kramer's distinctive aluminum and wood-necked guitars in the late Seventies and early Eighties, Vaccaro's guitars feature daringly designed popular bodies, bold finishes and unique aluminum, maple and ebonol composite necks. The Groove Jet evokes the unholy alliance of a Gibson SG and a satanic dung beetle, and features two Seymour Duncan Custom '59 humbuckers, a three-way switch pickup selector located on the top horn of the guitar, two volume controls and a master tone control. Our review model was flawlessly finished in a stunning see-through emerald green. The X-Ray, whose sleek, orange sparkle body has a space-age Rickenbacker vibe, boasts two Rio Grande Muy Grande pickups: a humbucker in the bridge and a single coil in the neck position. Both pickups are topped off with the same mother-of-toilet-seat plastic as the pickguard, adding to the instrument's undeniable ie ne sais quoi. The X-Ray's control layout is simple yet versatile: a three-way pickup selector, coil-tap switch for the humbucker and single volume and tone controls. The hardware on both guitars (Sperzel locking tuning machines, super-sleek Tune-O-Matic-style bridges and top-notch components) is bullet-proof. The phenolic "I can't believe it's not ebony!" fingerboard are smooth and natural feeling, and the well-finished frets provide a sleek, effortless playing surface. Read more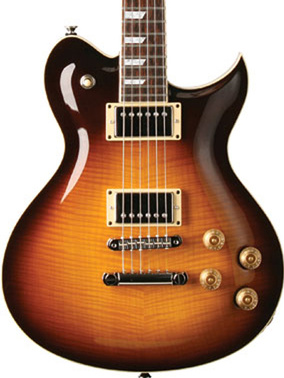 We noticed that not much information was presented on the interweb about Washburn's Idol series guitars. That's a shame because these guitars are an absolute craft of beauty and extremely underrated. There has never been a better time to choose your Idol with the recently released (October 2008) models available.
Washburn's "Wi" Idol series are passionately hand-built at the Washburn's Chicago facility by some of America's finest luthiers, the USA Idol Series consists of five amazingly crafted Custom Shop Guitars. Read more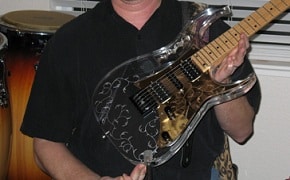 Before the Internet brought us the ability to window-shop on a global basis from the comfort of our homes, most people would have only had an occasional opportunity to see (much less play) an acrylic-body electric guitar. You'd find them once in a great while hanging on a pawn shop wall, or you'd see one being played onstage at a show, and that was about it. Read more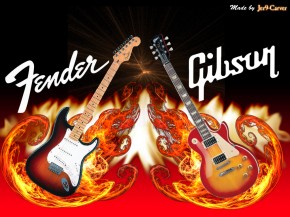 Ah, the classic Gibson vs. Fender debate. This dispute has become so famous and so controversial that nearly all guitarists are forced to segregate themselves and declare their allegiances. But why form such specific, exclusive factions, driving a wedge between the guitar playing community? For good reason, as it turns out the two companies build different guitars for different purposes, making it perfectly reasonable that some players only pick a Fender while others are firm Gibson men (and women). But which is best for the player who has yet to pledge themselves to one brand? Read on and find out. Read more