Paul Reed Smith is looking to expand it's Acoustic Guitars with the new SE Acoustic Guitars series. Read more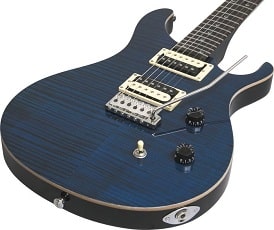 Do not think of the Paul Reed Smith SE Custom 24 as an "economical" guitar. Think of it as an awesome electric guitar for guitarists on a budget.
Ever since the mid 80's, Paul Reed Smith Guitars have earned a respectful reputation for their instruments, which are known for being excellent sounding, effortless to to play, and, all too often, high priced. Comparable to most guitar manufacturers, Paul Reed Smith have released a low-priced series of guitars to render PRS instruments more reachable to a broader crowd who may not otherwise be able to afford a Paul Reed Smith axe. With this series, the Korean-made SE Custom guitars, have been very well received by guitarists on a budget.
PRS' original axe was the Custom 24, so, of course, it's only appropriate that one of the finest SE guitar models is the SE Custom 24, a lower-cost version of the original Custom 24 flagship electric guitar. It priced nearly at a quarter of a "original" PRS Custom 24, so how do they compare? Read more
NAMM 2011 — As the world moves more and more towards home recording, PRS is offering the new full production run Recording Amp. This "universal" amp is ideal for recording and for producing heavy tones, super clean tones, and everything in between.
External switches on many internal gain and tone components normally inaccessible on other amps provide a nearly infinite tonal and gain palate. Two distinct covering options are available for both the head and cabinet. Covering is available in both Stealth (black Tolex) and Paisley, and both options come standard with distinctive curly maple panels.
"When I came up with this concept, my goal was an amp that does it all in a simple and efficient manner – the results are highly musical," said Paul Reed Smith.
25 Limited Edition Experience PRS 2010 versions of the Recording Amp were created for the open house this past September and were featured as part of the "studio-style" demonstrations lead by famed producer Peter Denenberg and guitarist Nick Moroch. Read more
NAMM 2011 — PRS Guitar's new 22 fret, 25-inch scale length Studio model electric guitar is a fresh, modern rendition of a traditional single-single-hum guitar set up with the beauty and brightness of a maple top. Read more
NAMM 2011 — For more than 25 years, PRS Guitars' culture of ingenuity and continual improvement has pushed their guitar manufacturing bar to new levels. The 2011 PRS Guitar product line exemplifies this culture with the execution of a thorough plan to enhance each instrument.
Innumerable changes have been put into action to improve the appearance, playability and tone of PRS instruments.Whether it's the new 53/10 pickups, two-piece bridge, steel bridge components, new neck shapes, V12 finish or new PRS Phase III locking tuners, the amount of time and energy PRS has invested reviewing, enhancing and implementing high impact changes in their quest for tone is unprecedented, even by PRS standards — PRS Guitars. Read more

Paul Reed Smith Guitars and Paul Jackson, Jr. have teamed up to design the PRS JA-15, Jackson's first signature model PRS guitar. Whether it's playing on American Idol, his latest gig on Jay Leno's "Tonight Show," recording with legendary musicians like Michael Jackson, Elton John, and Ella Fitzgerald, or composing and recording his own music, Jackson's multiple decades as a highly accomplished and versatile musician have factored into this model's development. Read more
The PRS SC 58 is Paul Reed Smith Guitars' newest vintage inspired electric guitar model. With a single-cutaway body shape, an artist-grade maple top, and new "Pattern" neck shape, "V12" finish, and two-piece adjustable PRS bridge, the SC58 guitar blends modern and classic elements. Read more
PRS Guitars' are happy to announce the official launch of the SE Santana. Carlos Santana's new signature model is the very first SE offered with a 24.5" scale length and is also the first SE created using the same silhouette as Carlos's revered American-made model. Look for the model on retail shelves this fall and on tour with Carlos as he tours the US in support of his new album Guitar Heaven: The Greatest Guitar Classics of All Time. Read more
PRS Torero Electric Guitar from Paul Reed Smith features a double-cutaway solid mahogany body and a maple top faced with a beautiful flame maple veneer. The 3-piece maple neck-through-body has a 24-fret ebony fingerboard and a comfortable wide-fat profile. You'll feel right at home with the 25 1/2-inch scale length. The PRS Torero SE guitar is loaded with an EMG-81 pickup in the bridge position and the EMG-85 in the neck position. These low-noise active humbuckers are the pickups of choice for metal guitarists due to their power and articulation. The electric guitar's Floyd Rose 1000 tremolo bridge gives you the freedom to express every nuance of your style. Buy the PRS Torero online cheap.
Paul Reed Smith SE Torero Electric Guitar Video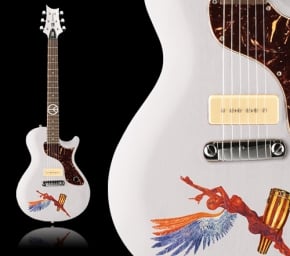 Few guitar players and guitar builders have enjoyed as long and as successful relationship as that which exists between Carlos Santana and Paul Reed Smith Guitars. The two icons are forever linked in the minds of much of the guitar-buying public, and each compliments the other in many profound ways. To celebrate this long-standing partnership, PRS is producing a limited run of Carlos Santana Abraxas SE guitars. The guitars are based on the SE One model, and feature a single cutaway mahogany body, a mahogany neck built to a 25" scale length, a rosewood fingerboard with 22 frets, a single soapbar pickup, and a stop tailpiece. The guitars are finished in whitewash, have a graphic from Santana's Abraxas album on the body, and also have a peace sign inlaid at the 12th fret. Read more