Charvel Desolation DST and DX guitars offer a variety of features and finishes prized by discerning players everywhere, and both deadly models deliver the devastating tone, killer looks and high-performance playability that separate the Desolation series from all others. Read more
Tags: Malden Guitars NAMM 2012,
One of the more overlooked and underrated guitar makers could be found in Booth 3084 at the NAMM 2012 Winter Show, with musicians Rick Vito and Pete Anderson in tow. Celebrating its 15th anniversary, Reverend had three of their models on display, continuing their impressive upward trajectory. Read more
Tags: reverend guitar reviews, Are reverend guitars any good, reverend buckshot reviews, reverend buckshot with bigsby, reverend eastsider s for sale, reverend flatroc 15th anniversary review, REVEREND FLATROC MODEL YEAR CHANGES, reverend sensei ra review, used reverend guitars,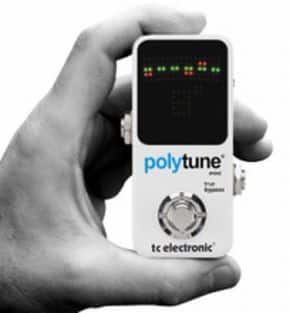 Two years ago, TC introduced polyphonic tuning to the world and since then guitarists everywhere have welcomed this next-generation way of tuning with open arms. Now TC reveals the world's smallest polyphonic tuner: PolyTune Mini that will fit on any pedal board. Sometimes size actually does matter and in such cases, PolyTune Mini is the perfect solution as no other pedal tuner in the world will take up so little space, which means more room for other pedals. Read more
The new Peavey AmpKit LiNK HD pocket-size iOS guitar interface features twice the fidelity and convenience of the original AmpKit LiNK. Based on USB digital audio technology, AmpKit LiNK HD eliminates crosstalk and feedback for pristine high fidelity, even with authentic high-gain amp models in AmpKit, the companion amp app from Agile Partners. Read more
Carlsbro is among the most famous names in British guitar amplification and has been designing and manufacturing guitar tube amps since 1959, selling its early models to Jim Marshall's shop in Denmark Street, London's famous 'Tin Pan Alley'.
The famous 50 Top and TC series revives the Carlsbro tube heritage, with uncompromising build quality, hand selected components and authentic vintage tone throughout. The 50 Top head and 4 x 12 cab are available in classic red and black liveries, while the TC series comprises three classic combos and a 15 watt head and 1×12 stack.
The re-issued 50 Top is the classic Carlsbro tube head and cab of the 60s and 70s revamped and re-engineered to even higher build standards and sonic performance. The new twin channel amp head has switchable channels & two master volumes, which are footswitchable.
The valve complement of 4x 12AXT's and 2x EL84′s give 50 watts of incredible power at 8? or 16?'s. The preamp has a host of features including Hi and Low sensitivity inputs, 3 band EQ using Silvered Mica Capacitors, and 'Sleep Mode' automatic muting with no input present. Tough ply construction, with durable covering and metal corners are essential for road use. Jack outputs are 2 @ 8? and 1 @ 16? allowing a wide choice of cabinets. Read more
Tags: carlsbro tc15h review,
It's that time of year again, when everyone is on the edge of their seat—waiting and watching, for the shiny new products to be rolled out at NAMM. Calm down – this isn't a game changing miracle device, but it's still pretty cool.
Fender has introduced the new Squier models for 2012, putting some nice touches on a guitar line that has had less than impressive results in the past. Read more