NAMM 2011 — Peavey proudly announces the new Peavey Triple XXX II three-channel, 120-watt guitar amplifier.
The Peavey Triple XXX II delivers tones ranging from the Peavey Classic 50 to vintage British to the modern Triple XXX and all tones in between. The versatile and comprehensive control section supplies a master volume pot and independent volume knobs for each of the three channels Read more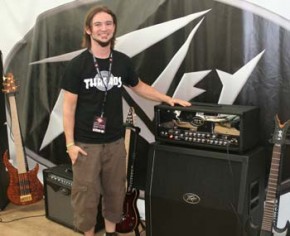 Peavey may not have the most recognizable or distinct guitar models, but they're still among one of the most popular amplifier and electronics manufacturers to date. Read more
Page 1 | Page 2 | Page 3 | Page 4 | Page 5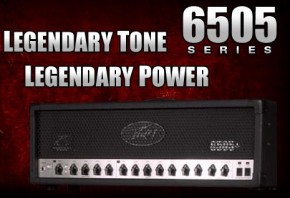 Metal guitar players ask a lot form their amplifiers. They also buy a lot of them, judging by how many amps seem to be marketed to players of heavier styles. In that spirit, your ever-rocking staff here at Gear-Vault has decided to bring you our choices for the 5 best amps for rock and metal available today. You may have your own personal list, as all us amp junkies do, but this one is ours, so, if you don't see your amp on here, play what makes you happy. Read more
It's no secret that we're fans of Peavey amps here at Gear-Vault. One of my personal favorite amps by Peavey is the XXX. It's a mean sounding amp. Next in line, for me, is the 6505+ because it's basically a 3-channel 5150 with much better sounding chimey cleans. I'm excited to see Peavey are active participants at the winter NAMM 2010 show. Peavey are happy to announce the all-new 6534+ Guitar Amplifier Head – the next evolution of the high-gain 6505 Series, which has defined the sounds of aggressive guitar music since 1991. Read more
Peavey is pleased to announce the debut of the all-new Peavey 3120 high-gain guitar amplifier head, a versatile three-channel amp with 120 watts of power and a trio of distinct voices capable of producing guitar tones from crisp and clean to total high-gain saturation.
The Peavey 3120 gives rock guitarists a triple-threat tone onslaught with generous amounts of gain, 120 watts of power and three fully independent channels of all-tube, tone-shaping performance. Each of the separate "Lead" and "Rhythm" channels feature its own gain and volume controls and an active three-band EQ, while the "Clean" channel offers nicely rounded sounds crafted by a passive three-band EQ and volume control.
The 3120's global master volume governs the amount of power put out by its four 6L6GC or EL34 power-amp tubes, while the gain controls on the "Lead" and "Rhythm" channels adjust the amount of 12AX7 preamp gain saturation.
The 3120's rear panel hosts a unique Peavey custom tone control feature: a three-setting damping switch that alters speaker resonance to create tight, medium and loose tones, from a precise punch for rhythmic attack to a full, widely resonant sound. Also on the rear panel is a footswitchable effects loop with dedicated send and return controls and a line out with level control. For more information, see Peavey's official site for more.
For years, Peavey has been building amplifiers that have cranked out some of the most influential riffs in music history. With signature amplifiers co-designed by artists such as Edward Van Halen and Joe Satriani, it's no wonder that Peavey remains at the top of many aspiring rock star's wish lists.
Peavey amps are known for dependability, affordability, and monstrous tone. The combination of these factors make Peavey a great choice, regardless of your skill level. Read more