Memory Boy — The undeniable bloodline the same warm analog delay and seductive modulations of its legendary ancestors. 550 ms of superior delay coupled with a sweet chorus and vibrato maintain their organic quality on stage or in the studio. The classic EH analog delay carries on the family tradition at a musician friendly price — Check for price.
Deluxe Memory Boy — The latest in the proud heritage of EH analog delays. Tap tempo delivers a magnificent "human lock" letting you stay in sync with the groove. The effects loop provides synchronous animation that redefines pedalboard flexibility. Expression pedal input offers added control over every key performance parameter. This locked and loaded prodigy carries its lineage proudly! — Check for price.
Memory Toy — Pure and simple analog delay for musicians who covert a thick sound from a thin wallet. Offering up to 550 ms of delay time and a sweet selectable chorus, this "toy" is a powerful tool with world class tone. Inheriting all of the family jewels, the Memory Toy will soon be one of your most prized possessions. — Check for price.
Read more
Building on the success of the award-winning HT range of valve overdrive pedals, Blackstar are proud to announce the launch of three new effects pedals: HT-Delay, HT-Modulation and HT-Reverb.
Combining real valve tone with the flexibility of digital technology these pedals deliver eight stunning reverb, delay or modulation effects. Read more

Give away is over. You are still welcome to leave your comments and sign up to our news feed if you like. Winners will be selected and announced soon. Stay tuned!
September 29th, 2009–Gear-Vault's 2nd Birthday is today! To make it fun, we are giving away some really cool prizes–including T-shirts, Guitar Strings, pair of Dot On Shaft Humbucker Guitar Pickups, Distortion and Fuzz pedals… and a Dean Vendetta Electric Guitar!
How do I win?
Simple! All you have to do to is be 1 of the 10 lucky winners to receive one of these cool prizes–simply leave a comment below stating what your favorite guitar riff (or song) is–and why.
To be eligible, you must subscribe to the feedburner email feed – this is how you will be selected and notified of your winnings. We are using Feedburner with Random.org to select the 10 winners, so you MUST active the Feedburner to win. Subscribe now:
What do I win?
1st prize: Dean Vendatta Guitar!
2nd prize: Set of DOS Carparelli Humbucker Pickups
3rd Prize: MXR M-115 Distortion III Pedal
4th prize: EHX Little Big Muff Fuzz Pedal
5th prize: Fender T-shirt + 3 sets of DosWyres
6th prize: Dot on Shaft T-shirt + 3 sets of DosWyres
7th prize: Three sets of Electric Guitar Strings
8th prize: Two Sets of Electric Guitar Strings
9th prize: Set of Electric Guitar Strings
10th prize: Set of Electric Guitar Strings
When does the Giveaway end?
We're going to run the giveaway for 60-days. We want to give everyone a chance to participate and win some of this really cool stuff. End date is November 30th 2009.
If you are a retailer and would like to advertise with us, please get in contact–we have the perfect advertising campaign for your company. You can sponsor this giveaway with a small donation and we are accepting gear donations for future giveaways.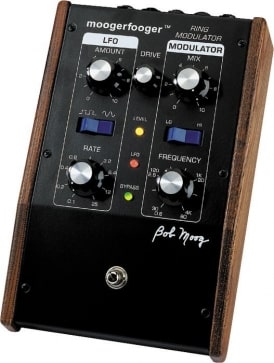 Big Briar Moogerfooger analog effects modules long before he was designing alien stomp boxes for Big Briar, Bob Moog was forever changing the way we make music with a little invention called the synthesizer. With his Moogfooger modules, ol' Bob has extracted some of the more guitar-friendly features from his creations and packaged them in sturdy oak-and-metal enclosures suitable for stomping desktop tweaking.
Most guitarists will peg the Moogerfooger Lowepass Filter as an "auto wah," but plug in an expression pedal and it can morph into a conventional wah. Equally versatile is the 12-stage Phaser, which does ever flavor of phasing imaginable and goes a few steps beyond with a sweep frequency that ranges from a barely perceptible one cycle per 100 seconds to a brain-spinning 250 cycles per second. Read more
Let's take a look at 4 killer Marshall stompboxes to help shape your guitar tone. In this review, we will sit down and play all 4 pedals, and also includes video tone sample. You want to hear how kickass these Marshall Pedals sound, right?
Pedals in review:
BB-2 Bluesbreaker II
SV-1 Supervibe Chorus
ED-1 "Edward" Compressor Pedal
VT-1 Vibratrem
BB-2 Bluesbreaker II

Modeled after Marshall's original Bluesbreaker pedal, the BB-2 offers two modes instead of one. The unit's clean, but merciless boost function can pummel an amp's input stage or drive long cables without altering the tone of your guitar, while the blues mode uses the pedal's drive and tone controls to create a wide range of valve-like overdrives rich in 2nd-order harmonics.
The Bluesbreaker II worked extremely well with a vintage Marshall Super Lead, producing no low-end loss when interacting with the amp's power tube distortion. It's performance was equally commendable with a Blackface Fender Reverb, where the BB-2's ultra-musical crunch was plainly in evidence. Read more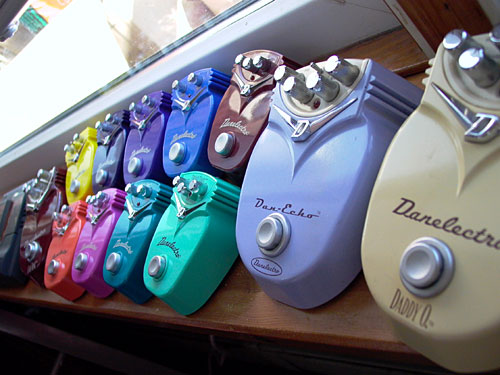 The classic-looking effects boxes created under the revive Danelectro moniker have been among the most well-received musical products in recent memory. It's easy to understand why: Danelectro has reproduced popular vintage tones in four reasonably priced and good-sounding pedals. Featuring quality construction and killer design, these units were made to look as good as they sound. Read more
I'm 15 years old and have been playing guitar for about three years. Recently, I've become obsessed with the vas array of effects on the market. I currently own a DOD flanger and a Vox distortion booster, but I'm hell-bent on getting a wah, delay, octave, phaser and a million others. My dilemma is that I don't know whether to get a truckload of pedals or a single multi-effects processor.

I am willing to spend more money to purchase individual pedals, but I don't want to if I can get the same sounds from a single unit. I was hoping that you could tell me the advantages and disadvantages of each, and if there's a multi-effects of each, processor you would recommend. Thanks

Shane
xxxx@rocketmail.com
Good question, Shane. You would think a flanger's a flanger whether it's in a stand-alone box or one of several effects in a mutli-effects processor, right? Wrong! I can't tell you exactly why this is, but to my ears stand-alone effects pedals always seem to have a purer, more realistic tonal quality than multi-effects units. And bet your ass the guys who make multi-effects boxes put plenty of research into making their all-in-one jobs more believable-sounding. Read more