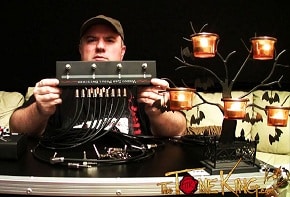 Longtime friend of Gear-Vault.com, TheToneKing.com is now on its third year of pedal reviews for its TTK viewership. And, in the thick of this otherwise dreary November, the potential for winning big with gear giveaways coming at the end of this month is just beginning to warm up. The Tone King says, "This year, we've stepping up our game Read more
NAMM 2011 — The new Mod Zero is the latest guitar effects creation by Portland Oregon boutique designer Jack Deville Electronics. Mod Zero is the all-in-one box that creates all types of modulation and some special "holy grail" tones that players have chased for years. Mod Zero is a 100% analog modulation box that features vintage and modern takes on famous and unheard sounds. Read more

Over the past decade, I have always used some variation of POD for recording. It is by far, the easiest and fastest method of recording guitars. But when I've tried taking those sounds to the stage, they have sometimes fallen a bit short.
So when I was approached for my take on the new POD HD500, and I was told that "all-new" Line 6 HD modeling technology "represents a giant leap forward for amp modeling" and delivers "previously unachievable realism," I plugged in with some skepticism. Read more
The original Deluxe Memory Man is considered to be the finest analog delay ever designed. Organic and musical, it has been used by rock and Roll legends and countless musicians since its introduction in 1978. With the desire to make a flawless and smooth transition, Electro-Harmonix proudly announces the "new" Deluxe Memory Man in our rugged and pedal board friendly die-cast enclosure.
Exactly the same components are used in order to maintain the superior analog sound with exactly the same performance qualities. In this case, downsizing to a more rugged chassis was important and only second to maintaining the legendary sound. The exact same sound! Read more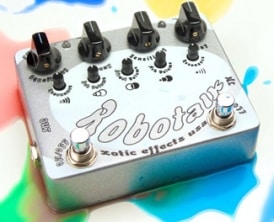 Xotic Effects will be unveiling their updated version of Robotalk 2 envelope filter pedal. The new Robotalk sports two distinctive envelope filter channels. Each of the Robotalk's channel are independently voiced and can be adjusted for different playing styles; slow acoustic-like attack, percussive, high speed open-close and many more. Blend each channel together for additional sounds or use the internal dip switch to customize your own sounds. In addition to the aforementioned features, there's a switchable input pad for accommodating both active and passive signals.
"The new Robotalk 2 is great!! You've got the classic seventies-style ALL ANALOG filter sound, and you've got two discrete channels of it. What else do you need, except maybe Parliment Funkadelic??" – Paul Jackson Jr. MSRP $280
Xotic Robotalk 2
Distortion and compression are twin faces of the same personality. Compression can give a guitar the violin like sustain many players seeks in a good distortion pedal, while distortion can iron out transients in a way similar to a compressor. The marriage of both effects in one pedal would seem a foregone conclusion, but a noise gate would be required to eliminate the resulting noise, and the interaction of all three items adds up to a rather dysfunctional family.
You can thank Tech 21 for organizing everything into one stomp box sized pedal without sacrificing a drop of professional sound quality. The CompTortion features controls for level, tone, compression, and distortion. Each effect can be dialed up independently or mixed together in whatever ratio you need. The noise gate is hardwired into the circuit and requires no controls. As an added testament to the lack of coloration in the CompTortion's signal chain, both the compression and distortion can be dialed down, leaving a clean signal which can be boosted 12db via the level control.

Advertisement————————————
————————————————————
The pedal's compression circuit is powerful, providing a range from 1:1 to a totally squashed 15:1. Lovers of country rock and power pop will embrace the clean compression settings. If you crave the long, vocal sustain of Robert Fripp or Tom Sholz, simply back off the compression and add more overdrive. Lose the compression altogether and dial up the tortion to find out why Kurt Cobain was so fond of the Tech 21 pedals.
The End Line – For those who crave effects of a more schizoid mature, the CompTortion is the Swiss Army knife of pedals, with noise suppression circuitry and an analog signal path… Just fantastico!
Buy – Sell – Trade at USED MUSIC GEAR at GEAR-VAULT CLASSIFIEDS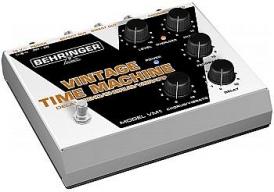 BEHRINGER is moving forward in the guitarworld by adding the VM1 Vintage Time Machine stomp box to the line up. Delivering 550ms of true analog delay to produce great sound of tape echo machines, which was popular in the 70's. Effects include Chorus, Delay, Echo and Vibrato. Flexible sound-shaping controls including Effect Mix, Delay Time, Feedback and switchable Chorus / Vibrato with variable Depth control in a abundance of classic sounds. The VM1 sports an Input Level control with Overload LED and a true hard-wire bypass foot-switch to ensure signal fidelity and integrity. Read more