I love a Fender Stratocaster, they are one of my favorite guitars. My biggest inspirations aside for Randy Rhoads, was Eric Clapton, Stevie Ray Vaughan, and Jimi Hendrix. Not only were their playing style legendary, but they created a sound that everyone wanted to emulate, and a big part of that was, of course, the Fender Stratocaster.
Today you have a chance to win a Fender Eric Clapton Signature Stratocaster guitar. This 'Blackie' Stratocaster has all the bells and whistles you'd expect from a USA made Fender, this guitar sells for $1,600! Read more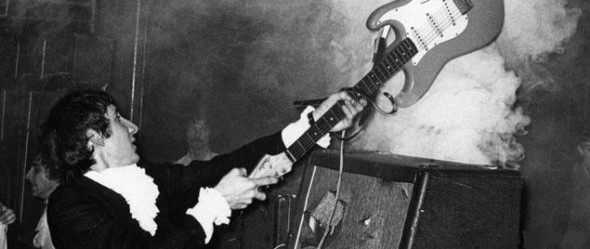 Before there was punk, there was Pete Townshend. No one in the music world prior to Pete Townshend was so able to channel young rage into aggressive and fierce guitar playing. Certainly people like Clapton and Hendrix demonstrated that the electric guitar was a liberating instrument, but it was Townshend who first turned it into a symbol of anger, rebellion, and even danger. If it was Elvis' hips and sneers that had mothers locking up their daughters in fear of rock and roll, it was Townshend's crashing guitars (and his smashing of guitars) that mothers want to lock up their sons.
The Who were the loudest, the brashest, and the roughest of the hard rock bands to emerge in the late '60s. They were in the original sense of the term, punks (and let's not pick nits over the "mods vs. rockers" stuff). Zepplin was more musically experimental, although no less excessive in their personal and public pursuits; The Rolling Stones were nastier and more lewd; but The Who were the maddest, and they weren't afraid to show it. They broke each others' noses, they broke up hotel rooms, and they broke their equipment. They mouthed off, they drove expensive cars into swimming pools, and generally taunted anyone that didn't understand them or got in their way. But under Townshend's leadership, The Who played some fo the most memorable guitar tunes in the history of rock. Townshends was—and is—and incredible songwriter who created the defining rock anthems for the "post-flower power" generation. The structure he created for Tommy became the formula for all "rock operas" to follow, from The Wall to Operation: Mindcrime. Read more