NAMM 2011 — Eternal Descent is a comic book and music series unlike any other – and so is the new Eternal Descent Lyra, a limited edition multi-effects pedal that brings the sound of the globally popular series to guitarists everywhere.
Eternal Descent is a cross-genre story that blends elements of fantasy, action, music, superhero, gothic, science fiction, supernatural and other elements into an ongoing saga featuring Lyra, the series' heroine. Lyra is a rock singer who is quick-witted, beautiful, talented, has attitude to spare – and is immersed in a battle with demons both internal and external awaiting her at every turn.
Music is integral to Eternal Descent. Created by writer Llexi Leon, the comics revolve around the exploits of Lyra and her band, Constellation Nine, and rock and metal bands like Static X, Atreyu, Firewind, Shadows Fall and others have made guest appearances. A series of albums have been released that bring the comic to life with music created specifically for the series. Read more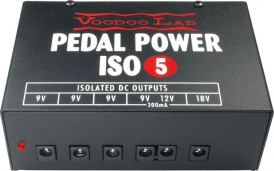 Compared to some sexy new guitar or an amp powerful enough to frighten small children, many would consider a pedal power supply a yawner. But those of us who have spent years in the trenches designing power supplies know differently: They're the source, the fountain head, for all of you do–and all power supplies are not created equal.
It's a no-brainer that batteries are not the best choice for multiple pedals, and several companies have stepped into the AC adapter void. Voodoo lab has been at this a long time; their ISO-5 reflect that experience by adding some features that help create more of an industrial-strength vibe. Read more
Back in 2005, Electro-Harmonix unveiled the original POG, a polyphonic octave generator that enabled guitarists to conjure everything from the surreal jangle of an 18-string guitar, to rich, thick walls of symphonic sound. Watch a video review of the stompbox below –
The POG2 will take you even higher. Use the new attack control to fade in lush, smooth swells. Tune in the new second sub-octave to reach deeper than ever before. The 2-pole resonant low-pass filter now includes two additional Q modes. Slide in the newly enhanced detune to further refine your sound.
The POG2 delivers unrivaled tonal variations–and now you can save your favorite settings, and recall them with a click. The POG2 just plain sounds better, thanks to an enhanced algorithm that delivers a more focused and in-the-pocket harmonic performance. And all this is now packed into our rugged and pedalboard-friendly diecast chassis. Read more
Reinhardt Amplification has released the Willard distortion pedal. The pedal is based on a 1981 big box Rat. "I originally started playing in the early to mid 80's, and this was my favorite old pedal. I wanted to try to recreate the old tones from that time, and this is what we came up with," said company owner, Bob Reinhardt. These pedals feature true-bypass and are hand assembled with top of the line components for reduced noise and better sound quality. One thing about the original circuit that Reinhardt says he would never change is the rare NOS LM308N chip. "That op-amp is such a key to the thick, natural tone of this circuit. Modern substitutes just don't measure-up," said Reinhardt.
If you are looking to recreate the tones that were heard so widely in 80's rock and metal the Willard may be just the ticket. It packs all of the 80's they could get into one box!
Visit their web site at reinhardtamps.com for more information.
Advertisement—————————————
[% oiopub-banner-3-left %]—————————————————————