Roland launches the most powerful guitar amplifier in the CUBE-Series lineup, the new Roland CUBE 80X guitar amplifier expands on Roland's top-selling CUBE-60. The Cube 80-X delivers a massive 80-watts of power through a 12-inch speaker, and features a switchable clean and lead channel designed from its renowned predecessor, CUBE-60 series.
Roland Cube 80X Guitar Amplifier
Not only does the Roland CUBE-80X offer more power, it adds exciting new features to the guitarworld of portable amps, including a new "Looper" function and "Solo" function with memory capability. The direct recallable SOLO function stores the settings of each and every LEAD channel control, allowing you an easy to use third channel option. In addition, the boost feature can be toggled via the footswitch. Ten onboard COSM amp models include the new "DLX COMBO". Also onboard the CUBE 80X is six classic Roland effects with independently controllable reverb and delay, including a model of the classic spring reverb for a natural sound. Read more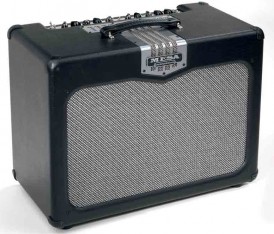 Here's a great review by our friends over at musicradar.com, here's what they had to say about this rockin' lil' amp — It wasn't long ago when we first tested the Mesa TransAtlantic TA-15, well now bigger brother, the TA30, is here.  It's called TransAtlantic because it spans classic British and US tones, specifically Vox-inspired when it comes to cleans and crunches in channel one.
Then in channel two it's a brief sojourn into mid-gained Marshall territory (Hi One) flanked by Mesa Boogie's more common post-Fender clean (Tweed) and high-gain tones (Hi Two), direct from the US of A: five modes in total.
The main rotary controls are straightforward; the only one requiring further explanation is the cut/master in channel one. When pulled out it's a master volume for the channel, and when pushed in becomes tone cut (essentially a master presence) control very similar to what you'd find on a Vox AC30. Read more
Roland has sold over 10,000 CUBE amplifiers, and that number continues to grow every day. Drawing on the company's 35-plus years of innovation and know-how, these portable performers combine cutting-edge technology with design and construction features typically found in amps almost that cost up to five times as much. In this article, we'll take a closer look at what goes into every CUBE amp, and introduce you to the latest guitar amp in the lineup, the CUBE-XL series. Read more
Everyone knows that Vox is one of the original guitar amp companies that helped change the world we live in. From The Beatles to Brad Paisley, many legendary players have relied on Vox amps to carve out their tone and make great music. Not content to rest on the laurels of past glories, Vox is still making cool amps that many modern guitarists have turned on to, but just as many players love the old stuff and build their sound on simple tube platforms that have launched thousands of licks. For these folks, there may be nothing better than the Vox AC15C1. Vox has made the AC15 in one form or another since 1958, so you know it is a proven performer. The AC15C1 pumps out 15 heavy-duty watts of EL34 goodness through a single 12-inch Celestion G12M Greenback speaker. The amp's preamp section runs on three 12AX7 tubes for maximum tone-shaping power. Read more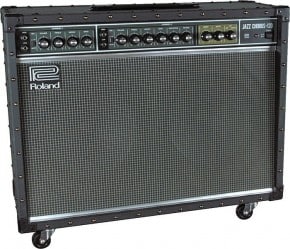 The Roland JC-120 Jazz Chorus amp is one of the most popular amps among musicians because of its quality sound. This amp has two channels for a wide selection of sound options, with a clear and true tone that makes is one of the best amp choices today. No matter what your play style is, you can use the Roland Jazz Chorus amp both for practice and live concerts. Read more
VOX Amplification has announced an entirely new lineup of hand-wired AC15 and AC30 amplifiers. The Hand-Wired Series includes innovations to satisfy the versatility a modern player needs. Included are four combo models, plus a head and matching extension cabinet.
The ultimate take on the VOX classics, these amplifiers make use of high quality components, an all-tube design, hand-wired turret board construction, and over 50 years of VOX AC15 and AC30 refinements.
Finished in fawn-colored vinyl reminiscent of the 1960s AC amplifiers, the birch-ply cabinets feature solid, tight bracing and a natural high frequency diffuser. Matched Ruby Tubes are used throughout for an extended dynamic range. All models provide three 12AX7/ECC83 preamp tubes. The AC30 models are equipped with Read more
The Tone King teams up with Line 6 to give away a Spider Valve MKII 1×12 Combo amplifier. Wait, that's not all! TTK and Line 6 are also including the FBV Shortboard Floor Controller. How cool is that? Read more
The result of a groundbreaking collaborative effort between living-legend amp designer Reinhold Bogner and renowned amp-modeling upstarts Line 6, Spider Valve MkII 112 40-watt combo amplifier offers the best of both worlds: brawny, boutique-style tube amp tone and the latest, most advanced Line 6 amp modeling with complete flexibility and deep editing. Read more
Another contender for the heavyweight silicon-superamp title is Yamaha's DG100-212, 100-watt combo based on the company's popular DG1000 guitar preamp. Unlike comparable amps, with their data screens and complex menus, the DG100 features controls that are refreshingly familiar and simple to operate. Yamaha's aim here is to offer classic tube tones in a digital modeling amp that uses knobs and buttons rather than parameters and data wheels, which tend to scare off technophobes. Read more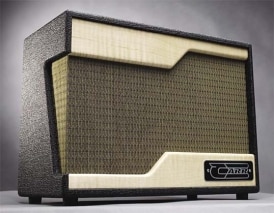 Small amps are all the rage these days. Maybe it's a sign of the times or of an aging guitar community no longer willing to carry stacks around, but it seems every amp maker out there now has offerings that put out 20 watts or less through a single speaker or as a head. The new Carr Raleigh fits into this demographic quite well and is a worth choice to consider for any player looking to downsize their gear. Read more