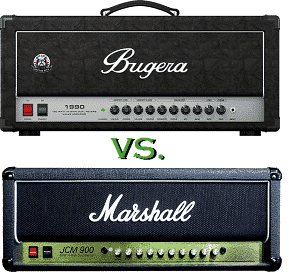 Anyone looking for that classic stage sound, but doesn't have the classic stage budget, would do well to check out the Bugera 1990 amplifier. The 1990, built in the Behringer factory for the Italian manufacturer Bugera, comes so close to the sound of the Marshall JCM900 as to make critics split hairs when debating the two.
When presented with TheToneKings side-by-side audio/video comparison (see below), the online reactions ran the gamut of Marshall homer-isms. The 900 is cleaner, they say. A little tighter. Has thicker bass. Better distortion. Transcendent reverb. All of this can apparently be determined by listening to a set of tiny little computer speakers, played from a YouTube video, its properties broken apart and reproduced out of binary code as if sent through the USS Enterprise's transporter room (or like poor Jeff Goldblum in The Fly).
Some opined that the Bugera is more apt to have problems if it gets moved from place to place (one can only surmise that such depends on how one throws one's amp around). One deep thinker suggested that the Marshall has superior tubes – akin to asserting that a Mercedes is preferable to a BMW because it has better tires.
Such complaints may well be valid if one is playing CDs through the head and speakers, but that's not the case. That which goes into an amplifier is a musical instrument. It's called a guitar. It's made out of wood, metal and magnets (with some little bits of plastic, bone and Mother of Pearl here and there). When Marshall-loving elitists sniff at the Read more
From the Bugera Website —
The supernatural power of the 85-Watt BUGERA MAGICIAN is built to satisfy even the most discerning tone chaser. Its unbelievable array of tonal options will take you on a tonal tour of the greatest amplifier personalities to ever emerge from the Sunshine State. With three channels, multiple class modes (Class-A or combined Class A/AB), variable maximum power, switchable triode/pentode operation and a multitude of EQ controls, the MAGICIAN is too many amps to count – all in one!
It all starts with a three-channel preamp design (Rhythm 1, Rhythm 2, Lead) featuring 4 x 12AX7 valves, producing everything from vintage clean to killer crunch. On the back panel, flick a switch to select PENTODE for a clear, powerful punch or TRIODE for a classic, mellow sound. Next, select either CLASS A mode for a bright, chiming tone that pushes easily into overdrive, or MULTI-CLASS mode to combine the Class A sound with the tight, punchy tone of Class AB amplifiers. Read more