In the mid-1940s, Leo Fender invented a distinctive solidbody guitar design intended to address feedback issues by amplifying the guitar strings without effecting the resonance. Leo's vision led to the creation of the Fender Electric Instrument Manufacturing Company. By late 1951, the company's first showing two-pickup guitar model, the Fender Telecaster, started rolling off the factory's assembly line. Alongside Fender's three-pickup pickup, the Stratocaster, the Telecaster would eventually become the most commonly used six-string guitar in the world, altering the direction of prominent music in the process.
Sixty years later, the Tele's excellent playability and yielding sound makes it one of the industry's most adaptable solidbody guitars, similarly at home in jazz or rock, alternative or country styles. To celebrate this landmark year, Fender Guitars have constructed a limited-edition 60th Anniversary Telecaster which combines features originated on the '51 Telecaster prototype with several exclusive updates which makes this a Tele to outdo all Telecasters. Read more
"Dream Factory" commemorates Telecaster history with reproductions of historic prototype, Broadcaster, Nocaster and Esquire models
Presser — The Fender Custom Shop in Corona, Calif., is proud to introduce a very special series of limited edition instruments issued in celebration—or rather "Tele-Bration"—of Fender's very first solid-body electric guitar, the Telecaster, which has reached its 60th anniversary in 2010.
The Custom Shop's 60th anniversary Tele-Bration series commemorates the very earliest models of what would by early 1951 be called the Telecaster. The five Tele-Bration guitars present finely crafted reproductions of several of Fender's most collectible historic instruments—each limited to 60 guitars—and will be released sequentially beginning in summer 2010. Further, each guitar comes with a Custom Shop Tele-Bration ring notebook containing yellow legal pad copies of George Fullerton's handwritten notes about the history of the Telecaster's very earliest days. Read more
The best of Fender's best comes from the world-famous Fender Custom Shop in Corona, CA, and 2010 is already shaping up as an amazing year at the "Dream Factory." The Custom Shop is proud to introduce several highly-distinctive and incredibly-limited new instruments, including several 60th anniversary models. Read more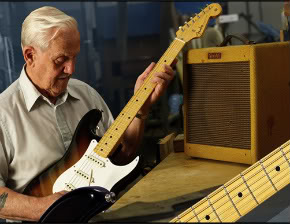 The 20th century will be remembered as an age of technology. And the electric guitar has been one of the most benign technologies to emerge from our troubled outgoing century. Like the innovations of Thomas Edison or Henry Ford, the electric guitar is a great populist invention. For the most part, it wasn't dreamed up by people with college degrees in design engineering but by hard-traveling musicians and practical-minded businessmen clawing their way out of the Great Depression.
One of the greatest of these pragmatic mid-century geniuses was Clarence Leo Fender. Born on a farm near Anaheim, California in 1909, Leo Fender was operating his own radio repair shop in nearby Fullerton by the mid Forties. Thanks to the post-WWII economic boom, this was an era of great prosperity, marked by exciting new inventions like television, a middle-class migration out to the suburbs and the birth of sleek new design aesthetic that was streamlining everything from home furnishings to automobiles to electric shavers and hair dryers. Opportunities were plentiful for entrepreneurs and inventors of every stripe, which suited Leo Fender just fine.
Circa 1943, Fender built a very simple solidbody electric guitar that he'd rent out from his shop. (Fender Radio Repair also rented P.A. systems and even a panel van with speakers mounted on top to advertise local events!) In a garage out back, Leo began making lap steel guitars under K&F brand name in partnership with Doc Kauffman, another bailed out of the business in 1946, Leo continued on his own, starting Fender Electric Instruments in 1948. One of the first people he hired was George Fullerton, who became his assistant and lifelong business associate. Read more