Schecter Hellraiser C-7 Seven String Guitar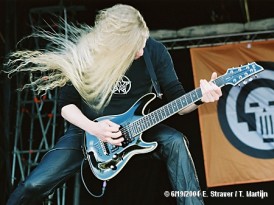 Although the Korn epidemic of the 1990's is long past, there is still a fair amount of interest out there in 7-string guitars. 7-strings allow players access to lower notes outside the range of a standard guitar and also let more sophisticated players the chance to voice chords more like a piano player would, which is seen mostly in the jazz world. A cool choice for more rock-oriented players looking for a 7-stringer is the Schecter Hellraiser C7.
The Hellraiser is designed and built for the heaviest of rock and metal use, with a mahogany body, set neck, 26.5" scale length, and EMG 707TW active pickups. The C7 also features an ultra-access neck joint and 24 extra-jumbo frets, which make playing it a breeze. Other touches include individual volume controls for each pickup, a master tone control, a three-way pickup switch, Grover tuning gears, a thru-body TonePros bridge, a push-pull knob for coil splitting, abalone binding, and cool gothic cross neck inlays. A Floyd Rose version can also be had for a slight upcharge.
Even though the C-7 is metal to the core, it also excels at clean funk and jazz tones, thanks to the EMG pickups. It also balances well and provides a high degree of fit and finish, especially for a guitar that retails for $1249.00. Schecter is great at making guitars that pack a lot of value for the price and the Hellraiser C-7 is no exception. While a 7-string guitar is not for everyone, they can be a cool tool to pull out on occasion or the basis for some players' whole style and way of playing. If extended-range guitar playing seems to be calling your name, give the C-7 a test drive at your local Schecter dealer to find out just how low you can go. Want to see the six-string version? Read: Schecter Guitars C-1 Hellraiser 6 string.
Schecter Hellraiser C7 Seven String Guitar Video
Tags: schecter c-7, schecter 7 srtring, schecter hellraiser c7,