Guitar Icon Dean Zelinsky Launches DBZ Guitars Web Site
DBZ Guitars, Inc. founders Dean B Zelinsky and Jeff Diamant announced today the official launch of their website, DBZGuitars.com. Dean B Zelinsky, who also founded and eventually sold Dean Guitars, is taking a more stylish direction with his 2009 DBZ guitar designs, while still incorporating those edgy, sexy Zelinsky style cues for which he has been world-renowned since the late 1970s. The website premieres Zelinsky's nearly 68 new guitar models – from electrics to acoustics, imports to the USA-made guitars crafted in DBZ Guitars' new Chicago area facility –with street prices ranging from $350 to $6,000.
The new DBZ models highlight from the Cavallo V, unmistakably inspired by Ferrari with its lines and carves, the DBZ Croc Skin Bolero (the first guitar ever to obtain the look and feel of crocodile skin), and the Imperial, with a super-thin body design which Zelinsky claims to be an "acoustically perfect" solid body electric guitar.
DBZGuitars.com will link to an equally fascinating DBZ Site called, "The Dark Side of Dean," which exclusively caters to the heavy metal fans who value Zelinsky's innovation and craftsmanship, and will be debuting 21 new guitar designs. Zelinsky stated that this will be an exclusive club. The Dark Side of Dean will be password protected, and only die-hard Dean Zelinsky fans will be admitted. Clues to unlock the mystery of the Dark Side will be located on the DBZGuitars.com site as well as various internet sites. The Dark Side will also host its own DBZ Dark Side guitars forum.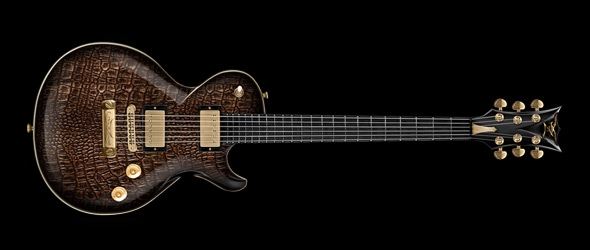 Zelinsky, along with co-founder Jeff Diamant, launched DBZ Guitars August 26, 2008. Diamant, who founded Diamond Amplification, and Zelinsky will be hosting the DBZ/Diamond Booth #3290, Hall D at the NAMM Show in Anaheim, CA on January 15, 2009.
About Dean B. Zelinsky:
Since 1976, Dean B. Zelinsky has been legendary for pioneering the custom high-end guitar market, and creating stage-worthy electric instruments exceeding professional players' expectations. His innovative designs have been embraced by rock and roll's top artists spanning three decades. The spinning fur ZZ Top guitars made music video history in the '80s along with the "ML" design, which became as much of a part of "Dimebag" Darrell Abbott as his crushing riffs and gregarious persona, and remain a heavy metal standard today.
The roster of world-class guitarists who have relied on Dean's craftsmanship and creativity include the following: "Dimebag" Darrell Abbott (Pantera, DamagePlan), Dave Mustaine (Megadeth), Leslie West (Mountain), Michael Schenker, Billy Gibbons and Dusty Hill (ZZ Top), Trent Rezner (Nine Inch Nails), Jerry Cantrell, Elliot Easton and Rik Ocasek (The Cars), Rik Emmett (Triumph), Iron Maiden, Def Leppard, Sammy Hagar, Kerry Livgren (Kansas), the Doobie Brothers, Nancy Wilson (Heart) and many more.
About Diamond Amplification:
Led by President/CEO Jeff Diamant and co-designer/engineer Martin Golub (formerly of Bob Bradshaw's Custom Audio Electronics), Diamond Amplification focuses on a minimal number of lines, ensuring the highest quality for each of its products. The Texas-based company has five products on the market: Spec Op, Nitrox, Phantom, Spitfire (I and II) and The MAC-2. Diamond Amps' roster of endorsees includes Clint Lowery (Sevendust), Al Anderson and Junior Marvin (The Wailers), Keri Kelli (Alice Cooper), Jason Krause (Kid Rock), Wayne Swinny (Saliva), Jonathan Montoya (Saliva), Virus (Dope), Nathan Connolly (Snow Patrol), John Corabi and many more.
Visit DBZguitars.com for more information.
Photo of DBZ Cavallo V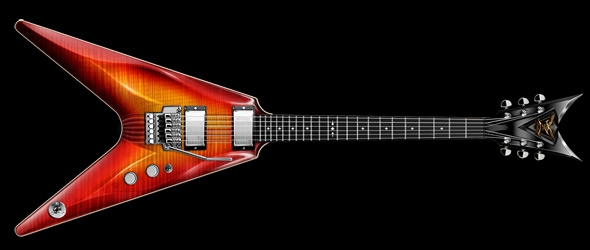 Photo of a DBZ USA Barchetta Corsa