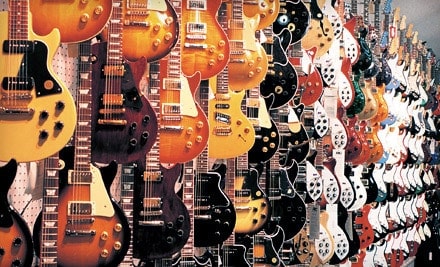 Guitars
arouse my crazy obsession, therefore, I am obliged to compile
5 top selling electric and electric/acoustic guitars
for our readers. Guitar companies manufacture a wide variety and styles of guitars and sometimes produce junk that's barely worth firewood, and other times produce the
ultimate guitar
that we can all appreciate. However, finding that perfect guitar is not always easy, but it's fun searching for it. If you are one of those players that is searching for a guitar that provides that sensuous feel that fills your pulse with vibrations of rhythm and melody; yet easy on the wallet, then read on.
Read more
Tags: best selling guitars, best electric guitar, best seller acoustic electric guitar metal string for usd 1000, chinese best electric guitars and price, best selling electric guitars, Top selling guitars, top selling electric guitars, top selling 17 guitars of all time, top of the line electric guitars, top best electric guitars,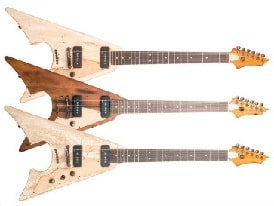 Legendary guitarists like Randy Roads of Ozzy Osborne played V-shaped guitars; their extreme edge appearance brings the meaning 'axe,' which explains why so many metal guitarists prefer them. They're unique looking, give a tight heavy sound and just look metal. The Badwater Jacknife guitar is yet another radical—V-shaped—guitar, but unlike many others, is geared toward guitarists on a budget, while giving more features than other economy V-shaped guitars. Most metal guitarists will enjoy this guitar's unique, vintage-style design and groovy sound. Read more
Tags: mail bdwater com, randy rhoads relic guitar picture,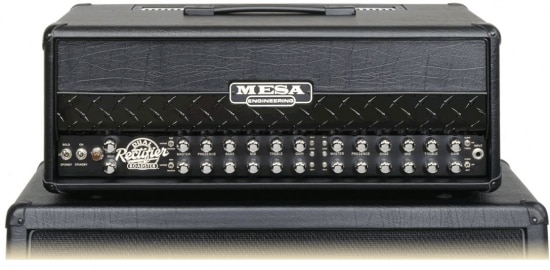 The almighty Mesa Boogie Roadster is a great sounding and versatile amp that is designed with the plug-in-and-play guitarist in mind. It is a brother to the Road King amp and is basically the same as the RK minus Mesa's Progressive Linkage technology and some other back-panel features that some feel a player needs an advanced engineering degree to operate.
The Roadster gives less tech-friendly players a number of foot-switchable options to craft their tones with, without the anxiety of tons of power amp features they don't understand. The Roadster's channels one and two give up classic clean tones that can be duplicated across both channels for rhythm and lead applications. They also have TWEED and BRIT modes that work with the mid frequencies to get classic American blues and British rock sounds from clean to clipped. These two channels would make a great sounding and versatile amp all by themselves. Channels three and four offer players all the legendary tones found in Mesa's Dual Rectifier Solo heads and contain all flavors of gain from mild to wild. Again, the sounds can be cloned across the channels for ultimate tonal control. Read more
Tags: mesa roadster, mesa boogie roadster, mesa roadster head, Mesa Boogie roadster head Schematics, mesa boogie roadster review, mesa roadster speakers,


People in the 1950s thought that we'd all be wearing jetpacks and driving flying cars about now. But did they bother to predict what kind of guitars we'd be shredding on? No, they didn't. Probably because they couldn't imagine just how hard these eleven axes would rock. From robot-tuning to synth access, these guitars will have you dreaming of the possibilities.
First up is the Gibson HD.6X Pro Digital Guitar, an instrument that's capable of making each string sound completely different than every other. Using fancy tech and hexaphonic pickups, the signal from each string is pushed through and Ethernet port to a computer, where you can tailor the sound, EQ and wave-shape. And did I mention that you can put a different effects signature and amplification on each string? Even though this guitar came out in 2007, it's still pushing the envelope even now. Read more
Tags: future guitars,

When the phrase "guitar solo" comes to mind, you picture a guy just shredding apart a fretboard on stage to a crowd going absolutely crazy. This may hold true for some instances, but there are just as many great, even better guitar solos that only consist of a few notes…and are absolutely breathtaking. Read more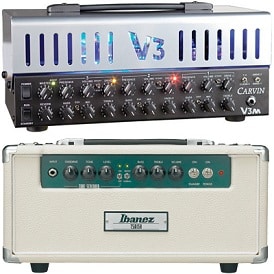 2011 may well be remembered by guitar and amp aficionados as the Year of the Micro. On top of the list of big things that come in small packages is the EVH 5150 III Micro, a tube-driven head that delivers smashing power to your favorite cabinet (or, better yet, Eddie Van Halen's favorite cabinet). Hauling your amp from home to the bar, or from home to the studio, and back again has never been easier. It has also never sounded so good. Read more
Tags: 5150 mini vs carvin 3vm, carvin 3vm review, carvin legacy vl212 review, carvin legacy vs v3m, carvin v3 micro, carvin v3 vs v3m, carvin v3m, carvin v3m vs evh 5150 iii, v3 micro series review,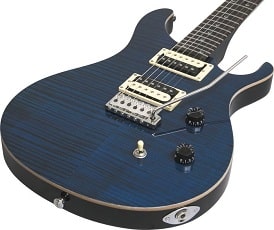 Do not think of the Paul Reed Smith SE Custom 24 as an "economical" guitar. Think of it as an awesome electric guitar for guitarists on a budget.
Ever since the mid 80′s, Paul Reed Smith Guitars have earned a respectful reputation for their instruments, which are known for being excellent sounding, effortless to to play, and, all too often, high priced. Comparable to most guitar manufacturers, Paul Reed Smith have released a low-priced series of guitars to render PRS instruments more reachable to a broader crowd who may not otherwise be able to afford a Paul Reed Smith axe. With this series, the Korean-made SE Custom guitars, have been very well received by guitarists on a budget.
PRS' original axe was the Custom 24, so, of course, it's only appropriate that one of the finest SE guitar models is the SE Custom 24, a lower-cost version of the original Custom 24 flagship electric guitar. It priced nearly at a quarter of a "original" PRS Custom 24, so how do they compare? Read more
Tags: PRS SE Custom 24 review, PRS SE Custom 24, pre custom se 24 review, review prs se custom 24, prsguitarssecustom24, PRS SE Review, prs se custom 24 reviews, prs guitars se to original, prs cystom 24 review, se custom 24 25th anniversary review,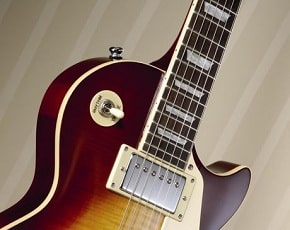 If you want a guitar that has a good sound and won't leave you begging on the street for spare change, the Epiphone Les Paul is a popular choice. But one of the ongoing questions is whether there's difference between those Made In China and the guitars Made In Korea and which you should be looking at buying. Read more
Tags: Epiphone Guitars Made in China, korean epiphone les paul, epiphone china, epiphone, epiphone made in china, epiphone les paul korea, korean made epiphone les paul, epiphone made on korea_, mik epiphone les paul, epiphone korean guitars,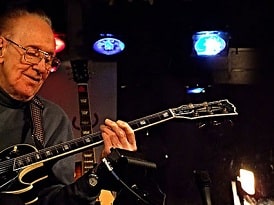 The world has seen many advances in music technology in recent years, but if you dig down about 80+ years ago, you'll find a young curious boy tinkering with electronics. He would be the reason that the solid body guitar and multi-track recording exists. His name was Les Paul.
At the age of eight years old, Les Paul was interested in music, and started off playing the harmonica. Fast forward 11 years, and he was in Chicago, playing on the radio. Les had an avid ability to hear things that others did not, and appealed to listeners all around. Playing mostly country and jazz, Paul had always been playing on archtop guitars, because that's all that existed. This would all change soon enough.
Les didn't enjoy the sound of the archtops. The body resonated the sound of the strings too much, and made the instrument feedback when playing at louder volumes. He wanted to change that. Once he realized that a solid piece of wood would end this inconvenience, he invented what we now know as the Gibson Les Paul. The first version of the guitar was built in the Epiphone factory in 1940, and when Gibson decided to market it, it became an instant success. Without the Les Paul, who knows what Jimmy Page would have played… would it have been a Stratocaster? Read more
Tags: gibson les paul innovations,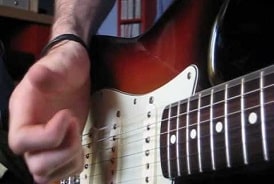 When you decide you're serious about learning how to play guitar, it's imperative to learn as many new songs as you can. I would highly suggest learning easy guitar songs to play to start and progress your way up to more difficult guitar songs.  Make sure you have the CD or mp3 of the song available so you can play along with it; this will help you build structure and timing.
There are cool programs and tools available in the guitar world which allows you to slow down the song, which slowly helps you build your speed and timing. Do a search here on Gear-Vault.com for training guitar gear.
That said, I recommend learning easy guitar songs to begin with. There are many great songs to choose from, your options are virtually endless, and, perhaps, subjective to some Read more
Tags: easy songs to play on guitar, easy guitar songs, easy rock songs to play on guitar, easy songs for guitar, Easy Guitar Songs to Play, easy guitar songs for beginners, easy electric guitar songs, Easy to play guitar, electric guitar tabs for easy songs, guitar easy song,