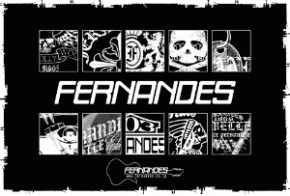 Although its body is reminiscent of a chubby Fender Jaguar; the Fernandes Native Elite is a decidedly modern guitar with a little hi-tech voodoo-namely Fernandes' proprietary Sustainer technology, which offers virtually limitless sustain and rich, controlled freedback. Based on the company's highly popular alder-bodied Native Standard, the Fernandes Native Elite features a basswood body with a faux flame top in a black burst finish and a 25-1/2" scale maple bolt-on neck. The comfortably full, rosewood-capped neck is smoothly fretted and sports the locking nut portion of the Gotoh made, Floyd-licensed trem system. The generous pearloid pickguard houses the electronics, which include two humbuckers governed by a three-way switch, master tone and volume controls and the Sustainer system. Read more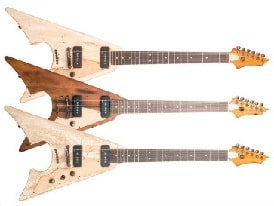 Legendary guitarists like Randy Roads of Ozzy Osborne played V-shaped guitars; their extreme edge appearance brings the meaning 'axe,' which explains why so many metal guitarists prefer them. They're unique looking, give a tight heavy sound and just look metal. The Badwater Jacknife guitar is yet another radical—V-shaped—guitar, but unlike many others, is geared toward guitarists on a budget, while giving more features than other economy V-shaped guitars. Most metal guitarists will enjoy this guitar's unique, vintage-style design and groovy sound. Read more


People in the 1950s thought that we'd all be wearing jetpacks and driving flying cars about now. But did they bother to predict what kind of guitars we'd be shredding on? No, they didn't. Probably because they couldn't imagine just how hard these eleven axes would rock. From robot-tuning to synth access, these guitars will have you dreaming of the possibilities.
First up is the Gibson HD.6X Pro Digital Guitar, an instrument that's capable of making each string sound completely different than every other. Using fancy tech and hexaphonic pickups, the signal from each string is pushed through and Ethernet port to a computer, where you can tailor the sound, EQ and wave-shape. And did I mention that you can put a different effects signature and amplification on each string? Even though this guitar came out in 2007, it's still pushing the envelope even now. Read more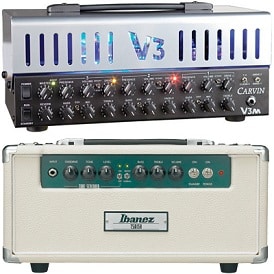 2011 may well be remembered by guitar and amp aficionados as the Year of the Micro. On top of the list of big things that come in small packages is the EVH 5150 III Micro, a tube-driven head that delivers smashing power to your favorite cabinet (or, better yet, Eddie Van Halen's favorite cabinet). Hauling your amp from home to the bar, or from home to the studio, and back again has never been easier. It has also never sounded so good. Read more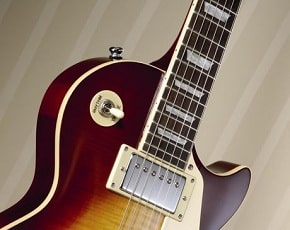 If you want a guitar that has a good sound and won't leave you begging on the street for spare change, the Epiphone Les Paul is a popular choice. But one of the ongoing questions is whether there's difference between those Made In China and the guitars Made In Korea and which you should be looking at buying. Read more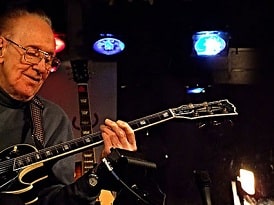 The world has seen many advances in music technology in recent years, but if you dig down about 80+ years ago, you'll find a young curious boy tinkering with electronics. He would be the reason that the solid body guitar and multi-track recording exists. His name was Les Paul.
At the age of eight years old, Les Paul was interested in music, and started off playing the harmonica. Fast forward 11 years, and he was in Chicago, playing on the radio. Les had an avid ability to hear things that others did not, and appealed to listeners all around. Playing mostly country and jazz, Paul had always been playing on archtop guitars, because that's all that existed. This would all change soon enough.
Les didn't enjoy the sound of the archtops. The body resonated the sound of the strings too much, and made the instrument feedback when playing at louder volumes. He wanted to change that. Once he realized that a solid piece of wood would end this inconvenience, he invented what we now know as the Gibson Les Paul. The first version of the guitar was built in the Epiphone factory in 1940, and when Gibson decided to market it, it became an instant success. Without the Les Paul, who knows what Jimmy Page would have played… would it have been a Stratocaster? Read more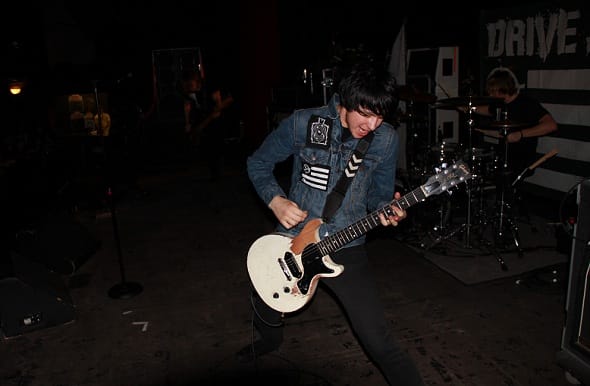 Touring for nearly the past two and a half years, Drive A has done everything right in the attempt to dominate the rock scene. They may have a myspace and reverbnation, but the internet has nothing to do with Drive A's success. The constant pounding of pavement with bands like Rise Against, Bullet for My Valentine, Four Year Strong, Set Your Goals, and Billy Talent (to name a few) is the basis for the growth of the bands' ever emergent fan base around the United States and Canada. Gear Vault recently had the opportunity to interview guitarist Jason Nott of the tear-it-down rock band Drive A to gain a little more insight into what the road is like, what gear he plays, and where his inspiration comes from. Today we talk to Jason Nott from Tempe, Arizona where Drive A is the support for headliners Escape the Fate on the first leg of their tour. Read more

Electro-Harmonix has a history of pedals with super-hero-sounding names: Electric Mistress, Memory Man, Worm, and P0G. A new trio is no exception: Neo Clone could come out of the Matrix; Iron Lung might be Iron Man's loudmouth cousin; Ring Thing, the product of a radioactive experiment gone wrong. The resemblance to fictional characters is fitting, as "character" is something EHX pedals have always had. This new crop of unique devices also has the right stuff. Read more
NAMM 2011 — Rivera Shaman Making their surprise debut last Friday alongside the all-new Rockcrusher attenuator, Rivera have announced a new range of stompboxes – the first to be released under the Rivera name for thirty years.
The Shaman range kicks off with three very different overdrive pedals: the Blues Shaman is aimed at blues players; the Metal Shaman is for metallists – naturally; and for everything else the Double Shaman promises to be a highly versatile performer, with two channels called LA and Austin. Read more
Following in the footsteps of Fuzz Face masters Eric Johnson, David Gilmour, and Jimi Hendrix – Joe Bonamassa relies on his Fuzz Face to deliver his trademark searing leads. Tested and developed over several world tours, the JBF3 Joe Bonamassa Signature Fuzz Face is voiced specifically for Joe's humbucker-driven tone, adding sustain and thickness for a rich, creamy fuzz.
Dunlop Fuzz Face JBF3 pedal boasts a hand-wired circuitry built around matched NOS Russian military germanium transistors for their characteristic warmth and growl. The JBF3 also features classic grey Cliff jacks and Omeg pots all housed in a polished copper finish that will patina over time. "I wanted this Fuzz Face to be a pedal that would instantly transform your tone," Joe says. "It drives you to a different place as a player. Kick on the inspiration box!" Production of the Joe Bonamassa Signature Fuzz Face is limited to a single batch each year. Read more