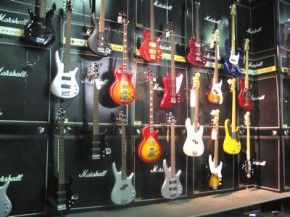 When last we met, I told y'all of my plan to check out beginner basses. Well, as I've dug deeper into the subject, I'm finding that there are a LOT of good basses out there that are very affordable. Yes, they're made offshore in places that one wouldn't think of as instrument making Mecca's, but a good CNC machine really doesn't give a rat's behind where it sits. Read more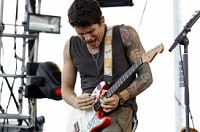 No matter what anyone says, every musician pulls influence and is inspired by at least another musician(s) in his or her lifetime. For me, my list of artists spans a few different genres, and I really don't think some of my playing would be what it is today if not for them. Read more
Hey Gear-Vault readers! An interesting debate was brought before our attention earlier this week and we thought we'd pass it along to you guys. Let's put your mad guitar knowledge to the test! Comment your answer at the end of this kick ass discussion!
Can you tell which is Gibson and which is the Epiphone?
Now let's take a closer look at these two guitars:
At first glance, these two guitars appear quite similar. In fact, many players might even have trouble distinguishing between the two. However, did you know that the left guitar often costs as much as NINE TIMES than the one on the right? That's right. The axe on the left is perhaps one of the most recognizable guitars in the world: a Gibson Les Paul Standard. You can typically purchase one of these for around $2500-3500. Pictured just to the right of the Gibson is the Epiphone Les Paul Standard, which usually clocks in at just under Read more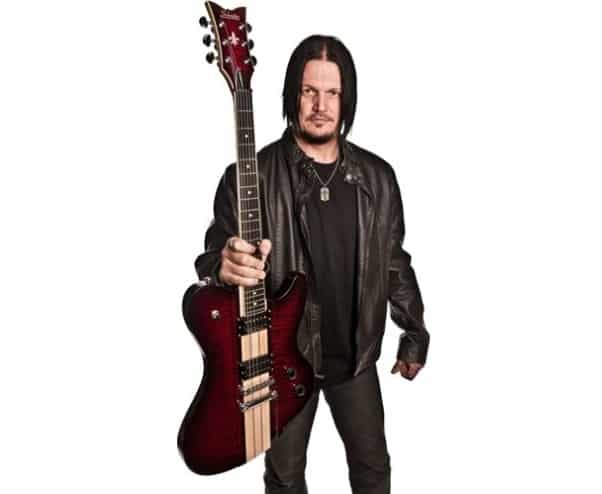 Schecter Guitar Research have officially joined forces with Disturbed guitarist, Dan Donegan. Dan first debuted his signature guitar at the 2009 winter NAMM show. While I'm not a huge fan of Schecter, I was excited to see how this ax turned out. Fast forward 4 years… Read more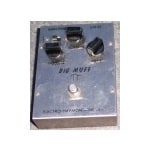 In the beautiful city of New York, the Big Muff, which acts as a guitar pedal that can distort fuzz sounds, became very well-known. The Muff was created, introduced and manufactured by Electro-Harmonic Company (EHX) together with its sister company, the Russian Sovtek. Primarily the Big Muff was used for electric guitars but later bass guitars also were able to make use of such a powerful yet tiny machine. The Big Muff guitar pedal was invented by Mike Matthews and introduced in the early 1970s. Carlos Santana and David Glamour were the two artists who first used this guitar pedal. Read more
Whether its the hands of a sculpture, the pen of a writer, or a voice of a singer, the ability to shape an artistic medium contributes wildly to the captivating nature of art. Nowhere is the impact of shape more relevant than in the
history of B.C. Rich
, an all American guitar company. Like any successful company, the founder, Bernado Chavez Rico, had a strong personal connection with his product, a connection which helped him to understand the colossal significance of shaping both tone and design in modern day music. As a celebrated Flamenco and Classical style guitarist, Bernie's knowledge of the extreme degrees of tone, playability, and uniqueness demanded by top notch
musicians
from their instruments certainly played a consequential role in developing what would become choice company of Aerosmith, Slayer, and numerous other players. But famous clients such as these are not how B.C. Rich began; no, it began instead in a cramped workroom in East LA.
Read more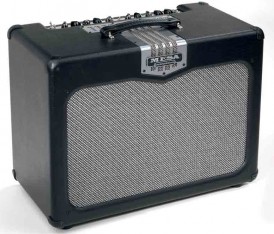 Here's a great review by our friends over at musicradar.com, here's what they had to say about this rockin' lil' amp — It wasn't long ago when we first tested the Mesa TransAtlantic TA-15, well now bigger brother, the TA30, is here.  It's called TransAtlantic because it spans classic British and US tones, specifically Vox-inspired when it comes to cleans and crunches in channel one.
Then in channel two it's a brief sojourn into mid-gained Marshall territory (Hi One) flanked by Mesa Boogie's more common post-Fender clean (Tweed) and high-gain tones (Hi Two), direct from the US of A: five modes in total.
The main rotary controls are straightforward; the only one requiring further explanation is the cut/master in channel one. When pulled out it's a master volume for the channel, and when pushed in becomes tone cut (essentially a master presence) control very similar to what you'd find on a Vox AC30. Read more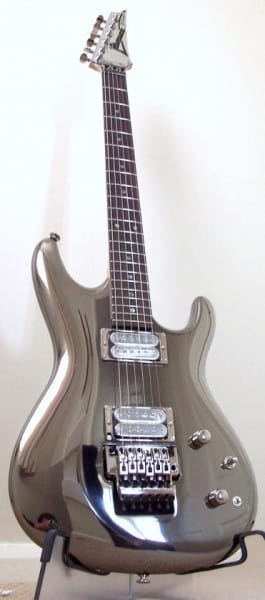 The Ibanez JS2PRM is an extremely unique and extremely rare instrument in the guitarworld. The JS2PRM—PRM stands for (Premium Rock Mirror)—which is a high-tech finish that was designed to look as if it was carved from a solid chunk of polished metal.
In 2005, the JS2PRM was Ibanez's third attempt to recreate the chrome guitar. Ibanez's first two attempts, the JS2 and the JS10th, both were unsuccessful due to finish problems. The process of bonding a chrome finish onto a wood bodied guitar is an extremely difficult process. The JS10th (2nd attempt) a luthite body was used, which is similar to plastic, and the results were better than the original JS2 Chromeboys, however, they were still beset by water marks and peeling and sounded nowhere near as good as the basswood body. Read more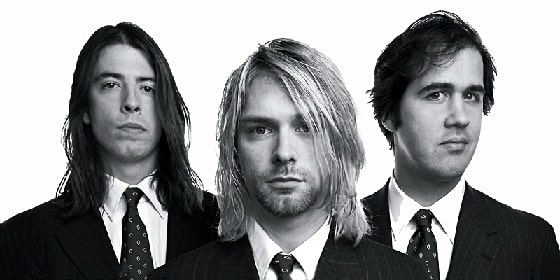 I'll admit it. I love pop metal: Bon Jovi, Poison, Motley Crue, Def Leppard. Bring on the cheese. I'm in. Despite the fact that much (though not all) of the music was awful, I still enjoy it today. Pop metal was the soundtrack for a good portion of my childhood. There was an honesty to it. That's right. I said "honesty."
Conventional wisdom says that music from the late 80's was too "fake." Too much hairspray, too many cookie cutter songs, too many of the same "sluts and concert footage" videos on MTV over and over again. Fake. Then the bands from the Seattle grunge scene (Nirvana, Soundgarden, Pearl Jam, etc.) broke the mold and supposedly fixed everything. These bands were "real." They wore flannel shirts, didn't jump around on stage, wrote depressing songs and generally connected with the anti-corporate rock sentiment that had been building throughout the pop metal era.
I am not here to tell anyone what's good music and what isn't. I am here, however, to overturn the hypocritical notion that pop metal bands were "fake" and grunge bands were "real."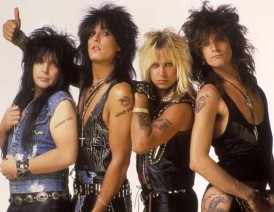 Pop metal bands wanted to be rock stars, and freely admitted it. Pop metal bands wanted to have sex with lots of girls (your wife, girlfriend, daughter, etc.) and freely admitted it. Pop metal bands wanted to party and smoke / drink / snort various substances, and freely admitted it. They wanted to be rock stars so badly that they were willing to pay the ultimate price: being seen and photographed wearing a horrific amount of spandex, makeup and hairspray. They played huge stadiums, sold tons of records, and cashed huge checks.
That is the ultimate honesty… "I want to party, get rich and bang chicks, and I will look and act like a complete idiot in order to do so."
Grunge bands, on the other hand, stared at their shoes a lot. They were part of a reactionary movement against the extroversion of the 80's. Grunge bands were uncomfortable with the idea of being rock stars, or at least projected that image. They wrote songs about darker, often politically charged topics like teen suicide, domestic abuse and poverty. They played huge stadiums, sold tons of records and cashed huge checks.
Wait… what?!?!?!?
I've got an idea. If you're uncomfortable with the idea of being a rock star, then don't be a rock star. Don't sign a major label recording contract. Don't play arenas and stadiums. Definitely don't cash those huge checks. Only rich capitalist a-holes (you know, all those people you don't like) cash huge checks. Stay with that independent label and stick to the local underground scene. It's "who you are," right? RIGHT?!?!?
OK, rant over. That's been building up for about 20 years.
Again, I'm not here to pass judgment on the quality of anyone's music, but merely to point out that being a rock star yet clinging to an underdog, everyman, indie label image while at the same time going platinum and playing to tens of thousands of people a night is the fakiest faky McFake-a-lot hypocrisy of all time, at least musically speaking.
There. I said it. Deal with it.
About the author: Dan Vuksanovich received his Master of Music degree in classical guitar performance from the Peabody Conservatory of The Johns Hopkins University in 1999. He currently teaches and blogs about how to get better at guitar via his website, www.whyisuckatguitar.com.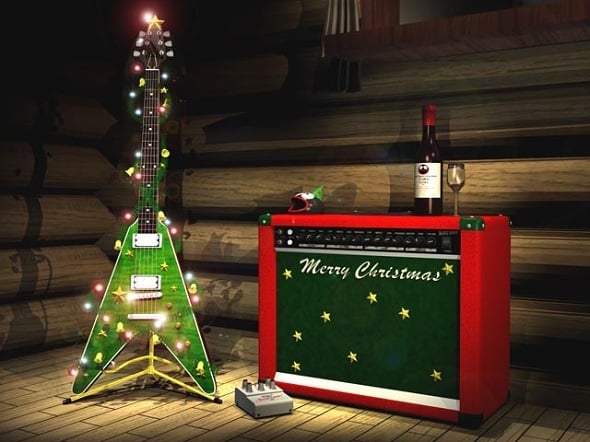 Hello Gear-Vault readers, 'tis the season for that wonderful eggnog, beer and rock 'n roll! Nothing like getting a few extra days off from work and/or school to spend time with family and loved ones to celebrate the birth of Jesus H. Christ. This time of year should give you a little extra free time to brush up on some mad guitar chops and maybe learn some new guitar chords and guitar songs that aren't already in your arsenal.
I thought it might be fun to compile the top 5 Christmas guitar songs on YouTube from guitar shredders all around the world to set the tone of our holiday spirits. If you like these videos please comment and share with your friends on Facebook, Twitter or whatever social tool you may or may not use frequently. Read more