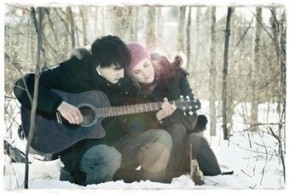 Whether you've been playing the guitar for years or you're just beginning to pick it up for the first time, pretty much anybody can recognize good acoustic guitar songs and appreciate them for their simple beauty. Unfortunately, not all acoustic guitar songs are all that easy to play. You have to master more than just chord progression and rhythm; the key to good acoustic guitar songs is the passion and drive that you play each of the acoustic guitar songs with. Read more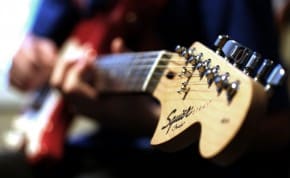 As a guitar instructor, I routinely deal with students trying to learn songs they want to play. After all, that's the whole point of this thing of ours, right? The thing that I notice over and over, however, is the increasing dependence of most students on some sort of online tab website to provide the details on how a given song is played, rather than learning the song in the time-honored play-along-with-the-record ear-based method. When I talk to students about this Read more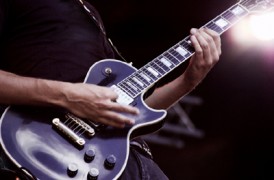 Usually when someone proclaims the "best guitar riffs", it usually stirs up the most controversy, but most guitarists will agree that some of the easiest riffs are the most melodic. Some riffs are, however, so significant to the song, they can be called the best, and in this article we'll discuss the riffs that are the most significant in rock music. Read more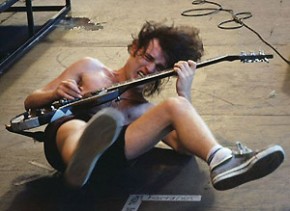 Hey Gear Vault readers! It's been a while since I have written anything new for the site and I am very happy to be back here with you. My new project is a series of guitar lesson articles and videos aimed at helping you improve your basic guitar skills and get you well on your way to being the plank-spanking maniac you've always dreamed of becoming. These guitar lessons will cover the basic vocabulary of the guitar and some essential concepts that we all need to know. Learning this material will get you ready for the stage, which is where I like my students to be, and will help you build the confidence you need to get up there. Read more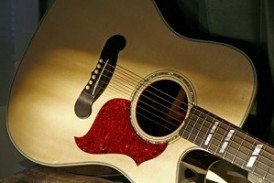 Hallelujah Chords The Easy Way
This is a magnificent song off Buckley's debut 1994 "Grace" album. The original was by Leonard Cohen. However, we transcribed 'Hallelujah' from Jeff Buckley's version.
The Leonard Coen hallelujah has had a slight resurgence in the last few years with over 100 cover versions performed by such artists such as Bob Dylan, Bon Jovi, Rufus Wainwright, and Bono just to name but a few.
As for which version of the song is better, well, I guess we'll leave that up for you to decide. But for this latest resurgence of a 24 year old work, it must be the Cohen Hallelujah. After been swindled out of millions by his manager he'll certainly appreciate the paycheck. To that, I'm sure he'll say… "hallelujah". Read more
Learning guitar online has become very popular these days, and as we see the online guitar lessons is becoming the wave of the future. You can compare it to the distance learning programs. The online lessons for guitar have made it very convenient to learn, for some it can create a perfect learning environment but some may not find is as much productive as the personal coaching. Although having guitar lessons in person have its advantages, but today's technology has made it possible to get the same experience with online lessons for guitar, the online lessons are not any less than the personal lesson when it comes to the quality of teaching. Read more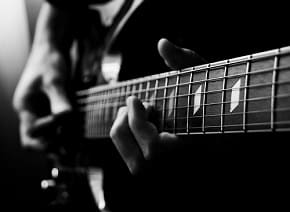 Knowing how to play songs that are popular and recognizable is something every novice guitar player wants to do. Being able to impress your friends by playing one of your favorite tunes is an amazing feeling. I'm sure everyone has fantasized about being a huge rock star and playing in front of thousands of screaming fans at least once in their life.
Most of us won't ever get the chance to play in front of thousands of people but it can be just as satisfying to learn some songs and play them in front of a smaller crowd. Eventually this will lead to you creating your own original songs, but for now it's good practice to learn songs from other musicians. This will really help you understand some of the things involved in crafting a good song. Read more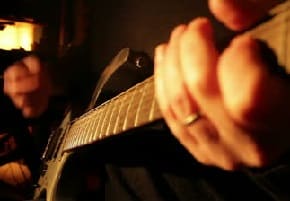 Learning to play guitar takes lots of practice, patience and skill as well. In fact, according to experts the guitar is among the instruments that are very tough to learn and truly master it.  Many people first thinks that they can pick a guitar, a book, few guitar songs and teach themselves. But once they find that it is not as easy as they thought, they become discouraged and leave it. But that's not the way to learn it, you can learn to play guitar easily if you know how to start. Read more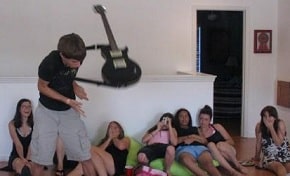 You've got a strap. You've got a sweet guitar. You've got a gig. Frankly, it's only natural that while in the middle of a jam you might feel the urge to swing your guitar around your body, a tradition that goes all the way back to vaudeville*, an expected part of any high octane performance. If you're not swinging that guitar, you might as well be a roadie or, worse, a drummer. Read more
Young, Dumb, and Full of Strum — Many of us were inspired to pick up a guitar and play because we were turned on by an advanced, experienced player we heard in our formative years. For some it was Jimi Hendrix, for other it was Eddie Van Halen, still others may have latched on to Tony Rice. In their effort to match the chops, skills, and solos of these players, many students forget that these guys play the way they do because of fully mastering some fundamental parts of music and guitar playing and this is what gave them the ability to go as far as they did. This article (and accompanying video) are the first in a series I am doing for Gear Vault that is intended to identify these crucial basics and help you improve your playing from the foundation level on up. I have taught hundreds of students over the years and have observed that the ones that take the time to really get a handle on these basic skills are the ones that achieve their playing goals most effectively.
Let's Learn Open Chord Rhythm
The first topic in this series is rhythm. Rhythm is the most elemental aspect of music and is the thing that holds the whole band together. The most basic kind of rhythm guitar playing is open chord strumming. The first position 'cowboy' chords are often the first thing many of us learn when we start playing and some players never really go past them, especially if they are trying to be singer/songwriters. One of the most important skills a new or advancing guitarist can develop is the ability to strum these guitar chords in a solid and steady way. The key to this skill is the basic down/up eighth note, or pendulum, strum.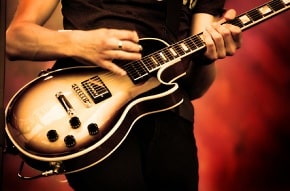 The pendulum strum is really a simple pattern of down/up/down/up/down/up/down/up across a measure of eighth notes in 4/4 time and is counted 1 and 2 and 3 and 4 and, or 1+2+3+4+. The whole idea is that your picking hand goes down on the number and up on the 'and', swinging back and forth like the pendulum in a grandfather clock. You can see me demonstrate this in the video and get an idea of what it sounds like. I play the open G, C, Em, and D chords on the clip but you can do this from any chord you know to any other chord you know when you practice. The big thing to strive for is keeping it even and steady, as that is what you will need to be to play well with other musicians or even deliver a solo song convincingly. Most listeners don't notice if we drop a clam in some blazing solo but your grandma can tell when your time is herky-jerky. Go as slow as you need to to keep the rhythm strong and make your chord changes with no dead air in between.
Once you get the hang of the pendulum, you start to realize that most of the strummed rhythm patterns we hear are based on this idea and that the key to making different rhythms happen is selectively hitting and missing the strings on different eighth notes within the original pattern. Get really good at this and learning all those 'strum and sing' type of songs is suddenly really easy. Neglect this basic skill and you will have a gap in your groove thing. You will know you are getting somewhere with this when drummers and bass players start liking you a whole lot better. Now get in the shed, start working it out, and watch this space for more goal-oriented guitar lessons. Peace.
Visit Mike's website @ www.mikeocull.com