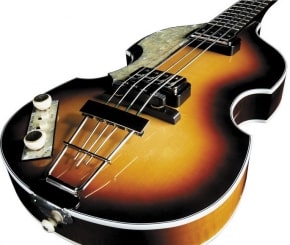 It's an old cliché, but there really is safety in numbers. This holds true in many aspects of life, but is especially true in the world of musical instruments. Trends may come and go, but the instruments that the majority of players choose to play usually are the best at doing their job. Read more
Tags: cliff williams bass gear, best selling bass guitars, best selling bass guitar, best bass guitar, the best bass guitar, rickenbacker 4003, dhk seller the best guitars, бас гитара скрипка, worlds best selling bass guitar, top ten bass guitars,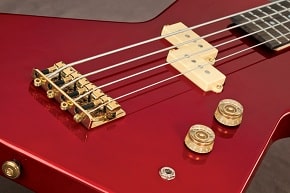 If you are looking for a second hand electric bass guitar that has killer vintage looks and bold shapes, then you might want to stop looking at the classifieds and consider getting the revamped Ibanez Destroyer Bass. It sports a vintage look combined with a pointy shape that will cater to most metal music bassists. Read more
Tags: ibanez destroyer bass for sale, ibanez destroyer bass, bass ibanez destroyer, basse ibanez destroyer, DTB100CA Limited Edition Ibanez Destroyer Bass for sale, DTB100CA review,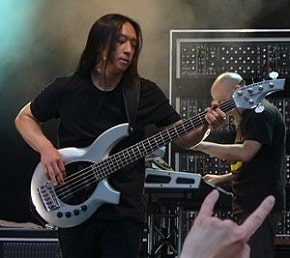 When the Ernie Ball/BMW- designed Bongo bass came out in 2003, its innovative styling and brilliant tonal quality shook up the bass world. The four- and five- string models have garnered a rabid worldwide fan base; but now, with the introduction of the six-string version (the first-ever Music Man six-string bass), the Bongo is poised to carve itself a bigger niche. Read more
Tags: john myung bongo, bongo 6 string, musicman bongo 6 string spacing, Music Man John Myung, Music Man Bongo 6 review, music man bass guitar 6 string john myung signature bass, John Myungs Bongo, john myung signature bass, ernie ball music man decals, bongo bass 5 string reviews,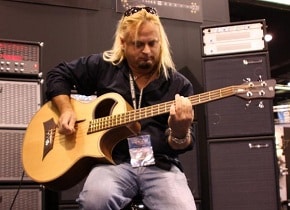 There is a degree of sincerity behind the arguments that people make when they blame certain societal ills on the cable entertainment channel known as MTV. Inner-city violence? Blame MTV. Teenage pregnancy on the rise? It's MTV's fault. Kids wearing their pants down around their femurs? That damn MTV again. High school truancy – MTV. Tattoos and nose rings Read more
Tags: why acoutsic electric bass,
Epiphone has been a big player in the bass guitar market for many years now, dating back to the 40s with the upright bass. With their continuous growth and increasing reputation for building quality at an affordable price, we here at Gear-Vault decided to take a deeper look at a couple of Epiphone basses under $400 bones; the Les Paul Bass Special ($299) and Nikki Sixx Blackbird ($399). Read more
Tags: epiphone les paul bass guitars, bass guitar rig, deep sixx Bass Humbuckers, epiphone blackbird,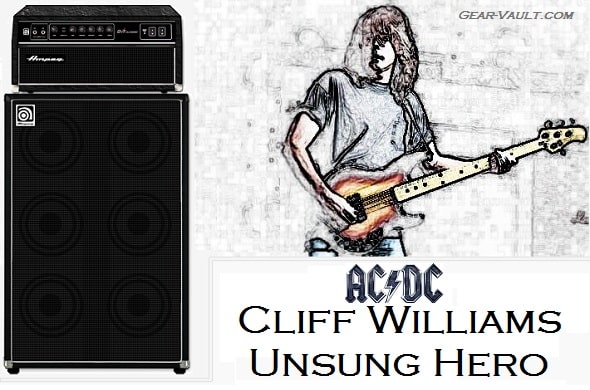 Since the beginning of time, there has always been an unspoken feud between guitar players and bass players. This feud has always been somewhat playful, somewhat serious. But in the end, we really do care for you bass players. Oh sure, we poke fun at you guys constantly, for whatever reason will get a laugh at the moment it seems like.
But when you take away the rock stars and bring out the musicians, well then it's a different story. The true musicians understand that a good bass player is an invaluable resource. Bass players that can work well in tandem with a drummer is something that gives the music exactly what it needs: Drive. Read more
Tags: cliff williams gear, does cliff williams acdc use bass effects, acdc bass bass gear, bass guitarits gear info, cliff williams ac/dc bass rig?, cliff williams bass, Cliff williams guitar player, cliff williams pedalboard, cliff williams rig, cliff williams tone,

NAMM 2011 — Launched in 1987, Yamaha's APX range was designed to be the ultimate performance electro-acoustic guitar – combining great on-stage tone thanks to a unique body design and the latest pickup and preamp technology with incredible on-stage comfort.
Joined later by the bigger bodied CPX series, designed to give a fuller, louder unplugged tone and a different look and voice, the combined ranges have defined the benchmark for electro-acoustic for over 20 years.
For 2011, the APX and CPX ranges get a full overhaul with new electronics and updated cosmetics while remaining true to the original design brief – an acoustic guitar that's born to be on-stage. Read more
Tags: guitare yamaha apx 500ii, Yamaha BBNE2LTD Nathan East Signature,
Rounding out the new Custom Shop Time Machine instruments are the 1960 New Old Stock Jazz Bass and 1960 Relic Jazz Bass. Both pay tribute to the original version of the model, with features including an alder body with respective faded New Old Stock and faded Relic lacquer finishes in Three-Color Sunburst, lightly tinted quartersawn maple neck with 1960 U shape, dark Indian rosewood fingerboard with 7.25" radius and vintage frets, vintage-style Jazz Bass pickups, stacked concentric control knobs, tortoiseshell pickguard, vintage-style hardware, brown hard-shell case and certificate of authenticity. Price check Read more
Tags: 1960 Fender Bass, 60 fender jazz bass,
When I was a pimple-faced teen, didn't notice when girls flirted and was too busy rebelling at school, it only makes sense that my favorite guitar manufacture was Jackson Guitars (the axe of the late 80s and early 90s), my favorite band was Megadeth and 'Rust In Peace' was (by far) my favorite all-time Megadath album. So it's understandable why this news makes me want to reminisce. So, without further ado… Lets get to the news! Read more
Tags: megadeth bass equipment, бас гитара джексон,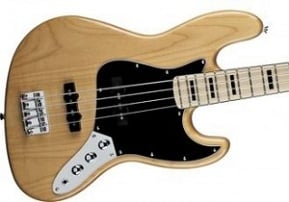 The Squier Vintage Modified Bass is well known as a fantastic starter guitar. Produced by Fender, it is well priced and with today's build quality, it can play a range of sounds from P-bass to the smoother warmer jazz sound. Read more
Tags: Fender Squier Modified Jazz Bass review, squire vintage bass,