As you probably already know, I'm a poor broke bastard and can't afford a $1400 guitar, let alone a $48,000 acoustic guitar. But hey, they are fun to look at, right?
Martin says the D-45 Authentic is made exactly like the original 91 pre-war D-45 Dreadnoughts. I think what Martin is hoping for is that the D-45 Authentic becomes the next "Holy Grail" of acoustic guitars, which I guess could happen someday in the far future. Hell, it is speculated that Hard Rock Cafe in Boston dropped a 1,000,000,000 big ones on Keith Richards 1959 Gibson Les Paul. Perhaps it is possible that someday our great, great, great grandkids will get to see a rare D-45 at some Hardrock Cafe in a glass case somewhere. It does sound amazing, you can hear it in the video below. Read more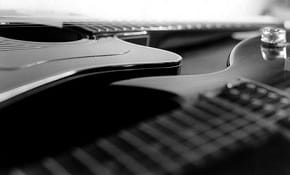 Electric guitars, for all of their versatility and technology (never mind popularity), owe their existence and success to just one thing: The acoustic guitar. Somewhere in between those two types of the same instrument lies an evolutionary process of Darwinian proportions. The same can be said of precious few other instruments Read more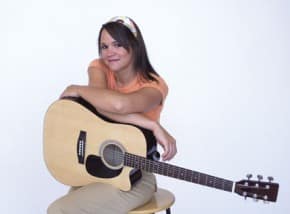 Buying an acoustic guitar depends more or less entirely on the plan you have for the guitar and also the experience you have using one. For instance, if you are a beginner then you will want an inexpensive guitar that you can try your hand at first without needing to spend too much money. Such a guitar should also be not be too much of a loss if it gets damaged of course, many guitarists starting out tend to break, scratch and end up deforming their guitars! Of course this does not mean that such a guitar is low in quality. Modern production techniques have greatly reduced the price of guitars which look and sound just fine. Read more
The Dream Of Building Your Very Own Cigar Box Guitar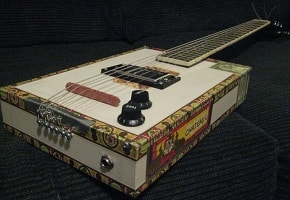 Our existence in the 21st Century has taken on a disposable quality that probably won't be much admired by future historians. Look at us. Every time Apple trots out a new iWhatever, 50 million "old" iWhatevers get tossed out the window. Our jobs, our mortgages, our marriages, NBA contracts – it all gets torn up in the end, and we begin anew. Read more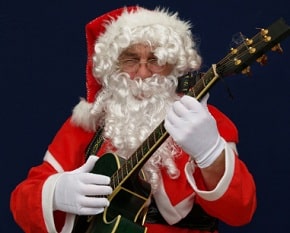 Happy Holidays everyone! Having trouble thinking of the perfect gift for a loved one? Why not an acoustic guitar? How many people do you know that always say "I always wanted to play the guitar, but never had the time or energy"? Now is your chance to bring music into their lives with a nice new axe they can call their own. But, with the thousands of guitars available today, it can be a pretty complex and confusing ordeal, so Gear Vault is here to help. Here are the top 5 selling acoustic guitars for the Holidays. Read more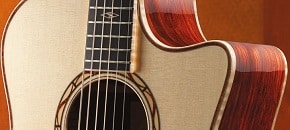 We live in a world of automation. A world of higher profits, lower costs, and mass production. Companies get big, and to satisfy an ever growing and diversifying market, they take these steps to make sure they are staying on the mark with consumers. Unfortunately, quality often gets chucked to the side in this process of trying to perpetually keep items on the shelves. More people means more materials, and more materials means more space, which all leads to the product quality depending on every single person doing everything correctly. Read more


Washburn Guitars adds a new line of Resonator guitars to their Folk and Bluegrass instruments.
Washburn recognizes the important role played by the Resonator guitar in the history of bluegrass music and has decided to honor the instrument with a new line of Resonator guitars. The current line up of Resonator guitars include the acoustic resonators R15R and R15S, and their acoustic electric brothers the R15RCE and the R45RCE.
The single cone resonator and spider-bridge design is a common denominator among the four Resonator guitars. This adds to the series' classic sound and vibe which resonator players tend to look for. Read more
Paul Reed Smith is looking to expand it's Acoustic Guitars with the new SE Acoustic Guitars series. Read more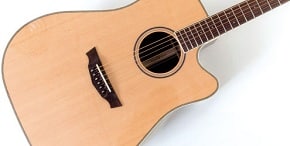 It seems as if market is flooded with hundreds of similar-looking dreadnought acoustic guitars, all with seemingly identical specs. You know the drill: solid spruce top, solid Indian rosewood back and sides, mahogany neck, scalloped X-bracing and, well, Read more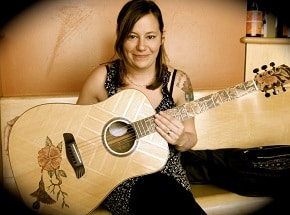 In 2007, a company was formed in Canada that aspired to build custom-order guitars using materials and craftsmanship from Bali, with Canadian fit and finish. Enlisting the traditional woodcarving skills of Bali's finest craftsmen, they produce guitars that are an amazing and unique combination of art and music. Some would label them "boutique" guitars. Everyone else just calls them Blueberry.
Let's face it – 2007 was not a great year to start up a business, especially one that would be dealing with such high overhead costs, and would be asking a rather exorbitant sum in exchange for their products. The following sentences are not for the faint of heart: An acoustic Blueberry Grand Concert costs around $8,000, while a standard dreadnaught will run you about $3,000. A double-neck acoustic guitar lists for $45,000. The Blueberry electric bass fetches $8,500. A recreation of the first Blueberry electric guitar (the Fierro) has a $28,000 asking price. The Devil electric sells for $6,666, for those of you who aren't superstitious. Read more