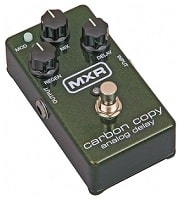 The innovation of the bucket brigade delay circuit in 1969 made compact, stageworthy analog delay pedals a reality and allowed guitarists to retire their bulky and unreliable magnetic tape echo units. Although bucket brigades were eventually replaced by digital signal processors, suffice to say that–like skinny ties and Donnie and Marie Osmond–the analog delay has made a comeback. Nearly every music manufacturer is currently releasing its own take on the analog delay, and for good reason: most guitar players cherish the soft, lo-fi sound quality produced from these units.
Fortunately, MXR, who have been making some of the most popular and innovative stompboxes, has jumped on the bandwagon. The company's Carbon Copy Analog Delay pedal is the brainchild of MXR senior engineer Bob Cedro, and its design is noteworthy for the company: it's MXR's first delay pedal in nearly 20 years. What's more, it offers 600ms of analog delay time in a compact unit the size of MXR's Phase 90 pedal. Read more
Tags: mxr analog delay,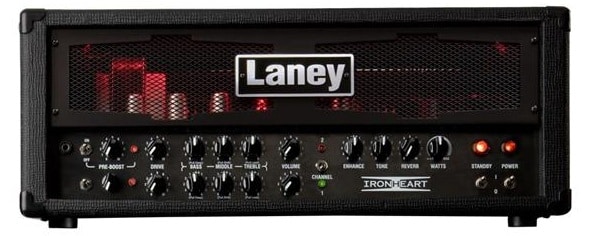 Forged deep within the Black Country — the metal beating industrial heartland of the US – where the sound of metal guitar was born comes the IRONHEART. Read more
Tags: gear-vault com laney-ironheart-amp-video, lany 4x12 cab cabinet,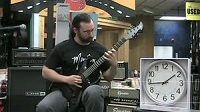 Just when you think you've seen it all, then this happens… Grab you hat and sit back for the ride, because this video will blow your hair back and make our lips pucker. Guitarist, John Taylor of Colorado, plays Nikolai Rimsky-Korsakov's "Flight of the Bumblebee" at 600 Beats Per Minute — According to RecordSetter.com, this is a new world record for 'fastest guitar player', ever.
As you'll see in the video, John starts off at 170 BPM and slowly works his way up to 600 BPM.
"Flight of the Bumblebee" is an orchestral interlude from Rimsky-Korsakov's opera "The Tale of Tsar Saltan," which he wrote in 1899 through 1900. The piece closes Act III, Tableau 1, of course!
People are attempting to break this record all the time. To check the current status of the category, visit RecordSetter's Fastest Guitar Player page. I'd love to see Herman Li from Dragonforce attempt to break this. Watch the video below… Read more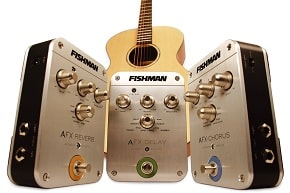 For years, ACOUSTIC-ELECTRIC players that wanted to process their instruments with effects have faced a dilemma. Because acoustic instruments have a refined, subtle sound, only studio-quality effects will do when you want to process acoustic tones. Read more
Tags: fishman afx reverb review, fishman afx celay accoustic effects pedal review, fishman multi effects, fishman stomp box percussion, why were the fishman afx pedals discontinued,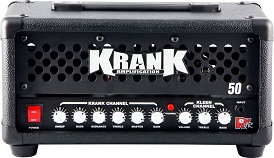 The guitar amp industry is not one with a lot of competition. While there are lots of people that make amps, you're basically going to find that what most people buy are from names like Marshall or Peavey. Which makes the way Krank was able to move from relatively obscure to a player with a laundry list of famous fans all the more impressive. Of course, making great products at prices normal mortals can actually afford probably helped.
The company's most famous and most popular amp has to be their Revolution model. It's versatile and provides a great clean sound, and it's the foundation of the Krank brand. The downside is that 100 watt amp has more volume than most guitarists need, and at $2,600 for a half stack, it's a big investment. Read more
Tags: best replacement tubes for krank rev jr, krank rev jr pro, krank rev jr dimensions, krank rev jr review, fender original pro jr vs pro jr 111review, good overdrive for krank rev jr, krank rev 1 vs rev 1 50, krank rev jr classic rock, krank rev jr pro review,
Happy 4th of July, everyone! In honor of today's independence day, I think it's fitting to share some videos of, what I would consider, some of the greatest guitar players to ever perform "The Star Spangled Banner". Read more
This is a new song titled 'On the Backs of Angels,' will be the first track on the upcoming A Dramatic Turn Of Events album.
The song is the first time anyone has heard any new music from the group since founding member Mike Portnoy departed. On the Backs of Angels features Mike Mangini, the recently acquired drummer who replaced Portnoy after a lengthy audition process that was filmed for a documentary.
The song will be featured on 'A Dramatic Turn of Events,' Dream Theater's upcoming 11th studio album. Mixed by veteran engineer Andy Wallace, who was involved in Slayer's Reign In Blood and Nirvana's Nevermind albums. Wallace also mixed Avenged Sevenfold's Nightmare. Read more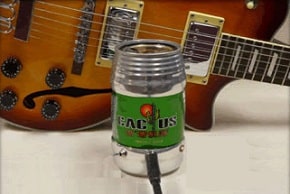 The first step in building your very own beer can amplifier will be to get an empty can of the beer of your choice. After you have your empty can you will need to remove the bottom of the can. With a little bit of patience and a razor knife, this can be done quite easily. Read more
Tags: beer can amplifier, amp in a can, beer can amp, beer can amp how to, can guitar, guitar made out of beer cans, soda can guitar, The Can amplifier,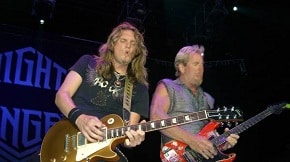 Many other guitarists have tried to emulate Angus Young's distinctive guitar tone and fail. Night Ranger's rhythm guitarist, Brad Gillis, stated in an interview conducted by Noisecreep.com if he had any reservations about taking on such a feat. Read more
Tags: ted nugents gear, ted nugent equipment, ted nugent equipment list, what gear did ted nugent use in the 70s, what gear ted nugent use, what music equipment does ted nugent use,
Limp Bizkit have released their new video titled Gold Cobra — The song is the title track of the band's long-overdue 5th studio album, which is scheduled for release on June 28th 2011. The album was recorded with the group's original line-up; Fred Durst, Wes Borland, John Otto, Sam Rivers. and DJ Lethal. Wes Borland has a savvy-ness about the way he plays guitar. Notice how his costume in the video changes from white to black. His hair looks like it could kill someone.
Fred Durst commented:
We've come full circle to absolutely own who we are as a band, an undisputed five-piece rap rock powerhouse who crushes every stage we play.
Gold Cobra will come in several configurations. The standard release will feature 13 new songs while the deluxe edition will feature 16 new songs. Additionally, fans can purchase a physical CD that has 17 original songs exclusively at Best Buy [chain stores], and that same release of 16 songs will be available digitally at Napster.com [online]. Read more
Tags: gold cobra girl, limp bizkit gear, who is the girl in limp bizkit gold cobra video,