The Dream Is Dead
and
Harakiri
, had passed away as a result of a liver and kidney condition — Southwick was hospitalized earlier this month. His condition rapidly deteriorated.
Jared Southwick passed away Thursday, June 23, 2011.
The Dream Is Dead was a politically charged hardcore punk band based in Indianapolis, Indiana. The band was formed in 2000 with the sole desire of putting friction, abrasiveness, and politics back into the watered down hardcore scene. Read more
Limp Bizkit have released their new video titled Gold Cobra — The song is the title track of the band's long-overdue 5th studio album, which is scheduled for release on June 28th 2011. The album was recorded with the group's original line-up; Fred Durst, Wes Borland, John Otto, Sam Rivers. and DJ Lethal. Wes Borland has a savvy-ness about the way he plays guitar. Notice how his costume in the video changes from white to black. His hair looks like it could kill someone.
Fred Durst commented:
We've come full circle to absolutely own who we are as a band, an undisputed five-piece rap rock powerhouse who crushes every stage we play.
Gold Cobra will come in several configurations. The standard release will feature 13 new songs while the deluxe edition will feature 16 new songs. Additionally, fans can purchase a physical CD that has 17 original songs exclusively at Best Buy [chain stores], and that same release of 16 songs will be available digitally at Napster.com [online]. Read more
Eminence's Basslite Series bass guitar woofers feature extremely strong, yet light-weight, neodymium magnets that are as little as one third the weight of a standard bass speaker. This can reduce the weight of a typical 8×10 cabinet by as much as 40 to 50 pounds. The 10-inch Basslite models come with either paper, hemp or aluminum cones and cast or steel frames. The Eminence 12- and 15-inch models have paper and stamped frames.
Eminence recommends the C2515 15-inch as a replacement speaker for the Ampeg BA115T, Ampeg B200R, Kustom Groove 215H speaker cabinet and the Behringer Ultrabass BXL3000, and the Fender Rumble 100… among other combo amps.
Eminence Basslite S2012 12-inch Bass Speaker delivers full, round bass tone. Ideal in vented 1×12″, 2×12″, and 4×12″ enclosures.
Eminence recommends the Basslite CA2010 10-inch as a direct replacement speaker in the Gallian-Krueger Goldlite 410 GLX speaker cabinet, among other speaker cabinets.
Eminence recommends the S2010 10-inch speaker for bass guitar and is ideal for vented 1×10″, 2×10″, and 4×10″ enclosures. Read more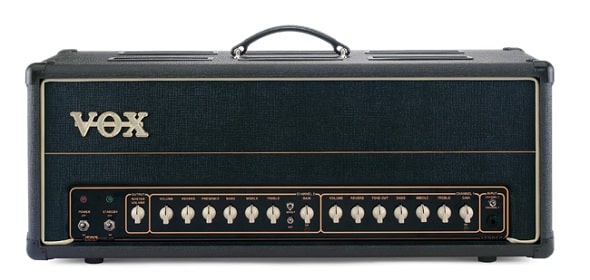 Here's a great review for those Vox lovers. I know I am one! For several decades Vox was pretty much considered a onetrick pony when it came to amp production, but the Vox AC30 was one hell of a studly stallion to build any company's stable around. Since the dawn of the new millennium, Vox has introduced several impressive amp models to expand the company's appeal beyond AC30 aficionados, including the acclaimed Valvetronix digital modeling series and the Custom Classic series, which adds modern features and flexibility to the timeless Vox sound.
Vox's Classic Plus range further broadens the company's offerings by providing an even wider palette of tube tones, including high-gain distortion as well as classic Vox chime and grind. The line currently consists of 50- and 100-watt heads and a 50-watt combo. I tried out the AC50CPH 50-watt head with a matching Vox V412BN cabinet loaded with four Vox vintage-style 12-inch speakers. Read more
If you have even one beloved vintage guitar, you've probably had to buy original parts for it at one time or another. You know the story: you bought an amazing 1967 ES-335 from some dude on eBay who swapped out the original top-hat knobs for speed knobs and cracked one of the pickup rings. Or you need some original spacers for your 1957 Telecaster.
For years, collectors in this situation had to cross their fingers and pray that the original parts they needed would eventually turn up. But as the vintage guitar market blew up over the past decade, a few enterprising individuals began foraging for New Old Stock parts and harvesting everything but the finish from beat-to-death and modified-beyond-salvage guitars. As a result, it's now possible for an eBayer to find virtually any original part he needs from any model or year of standard production mode guitars. Read more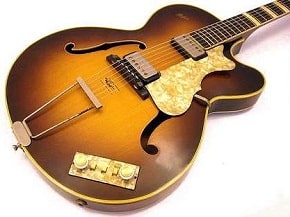 Fender and Gibson electrics from the Fifties and Sixties are among the most collectible of all guitars. But just as cool are Höfner instruments, made in Germany and costing considerably less than their American counterparts.
The most well known Höfner, introduced in 1955, is the 500/1 the electric "violin" bass that Paul McCartney made famous. An original version of this ax sometimes referred to as the "Beatle Bass," should be relatively inexpensive. At press time I spotted several mid-Sixties models for $2,500 and less.
Höfner had an interesting line of hollowbody and archtop guitars, as well. Like certain Glbsons, many Höfners were named by model number—the higher the number, the fancier the instrument. Smaller guitars like the Höfner 456 or 457 (shown here in 1964 vintage 456 thinline), with their laminated 16-inch bodies were comparable to Gibson's e acoustic L-4, or electric ES-175, while larger ones, such as the 17 ½-inch wide 468, were more like Gibson's ES-5 Switchmaster. All these Höfners were made from lightweight woods, often highly flamed, and tend to sound quite loud, with lots of cutting top and middle tones.
Relatively few Höfners made it to the United States; they ended up costing considerably more than domestically made guitars and fared poorly. Thus, Höfners of North American vintage are both rarer and cheaper than old Gibsons. At press time, the only 456 I could find was in the Netherlands and was selling for about $1,137.90. Meanwhile, I saw a handful of L-45 from the same era, going for as much as $4,200.
If you're in the market for an old Höfner, keep in mind that the manufacturer used a neck joint without a dovetail, which tended to move with time. As a result, a Höfner might need, or may have had, a neck reset. While a reset will enhance its playability, it lowers its value. Read more
Gary Kramer Gained celebrity in the Eighties as the primary guitar supplier for Eddie Van Halen. He was also one of the first manufacturers to feature the era-defining original Floyd Rose tremolo. He stepped away from guitar building for more than a decade, but now he's back with another inspiring line of guitars and a fresh set of ideas on guitar design.
Kramer's Delta Wing Simulator R looks like an alien weapon, but the wild mahogany body shape actually serves to align the neck perfectly when standing or silting. The sweeping upper horn braces the extremely lightweight guitar against the player's chest in such a way that it's nearly impossible to slump into an uncomfortable posture. Similarly, the body contours ease tension on the right wrist liberating feature that's evident when performing difficult techniques. Other high-tech attributes include recessed controls, a licensed Floyd Rose tremolo, a push/pull coil tap, a slick matte finish on the 24-fret neck and molten alnico pickups that are aimed right at players who want extreme rock and metal tones. Read more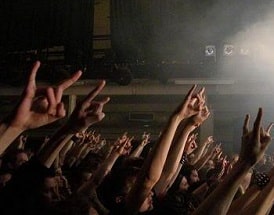 How many concerts have you been to? You've probably been to at least one, and aside from booking the band and getting the security, a lot of other work can go into it. Being the promoter and actually doing it is another thing, and I once got lucky and made a ton of money doing it. Read more
Waves Audio revealed that three of its essential audio processors are being bundled with the new Velocity ESX™ by Harris® Corporation's on-SAN editing system. This is a turnkey high-resolution workstation for journalists, reporters and broadcasters, which is also a part of the Harris NewsForce™ comprehensive HD/SD news platform.
In addition, the Velocity ESX bundle features advanced tools for equalization, time compression and pitch shifting. Wave doesn't stop there, the Wave components include UltraPitch, a voice disguiser and pitch shifter; Renaissance EQ, a paragraphic equalizer with 2-, 4- and 6-band components; and SoundShifter, a time compression and pitch shifting processor. Of course, these are the same tools used by top engineers on hit records, major motion pictures and popular video games the world over. The Velocity ESX workstation arrives with these processors fully loaded for user expediency.
"Waves is proud to contribute to the high-end feature set of Harris Corporation's turnkey Velocity ESX system," says Waves CEO Gilad Keren. "Our tools have been used for years in the broadcast world, and we're delighted to see products developed specifically for journalists working in electronic media."
For more information, visit their web site at www.waves.com.
Gear-Vault Classifieds is an eBay alternative. Come sell with us.
Advertisement————————————
[% oiopub-banner-3-left %]————————————————————
Presser — db Instrument Amp announces the official release of their Easy Expression Converter. The Easy Expression Converter transforms a standard volume pedal into a real expression pedal. The converter looks like a typical insert cable and simply connects between the volume pedal and expression device.
Most times when a volume pedal is used as an expression controller, there is a dead area of pedal motion and erratic variable changes. The Easy Expression Converter makes a volume pedal deliver the full range of motion with even value changes. Now you can make a great volume pedal work like a real expression pedal Read more