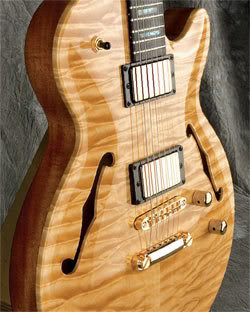 *Update: Carvin Guitars changed their name/re-branded to the name of original founder of Carvin Gutiars (Lowell Kiesel) to Kiesel Guitars in 2015.
Kiesel-Carvin SH550 Electric Guitar Review — Kiesel-Carvin had a long tradition of producing semi-hollow-body guitars dating back in the 1950's. The companies newest edition was introduced in 2008, named the SH550 (SH stands for semi hollow), this model has a carved top and it is a true precision semi-hollow custom shop masterpiece.
Semi-hollow body guitars are suitable for legendary artists such as B. B. King, Ted Nugent, Steve Howe (Yes) and Alex Lifeson (Rush). These legends have relied on hollow guitars as mainstays of their respective guitar arsenals.
The Kiesel-Carvin SH550 AAAA flamed maple is the standard top, yes, we said "AAAA" maple top, and unlike most "archtop" style guitars, the SH550 features an actual carved top. In addition, you can also choose an optional AAAA quilted maple top or a flamed koa top.
The top starts out as a 2″ thick slab of solid curly flamed maple wood. After the top is bookmatched, it is top sculpted, and the underside of the top is also carved to follow the contour of the top, while increasing the overall size of the sound chamber to improve the tonal characteristics of the instrument. Read more

When the phrase "guitar solo" comes to mind, you picture a guy just shredding apart a fretboard on stage to a crowd going absolutely crazy. This may hold true for some instances, but there are just as many great, even better guitar solos that only consist of a few notes…and are absolutely breathtaking. Read more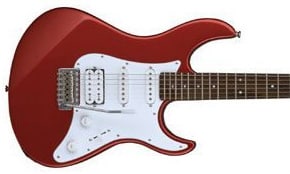 Rock history has proven time and time again that where electric guitars are concerned, you don't have to break the bank to bust onto the charts. Certainly, a fair share of hit albums have been recorded with instruments that cost more than most used cars, but a remarkable number of legendary discs have also been tracked with extremely inexpensive instruments that produced equally stunning results. Read more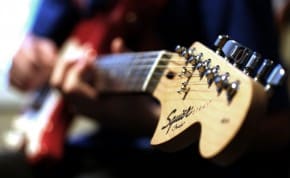 As a guitar instructor, I routinely deal with students trying to learn songs they want to play. After all, that's the whole point of this thing of ours, right? The thing that I notice over and over, however, is the increasing dependence of most students on some sort of online tab website to provide the details on how a given song is played, rather than learning the song in the time-honored play-along-with-the-record ear-based method. When I talk to students about this Read more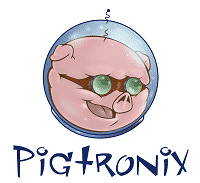 Pigtronix is not your typical guitar effects maker. Starting with the original Envelope Phaser, Pigtronix pedals have been anything but conventional. According to David Koltai, president of Pigtronix, "With companies like BOSS and Dunlop to compete with, it seemed crazy to come out of the gate as a startup trying to compete on their terms." That's why Koltai and long-time friend Brian Bethke teamed up to form Pigtronix. They decided to focus exclusively on effects pedals that were unlike anything on the market.
Unique effects such as an envelope-controlled phase shifter, a parallel-distortion box, an ADSR dynamics generator, and a freakishly accurate pitch-tracking mono synth quickly made Pigtronix pedals popular among modern creative musicians. Driven by a never-ending quest to discover new kinds of effects, Koltai still turns to customer feedback for future design concepts. Andy Summers, Vernon Reid, Red Hot Chili Peppers, Jack White, Adrian Belew, Bootsy Collins, Weezer, The Roots, Primus, and other artists have been instrumental in establishing Pigtronix as a top-level effects maker, both as customers and as sources of critical feedback.
In fact, legendary rocker Frank Marino encouraged Pigtronix's development of the Philosopher's Tone. The Philosopher's Tone – arguably the cornerstone of the Pigtronix lineup – is one of the most popular compression/sustain pedals ever made, renowned for its near-infinite sustain. Likewise, the brilliant NYC guitarist Craig Brodhead introduced Koltai to the idea of using the "Golden Ratio" as the basis of the rhythmic delay lines in the instantly musical Echolution delay pedal. Read more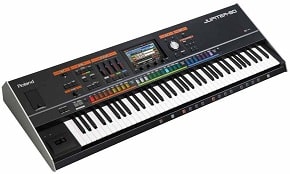 One of the hottest and most talked about products on the market today is the Roland Jupiter-80. This is not a re-creation of the '80s Jupiter-o, although it does pay homage to its predecessor with road-proven hardware and massive sound. This is a modern synth that features Roland's SuperNATURAL synthesis engine. The SuperNATURAL engine is designed to re-create legendary vintage synth sounds and amazingly realistic organic acoustic sounds.
The Roland Jupiter-80 is an envelope-pushing synth with three separately programmable sound chains. Each sound chain has a filter, an oscillator, an LFO, and an amp, and you can combine up to nine sound chains for an amazing 27 oscillators – at once! Each oscillator can utilize one of seven vintage waveforms or one of over 350 PCM waveforms for unlimited tone-shaping combinations. The Jupiter-80 supports up to 256 polyphonic voices depending on the sound load. Also featured is an extremely powerful arpeggiator with 128 factory presets and another 128 presets that are user definable. And musicians will love that this board includes Roland's famous SuperNATURAL pianos, brass, strings, and more.
The Jupiter-80 was designed and laid out for live performance. A large LCD screen makes navigating the functions of the Jupiter-80 a breeze. After you have designed your own patches, you can save them as "Live Sets." A Live Set can stack up to four sounds, each with its own DSP, effects group, and level control!
There are a number of assignable knobs and buttons on the Jupiter-80, so you can create a custom layout. Roland's D Beam controller can be assigned to control parameters for a more dynamic performance. Control volume, Leslie speed, modulation depth, and more, all with your hand. Read more


Washburn Guitars adds a new line of Resonator guitars to their Folk and Bluegrass instruments.
Washburn recognizes the important role played by the Resonator guitar in the history of bluegrass music and has decided to honor the instrument with a new line of Resonator guitars. The current line up of Resonator guitars include the acoustic resonators R15R and R15S, and their acoustic electric brothers the R15RCE and the R45RCE.
The single cone resonator and spider-bridge design is a common denominator among the four Resonator guitars. This adds to the series' classic sound and vibe which resonator players tend to look for. Read more


Squier has teamed up with Joe Trohman of the Fall Out Boy and The Damned to create the Joe Trohman Telecaster, which is loosely based on the early '70s Fender Telecaster Deluxe.
The Joe Trohman Telecaster guitar, like the other artist signature series of Squier was designed to provide inspiration to guitar players by making great value guitars that have the approval of great artists, ensuring quality workmanship and superb sound. Read more
What is a Potentiometer?
Potentiometers, or "pots" for short, are used for volume and tone control in electric guitars.  They allow us to alter the electrical resistance in a circuit at the turn of a knob.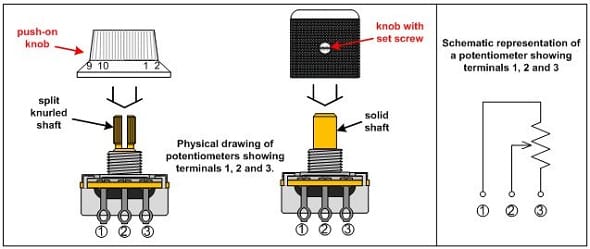 It's useful to know the fundamental relationship between voltage, current and resistance known as Ohm's Law when understanding how electric guitar circuits work.  The guitar pickups provide the voltage and current source, while the potentiometers provide the resistance.  From Ohm's Law we can see how increasing resistance decreases the flow of current through a circuit, while decreasing the resistance increases the current flow.  If two circuit paths are provided from a common voltage source, more current will flow through the path of least resistance.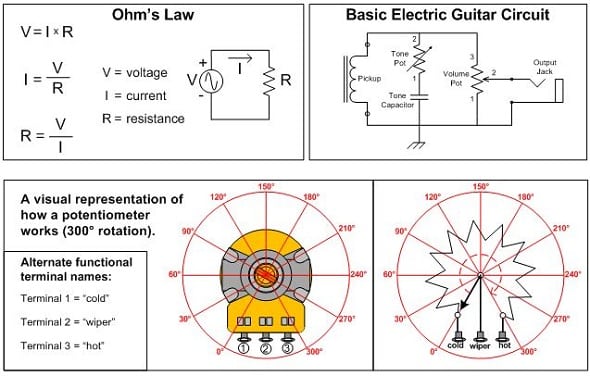 We can visualize the operation of a potentiometer from the drawing above.  Imagine a resistive track connected from terminal 1 to 3 of the pot.  Terminal 2 is connected to a wiper that sweeps along the resistive track when the potentiometer shaft is rotated from 0° to 300°.  This changes the resistance from terminals 1 to 2 and 2 to 3 simultaneously, while the resistance from terminal 1 to 3 remains the same.  As the resistance from terminal 1 to 2 increases, the resistance from terminal 2 to 3 decreases, and vice-versa.
Tone Control:  Variable Resistors & Tone Capacitors
Tone pots are connected using only terminals 1 and 2 for use as a variable resistor whose resistance increases with a clockwise shaft rotation.  The tone pot works in conjunction with the tone capacitor ("cap") to serve as an adjustable high frequency drain for the signal produced by the pickups.  The tone pot's resistance is the same for all signal frequencies; however, the capacitor has AC impedance which varies depending on both the signal frequency and the value of capacitance as shown in the equation below.  High frequencies see less impedance from the same capacitor than low frequencies.  The table below shows impedance calculations for three of the most common tone cap values at a low frequency (100 Hz) and a high frequency (5 kHz).

When the tone pot is set to its maximum resistance (e.g. 250k?), all of the frequencies (low and high) have a relatively high path of resistance to ground.  As we reduce the resistance of the tone pot to 0?, the impedance of the capacitor has more of an impact and we gradually lose more high frequencies to ground through the tone circuit.  If we use a higher value capacitor, we lose more high frequencies and get a darker, fatter sound than if we use a lower value.
Volume Control:  Variable Voltage Dividers
Volume pots are connected using all three terminals in a way that provides a variable voltage divider for the signal from the pickups.  The voltage produced by the pickups (input voltage) is connected between the volume pot terminals 1 and 3, while the guitar's output jack (output voltage) is connected between terminals 1 and 2.  From the voltage divider equation below we can see that if R1 is 0? and R2 is 250k?, then the output voltage will be equal to the input voltage (full volume).  If R1 is 250k? and R2 is 0?, then the output voltage will be zero (no sound).

Potentiometer Taper
The taper of a potentiometer indicates how the output to input voltage ratio will change with respect to the shaft rotation.  The two taper curves below are examples of the two most common guitar pot tapers as they would be seen on a manufacturer's data sheet.  The rotational travel refers to turning the potentiometer shaft clockwise from 0° to 300° as in the previous visual representation drawing.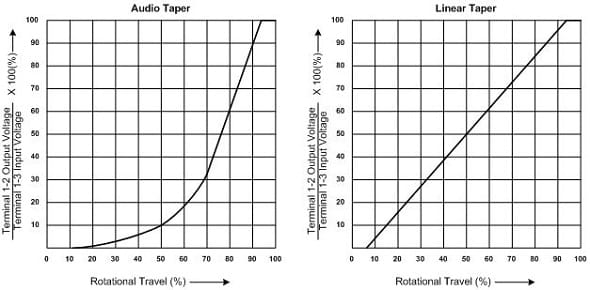 How do you know when to use an audio or linear taper pot?
It's really a matter of personal taste when it comes to volume control.  Notice how the rate of change is much more dramatic on the audio taper pot when traveling back from 100% to 50% rotation.  This means that the same amount of rotation would give you a more intense volume swell effect with an audio taper than with a linear taper.  Using a linear taper volume pot would give you a more gradual change in volume which might feel like you have more fine control with which to ease back the volume level.
For tone control, it's basically standard practice to use an audio taper.  The effect of the tone circuit is not very noticeable until the resistance gets pretty low and you can get there quicker with an audio taper.
How do you know what value of potentiometer to use?
The actual value of the pot itself does not affect the input to output voltage ratio, but it does alter the peak frequency of the pickup.  If you want a brighter sound from your pickups, use a pot with a larger total resistance.  If you want a darker sound, use a smaller total resistance.  In general, 250K pots are used with single-coil pickups and 500K pots are used with humbucking pickups.
Specialized Pots
Potentiometers are used in all types of electronic products so it's a good idea to look for potentiometers specifically designed to be used in electric guitars.  If you do a lot of volume swells, you'll want to make sure the rotational torque of the shaft feels good to you and most pots designed specifically for guitar will have taken this into account.  When you start looking for guitar specific pots, you'll also find specialty pots like push-pull pots, no-load pots and blend pots which are all great for getting creative and customizing your guitar once you understand how basic electric guitar circuits work.
Kurt Prange (BSEE) is the Sales Engineer for Amplified Parts (www.amplifiedparts.com) in Tempe, Arizona, United States.  Kurt began playing guitar at the age of nine in Kalamazoo, Michigan.  He is a guitar DIY'er and tube amp designer who enjoys helping other musicians along in the endless pursuit of tone.
If so, you have just a little over 22 day to click the 'buy it now' button on eBay, providing nobody beats you to it. This is the first Ibanez Universe (7 string) prototype guitar to ever be shopped on eBay. The guitar is being sold by Vai's former engineer, Richard Landers, to fund medical expenses in the family. Read more