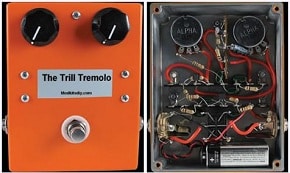 I've played on a lot of pedals. Wahs, tremolos, distortions, phasers, you name it. I've only built a few. So when I got the chance to review a diy pedal, I jumped at the chance. Building an effect pedal is more than a simple task at hand; it's more like an experience. It's a journey through a myriad of parts, numerous references to the build sheet, and a whole lot of patience. Read more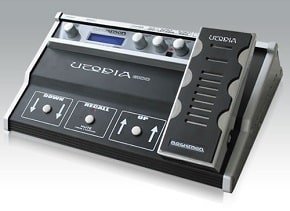 Floor-mounted guitar multiteffect units are unrivaled when it comes to stow-and-go convenience, but too often that convenience comes at a price. Most pro-quality units with rugged construction and versatile performance capabilities can cost as much as a good amp, while many affordably priced units have severely limited parameters and tones that aren't quite good enough for stage use. For many guitarists, dreams of a compact, rugged multieffect unit with an affordable price tag and a reasonable selection of professional-quality "meat-and-potatoes" tones seemed as unattainable as a perfect society.
With the Utopia G100 Professional Guitar System, Rocktron hopes to prove that dreams can become reality. This compact multieffect floor unit is built like a tank, packed with an impressive selection of versatile effects and priced less than what you'd pay for a boutique stomp box. Unlike many other low-priced multieffect units, which seem to suffer from a "jack of all trades, master of none" design, the Utopia G100 is designed to deliver the tones, effects and features that matter most to guitarists and operate in a streamlined and straightforward fashion. Read more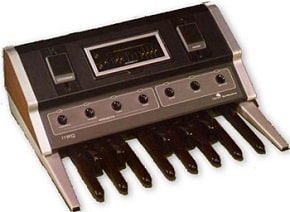 Looking like the amputated bass pedals from a home spinet organ, the Moog Taurus synthesizer was introduced in 1974 to bring synthesis to musicians' nether regions. Odd as it may seem, over its seven years of production, the Taurus found favor with, of all people, guitarists and even bassists. Among its users were Andy Summers and Sting, Alex Lifeson and Geddy Lee, Pink Floyd, Genesis and, even the great shredder, Yngwie Malmateen.
The Taurus (shown here) was a monophonic synth, and while it had just 13 pedals, its two oscillators had a range of five octaves. It offered three preset sounds—Tuba, Bass and a signature tone called Taurus—and one user- programmable patch that could be created with the unit's voltage-controlled oscillators, filter and amp. Two foot sliders on top of the unit gave control over filter cutoff and volume.
Moog introduced the Taurus II in 1981. It upped the ante with 18 pedals, modulation and pitch-bend wheels, and a waist-height control panel that made settings easier to change during performance. Moog ceased making the Taurus In 1983 as digital synths came into vogue. Read more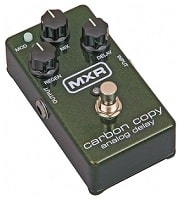 The innovation of the bucket brigade delay circuit in 1969 made compact, stageworthy analog delay pedals a reality and allowed guitarists to retire their bulky and unreliable magnetic tape echo units. Although bucket brigades were eventually replaced by digital signal processors, suffice to say that–like skinny ties and Donnie and Marie Osmond–the analog delay has made a comeback. Nearly every music manufacturer is currently releasing its own take on the analog delay, and for good reason: most guitar players cherish the soft, lo-fi sound quality produced from these units.
Fortunately, MXR, who have been making some of the most popular and innovative stompboxes, has jumped on the bandwagon. The company's Carbon Copy Analog Delay pedal is the brainchild of MXR senior engineer Bob Cedro, and its design is noteworthy for the company: it's MXR's first delay pedal in nearly 20 years. What's more, it offers 600ms of analog delay time in a compact unit the size of MXR's Phase 90 pedal. Read more
Rocktron has to be one of the most underrated effects pedal manufactures in the industry, with some of the most competitive prices you'll find in today's bad economical strains. Today we are going to look at three essential effects every guitar player should have in their arsenal: an easy-to-use talkbox, a versatile wah pedal with a built in MOAN, and the sweet vintage tri-wah pedal. Read more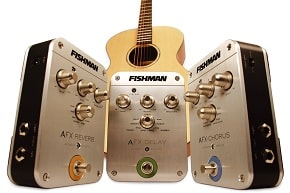 For years, ACOUSTIC-ELECTRIC players that wanted to process their instruments with effects have faced a dilemma. Because acoustic instruments have a refined, subtle sound, only studio-quality effects will do when you want to process acoustic tones. Read more

DigiTech goes more tech — DigiTech recently announces the all-new iPB-10 Multi-Effects unit that is programmable with your iPad. You can build your own pedalboard unit with a simple swipe of your finger. Is this something you'd use? Let's check it out… Read more
Ever wanted to build a piece of equipment yourself? Instead of buying that $300 pedal, you could spend a little bit of time and some elbow grease and build it yourself. Well, with the Thunderdrive Pedal from modkitsdiy.com, you can get your foot in the door, and learn a few things about electronics along the way.
Upon receiving the pedal from Modkits, I opened up the box and checked it out. Inside the metal box that will soon become your self-built distortion pedal lies a bag full of all the resistors, pots, wires and input/output jacks needed to build the pedal. I was a bit overwhelmed at first, viewing the instructions and realizing I was going to need to solder. Soldering is the process of melting metal, or solder, and using it to connect a lead to a point to make a solid connection. It's something I had watched someone do once, but had never actually done it. Read more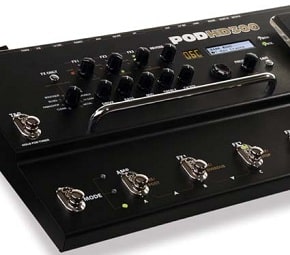 Late last year, Line 6 ramped up their strategy to claim a larger stake in the Multi-Effects arena. The flagship series they constructed to spearhead the entry, was the POD HD series. Before this series, the market was largely dominated by a handful of large companies, namely Digitech, Boss, and a few others. To this day, these large companies still hold the large share, but that all may change in the future. Read more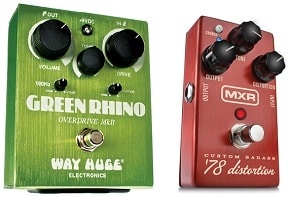 Guitar players love distortion. No big secret, really. From the time we start playing we are pretty much issued a distortion pedal of some kind right out of the gate and we proceed from there. By the time I was 13, I had my brown Ross distortion plugged into my solid state Gretsch amp and pretty much blistered my Mom's paint for a few hours every day. These days, distortion and overdrive pedals have become much more of Read more