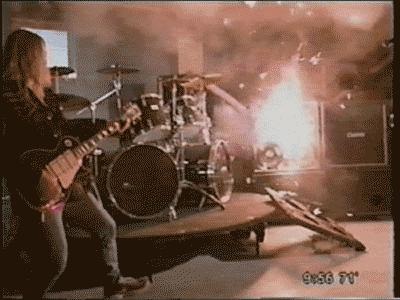 To get the most out of your tube amp, which can be a hefty investment, here are some easy to follow handling and maintenance tips. There's no arguing that tube amps still set the standard for tone – modern solid state and digital amps merely emulate the tube amps of the past. The unfortunate drawback however, is that tube amps are more expensive and fragile compared to solid state alternatives. Repairs and maintenance add to the already high costs of tube amps. Thankfully, some of these extra expenses can be avoided with proper care and maintenance. Read more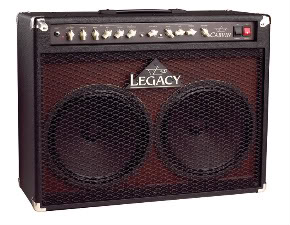 We were more than a bit surprised when this underrated, business-like amp slipped from its cardboard carton. No fluorescent floral Tolex? No trans-dimensional quantum drive? Not even a monkey grip? Steve Vai designed this, didn't he? Read more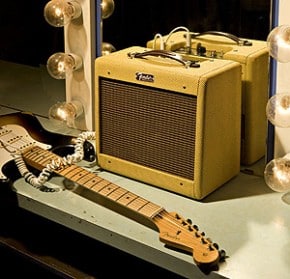 The introduction of Fender amplifiers almost coincided with the company's electric guitars in the mid 1940s. The earliest venture into the amp market by Fender was marked by the production of what they named the "Tweed Amps" which had an output ranging from three to seventy five watts. However, these amplifiers had an inbuilt Read more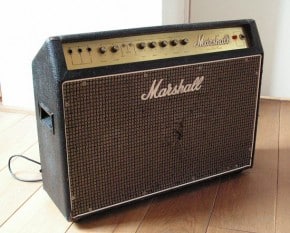 Continued on from "Gibson Firebird Guitar Born 1963"
Of course the electric guitar wouldn't have developed at all had it not been for amps. And the guitar amplifier would never have come into being had it not been for Mr. Lee De Forest, who invented the vacuum tube Read more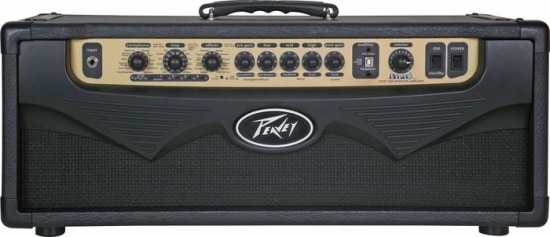 Since 1965, Peavey has built a reputation for making awesome guitar amplifiers, and they continue to evolve under the guidance of the company's founder, Hartley Peavey. Their reputation has been solidified with a series of amazing amps, such as the 6505, JSX Joe Satriani signature amp, the Valve Kings, XXX, the Classic series, the Windsor, and others. In the non-tube amp category, their patented TransTube technology is almost indistinguishable from real tube-driven amps, setting the standard for performance, tone, and affordability. And now, with their VYPYR series of amps, Peavey finds themselves at the forefront of the modeling amp race as well. Read more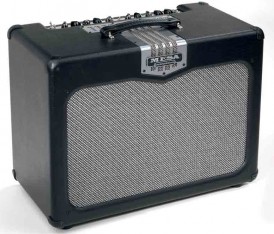 Here's a great review by our friends over at musicradar.com, here's what they had to say about this rockin' lil' amp — It wasn't long ago when we first tested the Mesa TransAtlantic TA-15, well now bigger brother, the TA30, is here.  It's called TransAtlantic because it spans classic British and US tones, specifically Vox-inspired when it comes to cleans and crunches in channel one.
Then in channel two it's a brief sojourn into mid-gained Marshall territory (Hi One) flanked by Mesa Boogie's more common post-Fender clean (Tweed) and high-gain tones (Hi Two), direct from the US of A: five modes in total.
The main rotary controls are straightforward; the only one requiring further explanation is the cut/master in channel one. When pulled out it's a master volume for the channel, and when pushed in becomes tone cut (essentially a master presence) control very similar to what you'd find on a Vox AC30. Read more
Many people are not familiar with the difference between class A and class A/B circuits, even tough it has a huge effect on an amplifier's tone. The basic answer is this: These two classes of amplification illustrate two different types of output tube (or power amp tube, as some people like to call them) wiring. Read more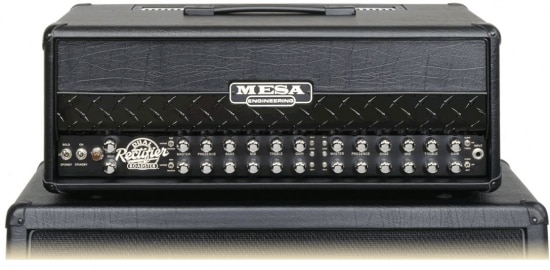 The almighty Mesa Boogie Roadster is a great sounding and versatile amp that is designed with the plug-in-and-play guitarist in mind. It is a brother to the Road King amp and is basically the same as the RK minus Mesa's Progressive Linkage technology and some other back-panel features that some feel a player needs an advanced engineering degree to operate.
The Roadster gives less tech-friendly players a number of foot-switchable options to craft their tones with, without the anxiety of tons of power amp features they don't understand. The Roadster's channels one and two give up classic clean tones that can be duplicated across both channels for rhythm and lead applications. They also have TWEED and BRIT modes that work with the mid frequencies to get classic American blues and British rock sounds from clean to clipped. These two channels would make a great sounding and versatile amp all by themselves. Channels three and four offer players all the legendary tones found in Mesa's Dual Rectifier Solo heads and contain all flavors of gain from mild to wild. Again, the sounds can be cloned across the channels for ultimate tonal control. Read more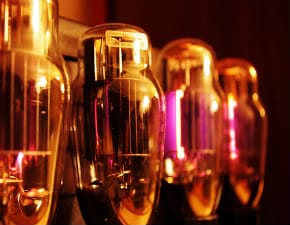 What is a vacuum tube? — If the link between a light bulb and a raging Marshall stack doesn't seem obvious, take a glance at those vacuum tubes glowing inside your amp. And then pay your respects to Thomas Edison, the Wizard of Menlo Park, New Jersey.
Edison produced an incandescent light bulb in the late 1870s by feeding an electric current to a filament until it burned bright red. He then sheathed the filament in a glass bulb and extracted the oxygen, thus creating a vacuum to prevent the filament from burning up.
During further experiments in 1883, Edison detected electrons flowing from the filament, through the vacuum and over to a metal plate he had placed inside the bulb. This discovery, named the Edison Effect, remained a minor phenomenon until another scientist, John Fleming, found that these electrons could be used to detect radio waves and convert them into electricity. Fleming added a second metal element to the bulb, thereby creating the first diode, or—to use a name more familiar to guitarists—rectifier. In 1906, inventor Lee de Forest added a third element to the bulb and found that the resulting triode could be used as both a switch and an amplifier. Today, the vacuum tube has evolved to include a complex assembly of plates, grids and heating elements that produce a more efficient part. Read more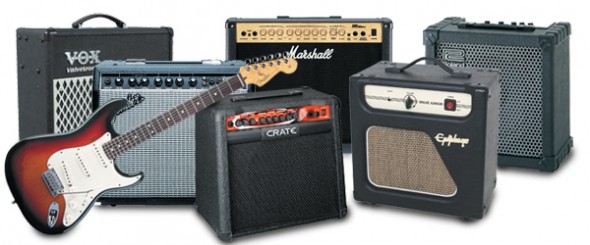 Given the variety of instruments and to top that the number of brands that are available can make selecting the right Guitar Bass Pedal a real nightmare! This guide will attempt to make your buying easy and simple for you. For the most part you only need to go in for the amplifier that falls within the price range within which you are willing to operate, compare a few products that are available and you are pretty much set. Read more