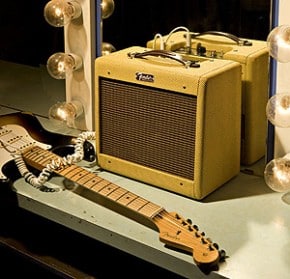 The introduction of Fender amplifiers almost coincided with the company's electric guitars in the mid 1940s. The earliest venture into the amp market by Fender was marked by the production of what they named the "Tweed Amps" which had an output ranging from three to seventy five watts. However, these amplifiers had an inbuilt Read more
Tags: fender amps history, fender amp, early fender amplifiers, history of fender amplifiers, peavey 410 ultra,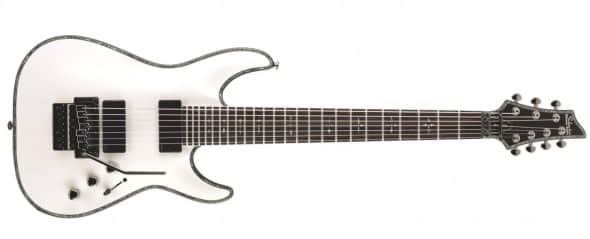 Baggy pants? Check. Pimpin' Adidas? Check. Natty dreads? Check. Turntable-thrashin' DJ? Check. Seven String? Hello? Seven String?
Even if you've got all of the other required accouterments, you'll be hard-pressed to make it big with that psychotically low, funky, hard-music grind that's all the rage these days if you're not packing a seven string. In the past, chugging on the low E string used to be enough to make you a contender. But now, with bands like Limp Bizkit mining sinister new veins of metal and settings a new standard for heaviness, you're likely to be written off as a lightweight if you can't summon up that deep, spongy rumble. Until recently Ibanez has been the only mass manufacturer of seven-string solidbodies, but the Schecter Diamond and Hellraiser Series offers a new, affordable contender for players who want to hit below the belt. Read more
Tags: jackson t1000, shecter, schecter, schecter hellraiser, gary holt scalloped, Peavey 412MS Review, schecter 7 string, schecter diamond 7, schecter diamond series hellraiser korea,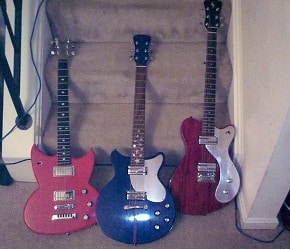 If you've seen advertisements for Vaccaro's guitars on the internet or magazines, you may have noted their slightly confrontational slogan: "They're not for everybody." This statement, it seems, is absolutely true. The reactions I've seen when whipping one of these unorthodox instruments out of my gig bag have ranged from shock ("Where di you get that?") to covetous ("Awesome! Where can I get one?").
Brought to you buy the people who created Kramer's distinctive aluminum and wood-necked guitars in the late Seventies and early Eighties, Vaccaro's guitars feature daringly designed popular bodies, bold finishes and unique aluminum, maple and ebonol composite necks. The Groove Jet evokes the unholy alliance of a Gibson SG and a satanic dung beetle, and features two Seymour Duncan Custom '59 humbuckers, a three-way switch pickup selector located on the top horn of the guitar, two volume controls and a master tone control. Our review model was flawlessly finished in a stunning see-through emerald green. The X-Ray, whose sleek, orange sparkle body has a space-age Rickenbacker vibe, boasts two Rio Grande Muy Grande pickups: a humbucker in the bridge and a single coil in the neck position. Both pickups are topped off with the same mother-of-toilet-seat plastic as the pickguard, adding to the instrument's undeniable ie ne sais quoi. The X-Ray's control layout is simple yet versatile: a three-way pickup selector, coil-tap switch for the humbucker and single volume and tone controls. The hardware on both guitars (Sperzel locking tuning machines, super-sleek Tune-O-Matic-style bridges and top-notch components) is bullet-proof. The phenolic "I can't believe it's not ebony!" fingerboard are smooth and natural feeling, and the well-finished frets provide a sleek, effortless playing surface. Read more
Tags: vaccaro guitar, radio giveaway vaccaro guitars, Vaccaro Guitar Groove Jet, x-ray guitar review,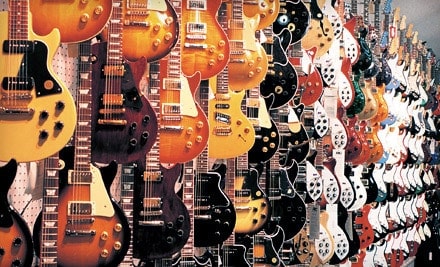 Guitars
arouse my crazy obsession, therefore, I am obliged to compile
5 top selling electric and electric/acoustic guitars
for our readers. Guitar companies manufacture a wide variety and styles of guitars and sometimes produce junk that's barely worth firewood, and other times produce the
ultimate guitar
that we can all appreciate. However, finding that perfect guitar is not always easy, but it's fun searching for it. If you are one of those players that is searching for a guitar that provides that sensuous feel that fills your pulse with vibrations of rhythm and melody; yet easy on the wallet, then read on.
Read more
Tags: best selling guitars, best electric guitar, chinese best electric guitars and price, best selling electric guitars, best seller acoustic electric guitar metal string for usd 1000, what is the best selling electric guitar, top 5 the best guitar, top best electric guitars, top of the line electric guitars, top selling 17 guitars of all time,

Carvin is thrilled to introduce their latest model, the ST300. This new model offers the features and choices of Carvin's contemporary Custom Shop guitars with the timeless body shape that they offered back in the early 1990s. The body is more circular than the legendary DC series and has a waist and forearm cutaway for playing comfort, as found on the Contour 66. The Carvin ST300 model reflects Read more
Tags: carvin st300, carvin, carvin st300 review, carvin guitar, carvin st300 reviews, st300 吉他, used carvin guitars, Carvin C66 reviews, carvin st300 neck model, carvin ST3000,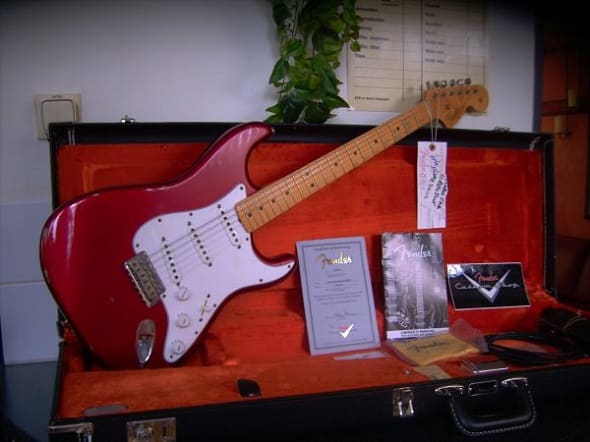 Talk about the holy-grail of guitar giveaways, here is your opportunity to win a Fender Custom Shop Closet Classic Stratocaster. Wow! This giveaway ends on September 13, 2013. The winner will be announced Tuesday, September 17. YOU MUST BE CONFIRM YOUR EMAIL TO BE ELIGBLE! Read more
Tags: guitar amp gear giveaway contests, custom classic stratocaster, fender cs custom classic stratocaster, rever com custom shop strat giveaway, win a stratocaster,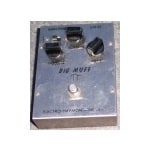 In the beautiful city of New York, the Big Muff, which acts as a guitar pedal that can distort fuzz sounds, became very well-known. The Muff was created, introduced and manufactured by Electro-Harmonic Company (EHX) together with its sister company, the Russian Sovtek. Primarily the Big Muff was used for electric guitars but later bass guitars also were able to make use of such a powerful yet tiny machine. The Big Muff guitar pedal was invented by Mike Matthews and introduced in the early 1970s. Carlos Santana and David Glamour were the two artists who first used this guitar pedal. Read more
Tags: big muff hendrix srv, big muff pedal history, electro harmonic deluxe muff, electro harmonix 12axt price, electro harmonix history, star uses big muff, sweet water music automatic bass machine that follows guitar cords stomp box, thunderdrive deluxe clone,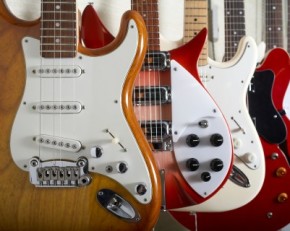 Buy guitar gear new vs. buying guitar gear used — If you are reading this, you are more than likely a gearhead. By 'gearhead,' I mean someone who spends more than a little time thinking about, learning about, and chasing down the musical equipment and accessories that capture your attention and becomes part of your sound, for better or worse. Read more
Tags: new electric guitar vs used, buy new or used guitar?, used vs new amps, new vs vintage electric guitars, new vs used value of guitars, new vs used guitars, new vs used electic guitars, new versus used electric guitars, difference used acoustic guitar versus new acoustic guitar, BuyingGuitarGearNewVs BuyingGuitarGearUsed?|Gear-Vault,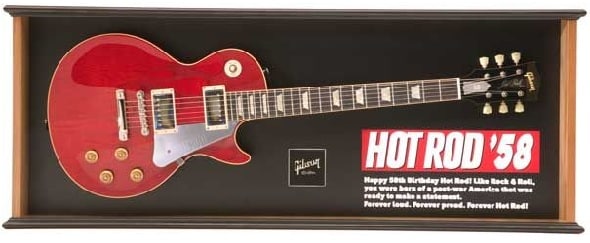 Hey GearVault readers, awhile back I randomly signed up to a guitar giveaway that I found on the net. I figured it was a waste of time because I NEVER win anything (hence, why I don't play the lottery =). A month or so later I received an email saying I had won their contest and they shipped me a Gibson Les Paul Studio equipped with P90s and a Fender Deluxe combo amplifier. I was delighted! Though I already have my own gear, I just gave this stuff to my nephew so he could learn to play guitar. After feeling lucky, I downloaded an auto-fill extension to my browser (in my case Firefox) and signed up to a bunch other gear giveaways, it literally took 5 seconds and the effort involved one click of the mouse. About a month later I received a Maxon OD808 pedal in the mail.
So this gave me an idea! I decided to report every guitar/gear giveaway to you, GV readers, so you can get in on action! Of course since I have my handy-dandy auto-fill extension connected to both my FireFox and Chrome browsers, one click the mouse BAM! I am entered in these giveaways too… However if I win, I don't need the guitars and gear as I have my own setup, I would rather give GearVault readers any merchandise I win! So when I win gear I will pass the equipment on to a dedicated GV reader. If you are not on GV's mailing list, then obviously your email won't be there to get selected for a chance to win, so you are going to want to sign up to the Feedburner mailing list below and activate it to prove your email is valid. If you fail to validate your email then it won't show in our system and you will miss out on the chance to win. Another really cool thing is when you are on our Feedburner mailing list, you will get notifications of cool giveaways and hot news, but don't worry, like you, I hate spam mail… so you don't have to worry about that!
Enter to Win Guitar Giveaways 4 Life!
As well as receive other Guitar & Gear News!
Disclaimer:
By entering above you agree to receive mail from GearVault. You will not only be registered in our system to win free shit, but you will also get updates about guitars, guitar songs, interviews, news and other cool state of the music gear.
Only valid users are eligible to win.
Tags: guitar giveaway, i wan to win a guitar, TipsHowToIncreaseYourChancesatWinningGuitarsOnline|Gear-Vault,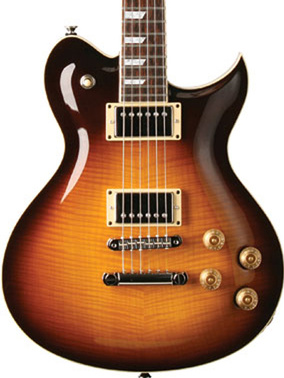 We noticed that not much information was presented on the interweb about Washburn's Idol series guitars. That's a shame because these guitars are an absolute craft of beauty and extremely underrated. There has never been a better time to choose your Idol with the recently released (October 2008) models available.
Washburn's "Wi" Idol series are passionately hand-built at the Washburn's Chicago facility by some of America's finest luthiers, the USA Idol Series consists of five amazingly crafted Custom Shop Guitars. Read more
Tags: washburn wi 420, washburn usa idol guitar review, guitar shoplist, washburn w164 electric guitar, washburn usa idol guitar reviews, washburn pilsen, washburn p4 cherry burst, washburn idol series guitars, washburn gc37 case, review of wi18 forum,