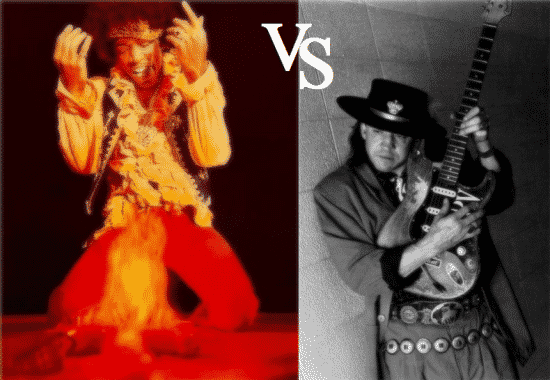 Two of the most revered guitar players in the blues/rock universe are Jimi Hendrix and Stevie Ray Vaughan. Both men helped define the sounds of their respective eras and are icons of the instrument and are most likely responsible for launching more guitar-playing careers (both real and air) than any post-Beatle guitarist outside of Eddie Van Halen. Today, however, your humble man of letters here at Gear-Vault has been given the difficult task of pitting Jimi and SRV in a head-to-head battle for musical supremacy, which is truly no easy task. In the flyover, both man share many similar qualities, from their explosions into public consciousness to their preference for Fender Stratocasters to their untimely deaths. When examined more closely, however, there are some major differences between the two that just might give one the edge over the other. Want to watch the fur fly? Keep reading. Read more
Tags: guitarist vault cant get into site, Better guitar Stevie kenny, the vault guitarist, stevie ray vaughan vs jimi hendrix, stevie ray vaughan paraphernalia, stevie ray vaughan guitar, srv vs hendrix, SRV better than hendrix?, jimmie hendrix vs stevie ray vaughan guitar, jimi hendrix compared to SRV,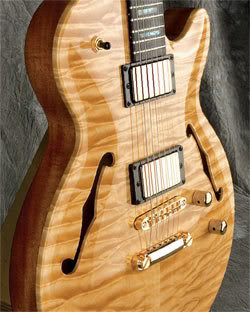 Carvin SH550 Electric Guitar Review — Carvin had a long tradition of producing semi-hollow-body guitars dating back in the 1950's. The companies newest edition was introduced in 2008, named the SH550 (SH stands for semi hollow), this model has a carved top and it is a true precision semi-hollow custom shop masterpiece.
Semi-hollow body guitars are suitable for legendary artists such as B. B. King, Ted Nugent, Steve Howe (Yes) and Alex Lifeson (Rush). These legends have relied on hollow guitars as mainstays of their respective guitar arsenals.
The Carvin SH550 AAAA flamed maple is the standard top, yes, we said "AAAA" maple top, and unlike most "archtop" style guitars, the SH550 features an actual carved top. In addition, you can also choose an optional AAAA quilted maple top or a flamed koa top.
The top starts out as a 2″ thick slab of solid curly flamed maple wood. After the top is bookmatched, it is top sculpted, and the underside of the top is also carved to follow the contour of the top, while increasing the overall size of the sound chamber to improve the tonal characteristics of the instrument. Read more
Tags: carvin sh550 review, carvin sh550 rock, carvin simi hollow guitars,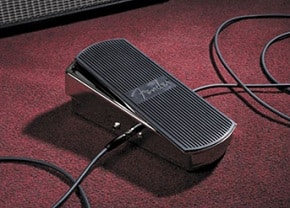 During the late Sixties and early Seventies, it seems like everything related to music was literally huge: amp stacks, stack heel platform shoes, rock star mustaches and hairstyles, crotch padding and, especially, effect pedals. Stomp boxes were the size of shoe boxes, and the average pedal board was so big that it took two roadies to haul one from the back of a Chevy van to the stage of the Cow Palace or Winter land. Of course, that all changed later in the decade as microchips replaced the transistors and cherry bomb-sized components in primitive effect circuits, and soon after, the size of the average pedal shrunk significantly.
Fender's latest Classic Series pedal reissues bring back in their full glory four of the company's big-honkin' stomp boxes from the Golden Era of effects: the sensibly named Volume, Volume-Tone, Fuzz-Wah and Read more
Tags: Fender Classics Series Phaser, fender volume pan classic, hammett wah pedal stops working intermittently,
As you probably already know, I'm a poor broke bastard and can't afford a $1400 guitar, let alone a $48,000 acoustic guitar. But hey, they are fun to look at, right?
Martin says the D-45 Authentic is made exactly like the original 91 pre-war D-45 Dreadnoughts. I think what Martin is hoping for is that the D-45 Authentic becomes the next "Holy Grail" of acoustic guitars, which I guess could happen someday in the far future. Hell, it is speculated that Hard Rock Cafe in Boston dropped a 1,000,000,000 big ones on Keith Richards 1959 Gibson Les Paul. Perhaps it is possible that someday our great, great, great grandkids will get to see a rare D-45 at some Hardrock Cafe in a glass case somewhere. It does sound amazing, you can hear it in the video below. Read more
Tags: washburn отзывы, martin d45 authentic for sale, martin DS 45 Authenic, martin ds45, martin guitar gear, metalik kırmızı,
Fender first revealed the Road Worn Series guitars and basses at the Winter NAMM 2009 show four years ago, and seemed to have been a hit. These axes are for players who desire that banged up, beaten, used and abused vintage relic'd appearance but don't have the spare $2,000 – $3,000 for a Fender Custom Shop Time Machine relic, let alone the cash to purchase an authentic vintage Fender. Read more
Tags: ibanez art 300 electric guitar black caiman,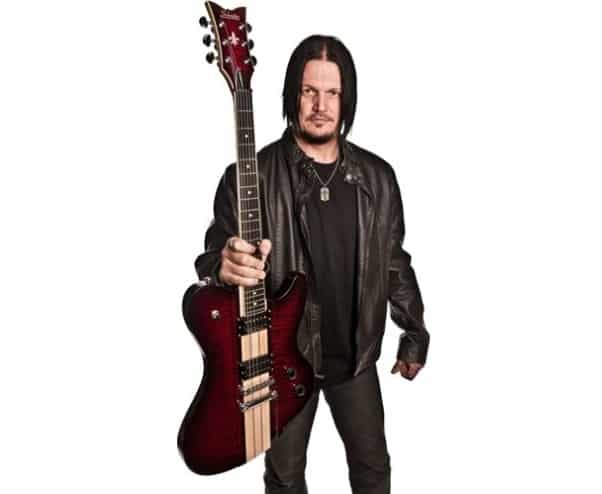 Schecter Guitar Research have officially joined forces with Disturbed guitarist, Dan Donegan. Dan first debuted his signature guitar at the 2009 winter NAMM show. While I'm not a huge fan of Schecter, I was excited to see how this ax turned out. Fast forward 4 years… Read more
Tags: schecter dan donegan model weight, washburn guitars, dan donegan guitar vault, красный металлик,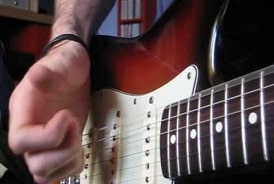 When you decide that you're serious about learning how to play music on guitar, then my advice would be to learn as many of your favorite songs as you can. You should target easy songs and progress your way up to more difficult music.  Make sure you have a CD or mp3 of the song available so you can play along with it; this will help you build structure and timing.
There are cool programs and tools available at your local music store which allows you to slow down the music, which slowly helps you build your speed and timing up. Do a search here on Gear-Vault.com for training gear to learn with, we have gobs of reviews.
As mentioned, I can't stress enough that learning easy songs to begin with will help you advance your skills. There are many great jams to choose from, your options are virtually endless, and, perhaps, subjective to some. Read more
Tags: easy songs to play on guitar, вашбурн, easy electric guitar songs, easy guitar songs for beginners, easy songs on guitar, easy songs to play on guitar chords, How can I realy learn to play the guitar, Easy Guitar Songs, easy songs to learn on guitar, Guitar songs for beginners,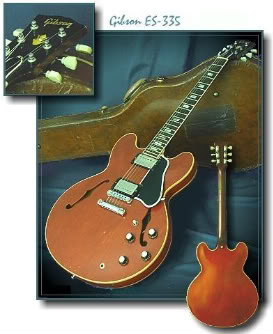 In 1958, Gibson brought the ES-335 into the world in response to Jazz Players whose hollow-bodied git-boxes howled with feedback. Looking very much like a traditional thinline hollow body, the 335 had a center block of maple that cut feedback while it spawned a far-flung family of subtle, genetic variation, such as Gibson's Vintage ES-345, ES-347, ES-350 and ES-355 models, Epiphone's Sheraton, Casino and Riviera guitars and a slew of close relatives and out-and-out clones by virtually every guitar maker in existence. Read more
Tags: гитара washburn wm, Gibson ES 135 guitar how much 2008, фото лады 80 90 годов, front GIR, gibson 337, gibson 350 feedback, gibson es-350t vs 355, Gibson ES-355 ES-135,


Here's your chance to win a beautiful Gibson ES 335 Semi-Hollow body Joe Bonamassa Signature Model guitar! This guitar values at around $3,300 big ones.
Contest ends April 4th
Don't be stingy! "GET ACCESS" by Tweeting, Like us, or +1 us to share this giveaway with your friends. After you share and get access, you will see the "ENTER TO WIN" button. After you click "ENTER TO WIN" just enter your email
Video: Gibson ES-335 Joe Bonamassa
See this guitar in action!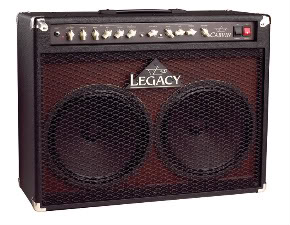 We were more than a bit surprised when this underrated, business-like amp slipped from its cardboard carton. No fluorescent floral Tolex? No trans-dimensional quantum drive? Not even a monkey grip? Steve Vai designed this, didn't he? Read more
Tags: washburn, schecter hellraiser c-7, carvin legacy review, parker kenee, carvin legacy combo review, carvin legacy combo, secsi body, best 12ax7 reveiwspre amp tubes for carvin legacy, orange ppc412, Steve Vai Legacy VL212,