Bugera 6260 – 412H-BK Half Stack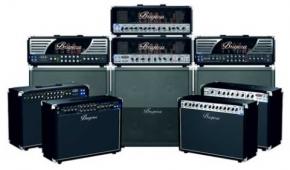 Behringer is known for its wide range of amazingly affordable and primarily solid-state music equipment. The Behringer crew decided it is time to enter into the heavyweight tube-amp arena, and they didn't come quietly, they came in blazing with a new brand to grace upon us. Meet the budget blaster … the Bugera tube amp!
The 6260 100-watt head model shares many key components with its Bugera counterparts, something that trims down production costs. in addition, with the Bugera's similar chassis metalwork and cabinetry dimensions, the models share the same power and OT (output transformer) designs. The amplifier's transformers are generally its most pricey components, and the OT is a particularly important contributor to overall tonal qualities (as for any amp.)
According to Behringer's leading chief, Uli Behringer, the company developed and refined the perplexing design details and sound of the Bugera's OT for over a year. With that kind of boutique-like dedication for detail, it's obvious the Bugera crew is truly serious.
Similar to all of the Bugera amp designs models, the 6260 sports four output tubes (which all of the tubes reside in high-quality ceramic sockets). And for you hardcore tone maniacs, all of Bugeras are integrated with a select switch that changes the amp from either 6L6 or EL34 operation, and a conveniently placed top-mounted bias pot with RCA test-jack makes it easy to check, fine tune and tweak your amp's bias on the fly.
[% oiopub-banner-3-right %]
The 6260 shape an especially collaborative bond with the exceptionally smooth – deep – and rich sounding Bugera 412H – BK 4×12 speaker cabinet. It's obvious that the Bugera team did a lot research and experimenting to design speakers that so flawlessly complement the sound of the 6260 head; you will have to hear them together to get the inclusive Bugera experience. The amazing thing is the Bugera speakers are made in their factory. It's easy to understand why the Bugera speakers match the head so seamlessly when you play it first-hand, you will hear for yourself how Bugera's manufacturing capabilities allow the company to perfect their amp / speaker performance so readily.
Bugera 6260 w/ 412H cabinet
The BK halfstack is a serious rock-n-roll machine. And while the clean channel is indeed capable of crisp and punchy clean sounds (especially with vintage-style single-coil or PAFs pickups), this rig was clearly born to kick ass and take names. Engaging the clean channel's crunch mode drives up the gain with a more aggressive upper-midrange tonage that barks back with Pitbull-like authority, and amazingly, it's equally effective with either single-coils or humbuckers.
The lead channel increases the gain with more perfected voicing, upper-mid-range emphasis and a leaner, trimmer and more percussive low-end that handles down-tuned and 7-string guitars flawlessly. Despite the tonal personality, the lead channel sounds fat thanks to the cab's exceptionally thick bottom-end thump. It's truly amazing how seamlessly both amp channels work together and how many great sounds are available from so few controls. The Bugera 6260 is much like the Peavey 5150 in so many ways.
Peavey 5150 vs Bugera 6260