The new Peavey AmpKit LiNK HD pocket-size iOS guitar interface features twice the fidelity and convenience of the original AmpKit LiNK. Based on USB digital audio technology, AmpKit LiNK HD eliminates crosstalk and feedback for pristine high fidelity, even with authentic high-gain amp models in AmpKit, the companion amp app from Agile Partners. Read more
Carlsbro is among the most famous names in British guitar amplification and has been designing and manufacturing guitar tube amps since 1959, selling its early models to Jim Marshall's shop in Denmark Street, London's famous 'Tin Pan Alley'.
The famous 50 Top and TC series revives the Carlsbro tube heritage, with uncompromising build quality, hand selected components and authentic vintage tone throughout. The 50 Top head and 4 x 12 cab are available in classic red and black liveries, while the TC series comprises three classic combos and a 15 watt head and 1×12 stack.
The re-issued 50 Top is the classic Carlsbro tube head and cab of the 60s and 70s revamped and re-engineered to even higher build standards and sonic performance. The new twin channel amp head has switchable channels & two master volumes, which are footswitchable.
The valve complement of 4x 12AXT's and 2x EL84's give 50 watts of incredible power at 8? or 16?'s. The preamp has a host of features including Hi and Low sensitivity inputs, 3 band EQ using Silvered Mica Capacitors, and 'Sleep Mode' automatic muting with no input present. Tough ply construction, with durable covering and metal corners are essential for road use. Jack outputs are 2 @ 8? and 1 @ 16? allowing a wide choice of cabinets. Read more
The Mustang Floor shares its name with Fender's range of Mustang digital modelling amps, and is similarly packed full of digital effects and amp models. The unit also connects to a computer via USB for direct recording and preset editing. Read the press release below for full details. Read more
It's that time of year again, when everyone is on the edge of their seat—waiting and watching, for the shiny new products to be rolled out at NAMM. Calm down – this isn't a game changing miracle device, but it's still pretty cool.
Fender has introduced the new Squier models for 2012, putting some nice touches on a guitar line that has had less than impressive results in the past. Read more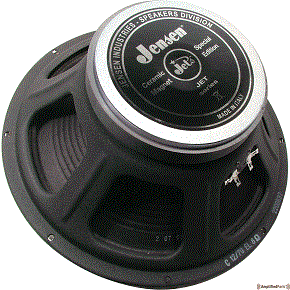 Jensen speakers were the original speaker used in guitar amplifiers back in the day, and they are prized and revered for the ultimate vintage tone they produce. Jensen used Alnico magnets in these speakers and players grew to love the way they responded to their personal touch and playing style. These days, players have many choices when it comes to the type of speakers they put in their amps and old-school vintage is merely one option Read more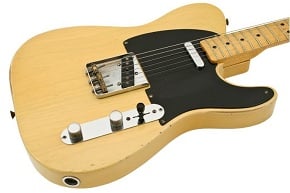 The Fender Telecaster is seen by many as the primordial electric guitar. Sure, one can argue that Paul Bigsby was also developing solid body instruments at the same time and in the same general area as Leo Fender but it is the Telecaster that is generally accepted as the first production solid guitar and the start of the modern guitar manufacturing business. Since its debut in 1952 Read more
Young, Dumb, and Full of Strum — Many of us were inspired to pick up a guitar and play because we were turned on by an advanced, experienced player we heard in our formative years. For some it was Jimi Hendrix, for other it was Eddie Van Halen, still others may have latched on to Tony Rice. In their effort to match the chops, skills, and solos of these players, many students forget that these guys play the way they do because of fully mastering some fundamental parts of music and guitar playing and this is what gave them the ability to go as far as they did. This article (and accompanying video) are the first in a series I am doing for Gear Vault that is intended to identify these crucial basics and help you improve your playing from the foundation level on up. I have taught hundreds of students over the years and have observed that the ones that take the time to really get a handle on these basic skills are the ones that achieve their playing goals most effectively.
Let's Learn Open Chord Rhythm
The first topic in this series is rhythm. Rhythm is the most elemental aspect of music and is the thing that holds the whole band together. The most basic kind of rhythm guitar playing is open chord strumming. The first position 'cowboy' chords are often the first thing many of us learn when we start playing and some players never really go past them, especially if they are trying to be singer/songwriters. One of the most important skills a new or advancing guitarist can develop is the ability to strum these guitar chords in a solid and steady way. The key to this skill is the basic down/up eighth note, or pendulum, strum.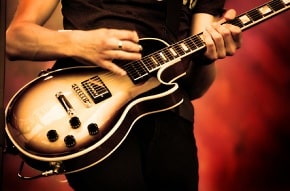 The pendulum strum is really a simple pattern of down/up/down/up/down/up/down/up across a measure of eighth notes in 4/4 time and is counted 1 and 2 and 3 and 4 and, or 1+2+3+4+. The whole idea is that your picking hand goes down on the number and up on the 'and', swinging back and forth like the pendulum in a grandfather clock. You can see me demonstrate this in the video and get an idea of what it sounds like. I play the open G, C, Em, and D chords on the clip but you can do this from any chord you know to any other chord you know when you practice. The big thing to strive for is keeping it even and steady, as that is what you will need to be to play well with other musicians or even deliver a solo song convincingly. Most listeners don't notice if we drop a clam in some blazing solo but your grandma can tell when your time is herky-jerky. Go as slow as you need to to keep the rhythm strong and make your chord changes with no dead air in between.
Once you get the hang of the pendulum, you start to realize that most of the strummed rhythm patterns we hear are based on this idea and that the key to making different rhythms happen is selectively hitting and missing the strings on different eighth notes within the original pattern. Get really good at this and learning all those 'strum and sing' type of songs is suddenly really easy. Neglect this basic skill and you will have a gap in your groove thing. You will know you are getting somewhere with this when drummers and bass players start liking you a whole lot better. Now get in the shed, start working it out, and watch this space for more goal-oriented guitar lessons. Peace.
Visit Mike's website @ www.mikeocull.com

The Dream Of Building Your Very Own Cigar Box Guitar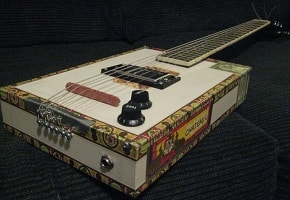 Our existence in the 21st Century has taken on a disposable quality that probably won't be much admired by future historians. Look at us. Every time Apple trots out a new iWhatever, 50 million "old" iWhatevers get tossed out the window. Our jobs, our mortgages, our marriages, NBA contracts – it all gets torn up in the end, and we begin anew. Read more